Updates from Thursday, May 17
NFL Commissioner Roger Goodell commented on the Oakland Raiders' stadium issues, according to the Bay Area Sports Guy:
Goodell on Raiders (1/2): "They have to make that determination, whether they're in a new stadium in Oakland or whether they feel that ...

— Bay Area Sports Guy (@BASportsGuy) July 17, 2014
Goodell on Raiders (2/2): ".., it's best to join this stadium. We're working on that, and that's one of the decisions they'll have to make."

— Bay Area Sports Guy (@BASportsGuy) July 17, 2014
Vic Tafur of the San Francisco Chronicle also weighed in on the situation:
There's going to be more & more pressure from #NFL for #Raiders to rent from #49ers in Santa Clara. Mark Davis been clearly opposed so far

— Vic Tafur (@VicTafur) July 17, 2014
Tim Kawakami of the San Jose Mercury News also commented on Oakland's stadium issues:
The NFL has always wanted the Raiders, lacking other options, to move into Levi's at least temporarily. That prospect was an assumed part of the $200M loan package from the NFL to get the building started and it's part of the term sheet with the city of Santa Clara.

I'm not saying the NFL will ever demand that the Raiders and 49ers agree to split Levi's (because that day has come and gone, though it was a possibility when York was looking for funding a few years ago–but he and former team president Gideon Yu figured out how to finance it on their own).

I'm saying the NFL loaned the 49ers $200M and as part of that they have the right to exert some pressure on York to consider the Raiders as a tenant, now that the stadium is up and running.

(...)

But Mark Davis doesn't want that. He has been asked many times, many times by me, and he has been consistent: He doesn't want the Raiders to be renters in somebody else's building and, at least for now, he thinks the 49ers deserve to open Levi's as the sole tenant.
Original Text
Baseball may be America's pastime, but the NFL has taken over as the most popular professional sport. That could potentially lead to O.co Coliseum being destroyed in favor of a new stadium for the Oakland Raiders.
Phillip Matier and Andrew Ross of SFGate.com reported Wednesday that the Raiders are already arranging to play elsewhere and that demolishing the Coliseum is essential to execute their vision for the future. In order for the Raiders to have a new stadium on the existing site by 2018, they would need to tear down the existing stadium by 2015, per the report.
The Oakland Athletics are thriving as the MLB's best team this season. If this plan does come to fruition, though, the Athletics' ongoing efforts to negotiate a 10-year extension agreement to retain the Coliseum will be in vain.
Coliseum Authority chairman and County Supervisor Nate Miley is beside himself that this plan could be put into action.
He called the idea of demolishing O.co "totally preposterous," noting, "We still owe about $180 million on the stadium."
What should be the Raiders' next move?
Influential attorney Zachary Wasserman, who serves Coliseum City, is spearheading the movement for a new stadium. The estimated cost Wasserman gave was "less than $1 billion," which is vague and seemingly out of the affordable range.
There is a stipulation in the lease that states the A's "have already agreed to leave on two years' notice if the Raiders put down a $10 million deposit on their new stadium." However, that would keep them at the Coliseum through the 2016 season, which is past the Raiders' 2015 target date of demolition.
The fact that there is still so much taxpayer money to go to the current stadium, the notion of destroying it and building a new, state-of-the-art venue stands to be far more expensive. The Raiders would have to figure out a place to play in the interim in lieu of the Coliseum, as would the A's.
Fox Sports Radio's Ben Maller provided this zinger on the situation:
Raiders have evil plan to demolish Oakland Coliseum, in reality they've covertly been bulldozing that dump each Sunday since 2003.

— Ben Maller (@benmaller) July 9, 2014
Paul Gutierrez of ESPN.com highlighted in his report recently that A's owner Lew Wolff has wanted to move his club to San Jose, which makes the 10-year lease all the more problematic.
Back in May, NFL Network's Ian Rapoport reported what Raiders owner Mark Davis had to say with regard to funding a future stadium:
Mark Davis says #Raiders can come up with $400M to build a stadium. "But we need help." Says if project doesn't happen, will look at options

— Ian Rapoport (@RapSheet) May 20, 2014
Even the $400 million wouldn't be nearly enough to take on the type of large-scale project the Raiders would desire to truly bolster their brand. The results haven't been up to par on the gridiron for much of the past decade, and in an AFC West division that saw their three rivals all make the NFL playoffs in 2013, this stadium debate adds more distractions to a perpetually unstable organization.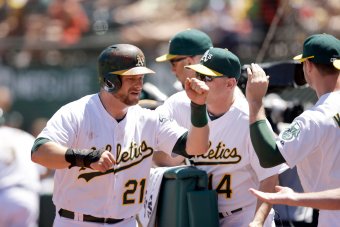 Ezra Shaw/Getty Images
The A's are known for getting by on a thin payroll, while the Raiders haven't won enough to truly ignite interest in its franchise in recent seasons. Investing in a new stadium at this point becomes trickier in that regard. The two Oakland teams must get on the same page instead of allowing this perpetual dispute hanging over them.
It appears that the Raiders aren't willing to compromise, attempting to impose their will in a scenario in which they have little leverage or means to execute their plan to demolish the Coliseum. Should the funds Davis has accrued go toward improving the Coliseum's condition, perhaps a resolution can be reached, at least to honor the prospective 10-year lease.