Argentina outlasted the Netherlands in penalty kicks to win in the World Cup semifinals and move onto the championship game, but the competitive game featured impressive performance from unlikely sources.
Coming into the day, fans were expecting big performances out of superstars like Lionel Messi and Gonzalo Higuain for Argentina or Arjen Robben and Robin van Persie for the Dutch. However, each of these attacking players were held to below-average days.
Instead, it was a few unheralded players who came through with strong efforts to help keep the match tied for as long as possible. These are the men who deserve a lot of credit for what they achieved on Wednesday.
Ron Vlaar, Netherlands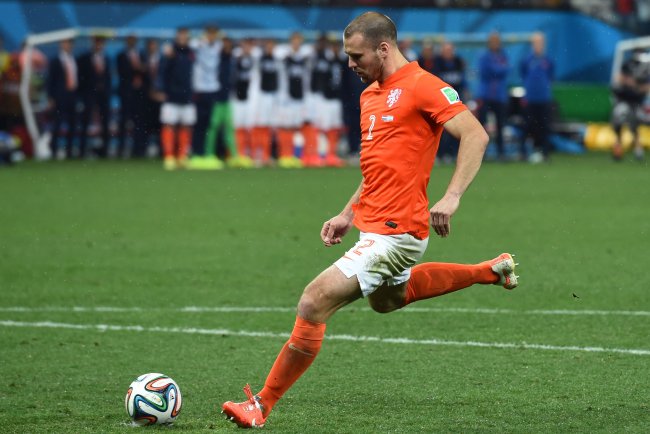 Matthias Hangst/Getty Images
The lasting sight fans will have of Ron Vlaar in this match is him missing the opening penalty kick, giving his side a deficit that it could not make up.
However, manager Louis van Gaal explained his reasoning for putting his centre-back out there to take the kick, via Brian Straus of Sports Illustrated:
Van Gaal says he asked 2 players to take first PK before selecting Vlaar, because defender was the "best player on the pitch".

— Brian Straus (@BrianStraus) July 9, 2014
Vlaar then explained the moment from his perspective:
Ron Vlaar: "I'd never walk away from my responsibility. I wasn't nervous...But it must go in & it didn't" #NEDvsARG pic.twitter.com/5dOW6GTP8K

— BBC Sport (@BBCSport) July 9, 2014
He really should not have been taking the kick, but he showed his leadership to at least step up when his team needed it.
Of course, his real value came in the first 120 minutes. The defender was nearly flawless on the pitch, making key tackles while intercepting passes and winning aerials whenever the ball came into his area. Squawka Football puts the performance in numbers:
Ron Vlaar By Numbers: 100% tackles won 100% aerial duels 11 clearances 6 interceptions 92% pass accuracy #Roncrete pic.twitter.com/W0DUFvJ4dG

— Squawka Football (@Squawka) July 9, 2014
Analyst Ives Galarcep also provided his input on Vlaar's performance:
Credit to Ron Vlaar tonight. He's been a beast for the Dutch. Broken up so much.

— Ives Galarcep (@SoccerByIves) July 9, 2014
Although Vlaar ended up being on the losing end, his impressive day is a big reason the Netherlands were able to keep the match scoreless and get to penalties.
Javier Mascherano, Argentina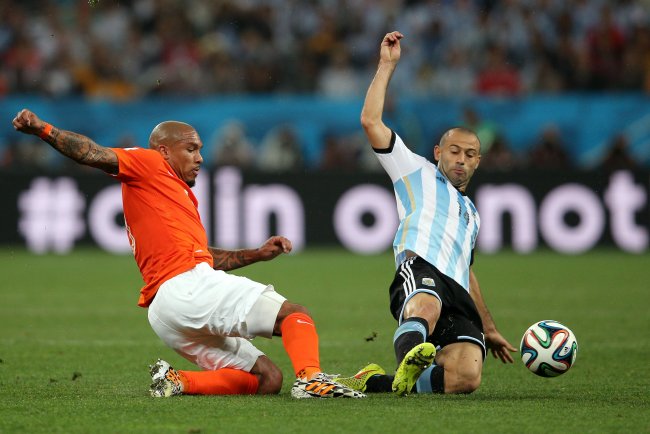 Dean Mouhtaropoulos/Getty Images
There are some who will debate whether Javier Mascherano should have been on the pitch at the end of the match, but Argentina are certainly happy he was as he had perhaps the best performance of anyone in the competition.
A scary moment came when he banged heads with an opponent while going for a header, which resulted in him stumbling around for a few minutes. ESPN's Taylor Twellman was one of many thinking the player should be forced to come out:
I fear for Mascherano right now. He has no clue what he is doing and because FIFA has no backbone to stand up and legislate it's trouble.

— Taylor Twellman (@TaylorTwellman) July 9, 2014
For those saying heart is what Mascherano has are mistaken. My heart cost me my career and certain things in life I will never do again.

— Taylor Twellman (@TaylorTwellman) July 9, 2014
Despite this, he stayed in the match and was a big reason the Dutch were unable to score. His tackle in stoppage time on Robben might have been the most impressive singular play in regulation.
The play helped gained the attention of The Sun:
Mascherano has been immense. The one bright spot in this match. Another superb tackle there on Robben. Man of the match? #NEDvsARG 0-0

— The Sun - Football (@TheSunFootball) July 9, 2014
Keith Costigan of Fox Soccer also pointed out how well the defensive midfielder had played in the match:
Amazing how undervalued Mascherano still is. An absolute monster

— keith costigan (@KeithCostigan) July 9, 2014
Although he was not a part of the penalties, it is hard to imagine Argentina winning without Mascherano.
Ezequiel Garay, Argentina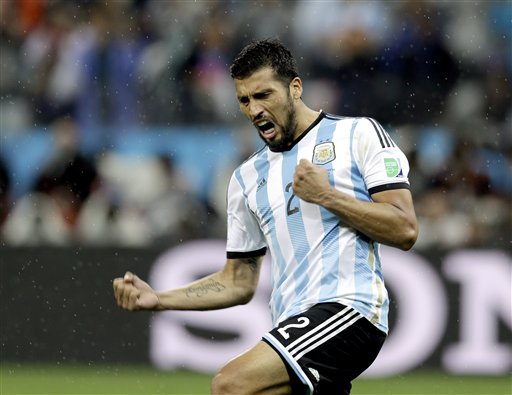 Natacha Pisarenko/Associated Press
In Argentina's first few matches, the back line was considered a major weakness. However, Ezequiel Garay and Martin Demichelis were outstanding in the middle of the pitch against the Netherlands.
English footballer Jody Morris specifically pointed out how well Garay did at stopping Van Persie:
Forgot van Persie was playing..Garay totally dominated him for 93 minutes there

— jody morris (@morriskid) July 9, 2014
He made important clearances and won aerial battles throughout the day, preventing the Dutch from getting more than a few legitimate chances in the match.
Once the 120 minutes of scoreless play ended, Garay was then able to help his team again by coming through on his penalty shot. As ESPN FC noted, the shot was virtually unstoppable:
GARAY SMASH!! Right down the middle, no chance for Cillessen. 2-1 #ARG

— ESPN FC (@ESPNFC) July 9, 2014
The centre-back scored immediately after Messi, keeping his side ahead and allowing Argentina to eventually finish the win with a Maxi Rodriguez penalty.
It was a complete effort from the 27-year-old player, and he was a big reason the South American team is set to play in the finals.
Follow Rob Goldberg on Twitter for the latest breaking news and analysis.