It wasn't pretty. It wasn't exciting. Heck, for much of the match it was darn hard to watch.
But for Argentina, well, it was a masterpiece in the end.
After 120 minutes of scoreless play, Argentina defeated the Netherlands 4-2 in the penalty shootout, sending them to the World Cup final to face Germany. Sergio Romero was the hero, as he stopped two Dutch penalties while his teammates (Lionel Messi, Ezequiel Garay, Sergio Aguero and Maxi Rodriguez) made all four of their attempts.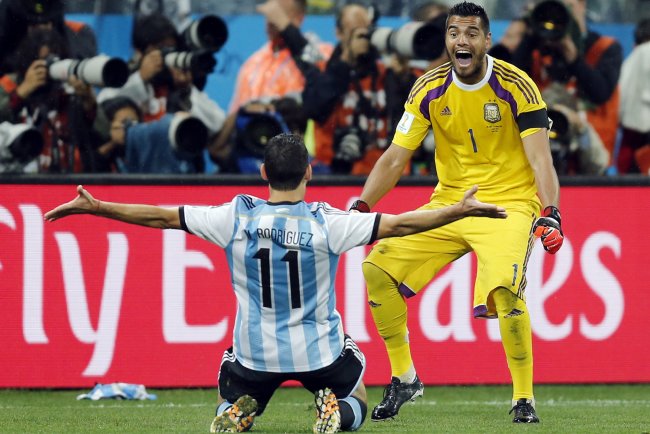 Frank Augstein/Associated Press
Fittingly, Romero was named Man of the Match, as FIFA highlights:
The @BudweiserFC #ManOfTheMatch for #NEDARG is @Argentina's SERGIO ROMERO #ARG - http://t.co/jgTX1T4pNd

— FIFA.com (@FIFAcom) July 9, 2014
And he was pretty pumped, via Squawka Football:
Sergio Romero is pumped! #ARG pic.twitter.com/rUJMeAF2PA

— Squawka Football (@Squawka) July 9, 2014
Of course, Romero might have just been pumped because he finally got to be a part of the game in the penalty shootout. If you wanted a stat to really put in perspective how cagey and cautious both teams played, the following one from OptaJose should do the trick:
2 - Sergio Romero has made more saves in the penalty shoot-out (dos) than he had in 120 minutes of the #NED vs #ARG (1). Hero.

— OptaJose (@OptaJose) July 9, 2014
Of course, perhaps we shouldn't be surprised that Argentina locked down defensively in this game. As James Horncastle of BT Sport tweeted, that was par for the course at this World Cup:
4 clean sheets in 6 games for Argentina. Mascherano superb tonight. Romero has had a discreetly v.good tournament

— James Horncastle (@JamesHorncastle) July 9, 2014
Yes, Romero has been sneaky good all tournament long. And one of the reasons it's necessary to use the "sneaky" qualifier is that we barely saw him make an impact in club football this year, per ESPN's Miguel Delaney:
Romero: barely played for Monaco last season... now key in getting a team to a World Cup final.

— Miguel Delaney (@MiguelDelaney) July 9, 2014
It's the unlikely heroes that make a World Cup special. Add Romero's name to the list that also includes John Anthony Brooks and Keylor Navas, among others.
Romero's saves weren't sitters, either. Yes, the first attempt from Ron Vlaar was rather weak, but his second save on Wesley Sneijder—a blistering shot that wasn't quite high or wide enough but still well struck—was world class, as Andy Glockner of The Cauldron noted:
Second PK save from Romero was sweet. Got a good early read but still had a lot to do.

— Andy Glockner (@AndyGlockner) July 9, 2014
Here's what it looked like, courtesy of Squawka Football:
What. A. Save. #ARG pic.twitter.com/yiMV8xMObJ

— Squawka Football (@Squawka) July 9, 2014
Romero was the hero, yes, and the Dutch were the devastated losers. But no, they weren't the only ones heartbroken about this loss, as the Men in Blazers alluded to as only they can:
Argentina will play a World Cup final at Maracana. Worst day for Brazilians since the Portuguese arrived in 1808

— Men in Blazers (@MenInBlazers) July 9, 2014
Yes, a day after losing to Germany 7-1, the Brazilians have to watch their bitter rivals play for the title in the nation's most famous stadium. That just hurts.
Of course, perhaps we should all be accustomed to Germany and Argentina playing in big matches, as ESPN Stats & Info tweeted:
This will be the 3rd time #ARG and #GER meet in the #WorldCup final. Germany won in 1990. Argentina won in 1986.

— ESPN Stats & Info (@ESPNStatsInfo) July 9, 2014
What a match it will be. The world's best player, Messi, against the country that has looked the strongest at this tournament, Germany. The sheer amount of talent on the pitch will be outstanding. The matchup and tactics will be intriguing to break down. The drama should be wonderful to watch.
On Wednesday, Romero was the hero. Who will be the ultimate hero on Sunday? And will he be a German or Argentine?

The world can't wait to find out.