The 2014 FIFA World Cup final is set, and the two semi-final matches couldn't have been more different.
After Germany scored a flurry of goals to stun host Brazil 7-1 in the first fixture, Wednesday's showdown went to penalty kicks in a scoreless draw. In the end, Argentina finally defeated the Netherlands 4-2 to play for the ultimate prize in international football.
RESULT IN SAO PAULO: #NED 0-0 #ARG (2-4 pens) #NEDARG #WorldCup SEMI-FINAL #joinin http://t.co/b4ibAw2DWi pic.twitter.com/0D7FSLs2zn

— FIFAWorldCup (@FIFAWorldCup) July 9, 2014
It was just the fifth time in World Cup history that a semi-final went to penalty kicks, so the Argentina victory served as a far more exciting spectacle than the stunning Brazil collapse.
Here is a look at the updated bracket ahead of the grand finale on Sunday: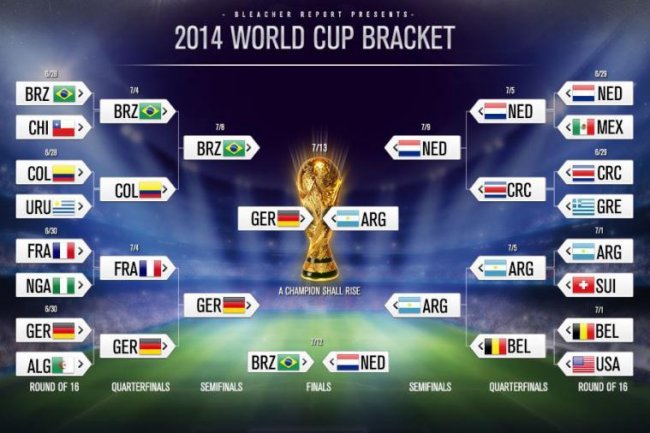 Bleacher Report
The Netherlands deserve a lot of credit for a stifling defense that shut down Argentina superstar striker Lionel Messi. John Cross of the Daily Mirror was critical of Messi's performance:
Messi is not even moving for the ball. He's been so poor. #worldcup #letdown

— John Cross (@johncrossmirror) July 9, 2014
ESPN Stats & Info noted how much Messi struggled just to generate a shot, much less a legitimate scoring opportunity:
#ARG Lionel Messi has been held to 1 shot, which would be his fewest total in a #WorldCup game when playing 90 minutes. #NEDvsARG

— ESPN Stats & Info (@ESPNStatsInfo) July 9, 2014
Man of the match Sergio Romero stood tall in the shootout, making two big saves, and Messi set the tone following the first one by converting his point-blank opportunity. CNNMoney.com's Heather Long was impressed with Romero's display:
Argentina's goalie Sergio Romero is giving #TimHowardSaves some real competition. Wow #NEDvsARG

— Heather Long (@byHeatherLong) July 9, 2014
Even in regulation, Romero was part of the reason his side was able to eventually triumph after more than 120 minutes of gridlock. A lot of credit should go to the players in front of him, though, because the Netherlands led possession and generated more chances, while Messi was pedestrian on the other end of the pitch.
Paul Carr of ESPN looked ahead to the intriguing matchup on tap between Germany and Argentina:
Germany-Argentina is the first three-time matchup in the World Cup final. #GER won in 1990, #ARG in 1986.

— Paul Carr (@PCarrESPN) July 9, 2014
Based on how easily the Germans handled Brazil, The Big Lead's Jason McIntyre believes that Argentina stand little chance of raising the trophy:
Tough one for Netherlands. Better team, I believe. Tough to lose on PKs. I think Germany handles Argentina easily Sunday.

— Jason McIntyre (@jasonrmcintyre) July 9, 2014
Manager Alejandro Sabella is confident in his players, per Sky Sports' Peter Hall:
Sabella: "I'm pleased with the performance of the players. We have a final to play. Even with one day less, we believe we can win" #ARG #NED

— Peter Hall (@PeteHall86) July 9, 2014
While the Argentine side have had to grind through so many nail-biters in this tournament, they will be playing the role of underdog on their home continent. Germany are coming off one of the most dominant wins in history, with all the pressure on them as the favorite.
Much of the talk will center around Messi's legacy and how he can truly boost his claim as an all-time great player by adding a World Cup title to his resume. However, Messi needs help to get past a superior all-around team such as Germany, which boasts a formidable attack of their own led by Golden Boot hopeful Thomas Mueller.
Who will win the 2014 World Cup?
It could be argued that
Messi
is destined to make more of an impact after being neutralized in the Netherlands match. But another stern test awaits in sensational German keeper Manuel
Neuer
, whose maverick style of play will force
Messi
to be more aggressive if he wants to get the best of him.
As for the third-place consolation match, Brazil are going to have to lean heavily on the home crowd for support. Still without the services of prodigious striker Neymar, they will be pressed, much like Argentina, to penetrate the Netherlands' back line.
Wednesday's demoralizing defeat may cause the Netherlands to suffer a letdown, yet they should rally back, play inspired football and emerge victorious over the Selecao.