With time running out in the Orlando Summer League, players are down to their final chances to show their coaching staffs what they can do on the court.
Although this tournament is a good opportunity for top young prospects to develop their skills, many others on the roster are just hoping to show that they should make their NBA squads once the summer ends.
A strong performance in these games can certainly go a long way in this department.
Fortunately, a number of players came through with big efforts on Day 5 in Orlando. Here is a recap of all the action from Wednesday's games, which will be updated throughout the day.
Orlando Summer League: Day 5 Results

| | |
| --- | --- |
| Time (ET) | Matchup |
| 3 p.m. | Pacers 94, Thunder 71 |
| 5 p.m. | 76ers 92, Nets 86 |
| 7 p.m. | Celtics 92, Pistons 90 |
via NBA.com
Day 5 Recap
Pacers 94, Thunder 71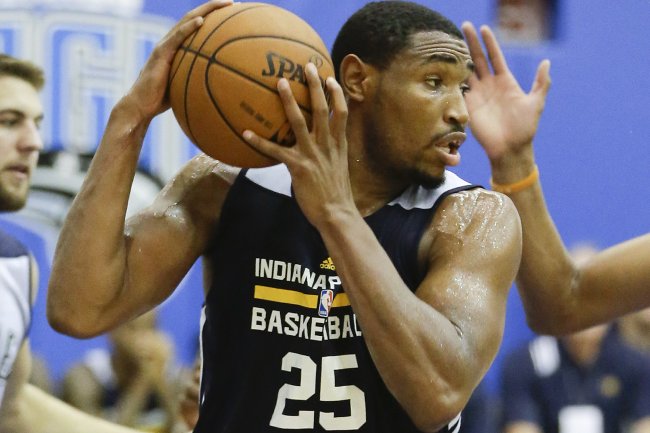 John Raoux/Associated Press
The Indiana Pacers pulled away with a 34-13 advantage in the second quarter and held on for a 94-71 blowout victory over the Oklahoma City Thunder.
Donald Sloan led the way for the Pacers with 19 points and six assists in the win, going an impressive 4-of-5 from three-point range. Meanwhile, Frank Gaines added 17 points which included this four-point play:
Journeyman Kevin Jones also had a big day with 15 points and 12 rebounds. The 24-year-old player recently discussed what it will take to make a team, via Matt Hauswirth of West Virginia Illustrated:
I think I have a better understanding of everything and how everything works. I think I know myself better as a player, too. I know what teams are looking for out of me. So I'm just trying to work on that and just trying to find my niche and where I would fit in within an NBA system.
If he continues to post big numbers against solid competition, he should be able to find some role at this level.
First-round pick Mitch McGary led the way for Oklahoma City with 15 points, but as Bryan Keating of KOCO noted, he did not receive much help:
The list of Thunder players who played well this summer would begin and end with Mitch McGary. Pretty pathetic team effort honestly.

— Bryan Keating (@KOCOKeating) July 9, 2014
Jeremy Lamb managed just 12 points on 17 shots in the loss, struggling to get anything going offensively. His 1-of-9 shooting from beyond the arc was concerning and led to some frustration, according to Jake Fischer of The Boston Globe:
Total number of chairs Jeremy Lamb has smacked out of frustration during Summer League: 5.

— Jake Fischer (@JakeLFischer) July 9, 2014
The Pacers will hope to keep their momentum going in a de facto Eastern Conference finals rematch against the Miami Heat. Of course, very few players from that series will be in action in that game.
Oklahoma City has completed its scheduled part of the Summer League and will have one game remaining on Friday against an opponent still to be determined.
76ers 92, Nets 86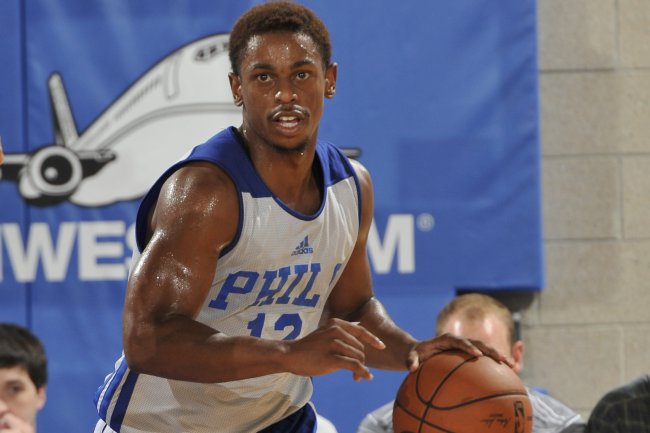 Fernando Medina/Getty Images
Casper Ware led the Philadelphia 76ers to a high-scoring win over the Brooklyn Nets, helping his team improve to 3-1 in the Orlando Summer League.
Ware totaled 24 points and eight assists in the win, continuing a strong summer for the undersized guard. Bob Cooney of the Daily News is one of many enjoying themselves watching along:
Casper Ware is so refreshing. Walkins into gym with a smile on his face. Loves watching, playing, everything about basketball.

— Bob Cooney (@BobCooney76) July 9, 2014
Nerlens Noel also had a strong outing that saw him get better as the game went along, as noted by Kyle Tucker of The Courier-Journal:
Nerlens Noel scored six points in the final 2:17 of a tie game to lead 76ers to win over Nets in Summer League today. 14 pts, 9 reb, 5 blk

— Kyle Tucker (@KyleTucker_CJ) July 9, 2014
Second-round pick Jerami Grant added 12 points, including this clutch basket at the end of the third quarter:
Brooklyn had five players in double figures, including Donte Greene and Markel Brown, who each finished with 17. Marquis Teague shined as well with 12 points, nine assists and zero turnovers, plus this quality dish to Cory Jefferson:
Each of these teams will now have a day off before competing in the final set of games on Friday.
While the 76ers have been more impressive to this point in the tournament, it is important to remember that they are expecting more contributions from these players during the regular season. On the other hand, the Nets lineup includes few players who will even been on a roster once the season starts.
Celtics 92, Pistons 90
The Detroit Pistons suffered their first loss in the Orlando Summer League as the Boston Celtics were able to hold on for a narrow 92-90 win.
Kelly Olynyk led the way with 16 points and nine rebounds for the Celtics as one of six players in double figures. First-round pick Marcus Smart scored 14 on 4-of-13 shooting, but he contributed in other ways with six assists, five rebounds and a plus-13 mark in the game.
Kentavious Caldwell-Pope did not have his best shooting day but still managed to score a game-high 26 points, while Justin Harper added 19 in the losing effort.
Ian Miller also had a strong game for the Pistons, finishing with 16 points. If he does not earn a spot on the NBA roster, Keith Langlois of Pistons.com points out that he will have a future as a professional:
Ian Miller is going to stir some European interest with his play last 2 days. Scored 12 with 2 assists, 1 turnover in 1H. Shot 4 of 5.

— Keith Langlois (@Keith_Langlois) July 9, 2014
Brian Cook helped out with 14 points to go along with this drive and dunk:
A scary moment did take place in the third quarter when Dairis Bertans was forced off the court on a stretcher, according to the Celtics' official account:
Celtics guard Dairis Bertans is being taken off the court in a stretcher after colliding face-first w/ the basket stanchion following a foul

— Boston Celtics (@celtics) July 10, 2014
This remains a situation to monitor going forward as the team will certainly hope for a speedy recovery.
Boston will return to the court on Thursday to face the Orlando Magic, hoping it can keep its recent momentum going against the hosts. The Pistons will have a day off before competing for final placement on the last day in Orlando.
Follow Rob Goldberg on Twitter for the latest breaking news and analysis.