Updates from Thursday, July 10
Mario Mandzukic is edging closer to a move to Atletico Madrid, following Wednesday's announcement of an agreement between the La Liga champions and Bayern Munich.
ESPN FC's Dermot Corrigan provides the latest:
Mandzukic apparently doing his Atletico medical at Madrid clinic this morning.

— Dermot Corrigan (@dermotmcorrigan) July 10, 2014
Mandzukic to @HugoCondesSER at medical "I am very happy. I know a lot about Atléti, have seen many games. I like the coach & style of play."

— Dermot Corrigan (@dermotmcorrigan) July 10, 2014
Original Text
Mario Mandzukic is set to join Atletico Madrid's quest to defend the La Liga title after Bayern Munich sporting director Matthias Sammer revealed a deal is in place between the two clubs, per the German side's Twitter account:
Matthias #Sammer reveals: "There is a verbal agreement between FC Bayern, Atlético Madrid and Mario #Mandzukic."

— FC Bayern English (@FCBayernEN) July 9, 2014
The Croatian forward is said to be valued in the region of £17.5 million, as reported by Simeon Gholam of the Daily Mail. Atletico have certainly uncovered a capable replacement for Diego Costa if this proves to be the case, as Mandzukic's dominance in the air and ability to lead the line will likely see him succeed in Spain.
Mandzukic, deemed unneeded due to the arrival of Robert Lewandowski, was honest in his assessment of an Allianz Arena exit, per Gholam:
I met (Bayern chairman) Karl Heinz Rummenigge before the (German) cup final and told him I wanted to leave the club. I've had a fantastic time at Bayern. It's a great club and I never thought I'd want to leave, and especially not at this point in time. But, let's be honest, I cannot play to my strengths under (Pep) Guardiola's style - no matter how hard I try.
B/R's Clark Whitney remembers a quote from the boss which may have pointed toward such feelings:
With Kroos & Mandzukic sales all but done, I recall Pep's 1st presser at Bayern: "I need to adjust to the players, not the other way around"

— Clark Whitney (@Mr_Bundesliga) July 8, 2014
The 28-year-old has a challenging task ahead of him at the Vicente Calderon. Costa's 27 La Liga goals played a major role in Diego Simeone side's ascension to the Spanish title and Champions League final, but the club are used to replacing big-name players.
Prior to Costa's transfer to Chelsea, Atletico coped excellently with the departures of Radamel Falcao, Sergio Aguero and Fernando Torres, all of whom were replaced by the name to their left. Mandzukic will aim to replicate such a smooth transition when he gets to work at the club who destroyed Real Madrid and Barcelona's dominance.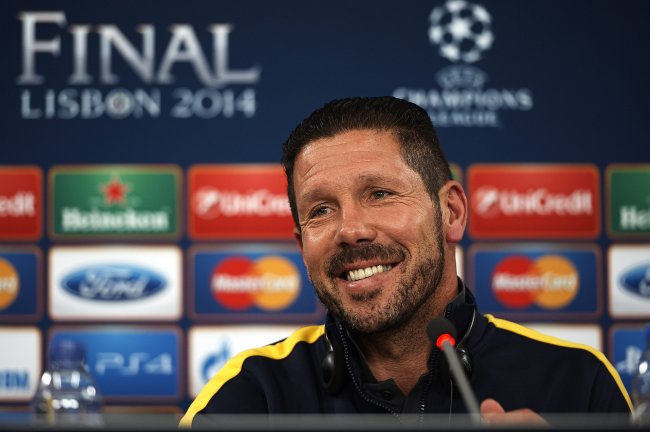 Handout/Getty Images
Will Mario Mandzukic sufficiently replace the void left by Diego Costa at Atletico Madrid?
Mandzukic posted a successful, yet frustrating season with Bayern. He netted 21 goals and provided six assists across 40 appearances in the Bundesliga and Champions League, per WhoScored.com. Often overlooked by Pep Guardiola—11 of his appearances were from the bench—his physically direct way of playing didn't complement the style of the Spanish manager.
Guardiola's teams maintain possession, move quickly and rotate while ushering control over their opponents. Mandzukic's pass completion rate of 72.8 percent was the lowest of any Bayern player who made more than one start and was only more efficient than the 71.9 percent posted by 20-year-old substitute goalkeeper Lukas Raeder, who understandably punted many balls up the pitch.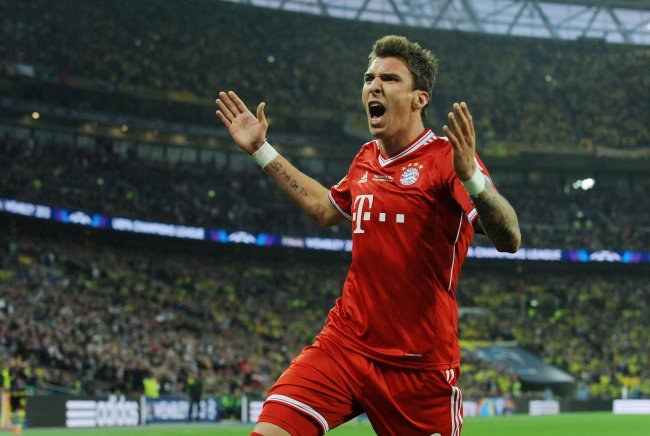 Witters Sport-USA TODAY Sports
Simeone's Atletico work best when they possess a focal point up top. Costa's busyness and energy allowed the champions to begin defending from the front when the opposition gained control. His hold-up play also ensured stars such as Arda Turan and Koke could support attacks; something Mandzukic will be tasked with replicating.
The transfer is certainly an ambitious one from Atletico, who will enter the 2014-15 as the side who are being hunted in Spain. Last year's remarkable achievement has allowed the club to continue developing, despite the loss of Costa, with Mandzukic representing the next goalscorer who can make a real difference to the long-term success of the club.