After Brazilian centre-back David Luiz's deplorable performance in Brazil's 7-1 annihilation to Germany at the 2014 FIFA World Cup semi-finals, should Paris Saint-Germain be worried?
Will he be a €49.5/£39.3 million transfer flop at PSG?
Bem-Vindo @DavidLuiz_4 ! #BemVindoDavidLuiz pic.twitter.com/nh90Qscmj7

— PSG Officiel (@PSG_inside) June 13, 2014
ESPN 30-for-30 presents: The Massacre of Belo Horizonte

— Gianni Verschueren (@ReverschPass) July 8, 2014
Spread the Blame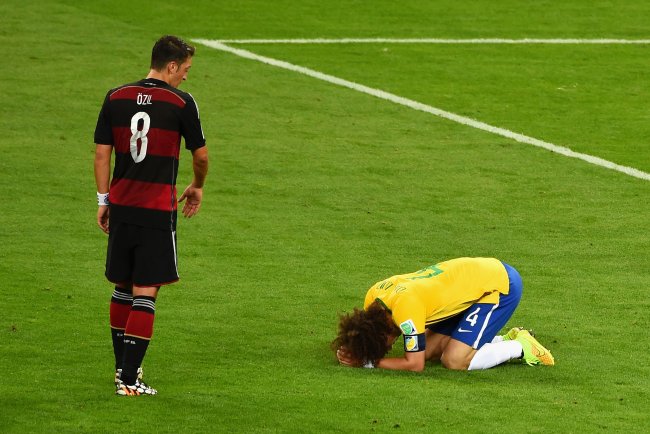 Jamie McDonald/Getty Images
Coming from the perspective of an ardent Luiz critic, the feeling of Schadenfreude has been replaced by pity.
"I just wanted to give some joy to my people, who deal with lots of suffering every day," Luiz said, per Dominic Fifield at The Guardian. "One day I'll make them happy somehow."
Luiz is wearing his heart on his sleeve, chivalrously taking the verbal bullets for the Brazilian national team, readily knowing his public image will never be the same.
David Luiz a broken man in his full time interview. #bra #ger https://t.co/ERyAXvFmp3

— Bleacher Report UK (@br_uk) July 8, 2014
Yet, what about Luiz's team-mates?
Minus Fred—the modern-day Serginho—Luiz's compatriots are slithering back into club football without taking any real accountability for their part in Brazil's demise.
Summing up Fred's evening. Pure dejection, booed by a lot of #BRA fans. You have to feel for him really. pic.twitter.com/tzgfRwBFID

— ITV Football (@itvfootball) July 8, 2014
Great move from Scolari, keeping Fred fresh for the 3rd/4th play-off game. https://t.co/ZfZbD1Duti

— Bleacher Report UK (@br_uk) July 8, 2014
Brazilian left-back Marcelo played himself as a left-forward from the get-go, which enabled German right-back Philipp Lahm to roam forward.
Amid the furore of Germany scoring not two, not three, not four, not five, not six times—Lahm created two goals from right-back.
It was not just Lahm cashing in on the right flank; German right-winger Thomas Mueller scored and created a goal again as Marcelo does not pride himself on being a shutdown defender.
A look at the race for the Golden Boot after Thomas Müller's performance today pic.twitter.com/5lBN6Gfo74

— ESPN Stats & Info (@ESPNStatsInfo) July 9, 2014
Müller now has 5 goals & 3 assists at this WorldCup. Have to think he'll eventually get the recognition given to Rodriguez, Neymar & Messi

— Clark Whitney (@Mr_Bundesliga) July 8, 2014
Luiz would have received more protection from Atletico Madrid left-back Filipe Luis, who is a world-class ball-winner.
Luis felt disillusioned after being rebuffed by Brazilian national team manager Luiz Felipe Scolari, per O Globo (via FourFourTwo).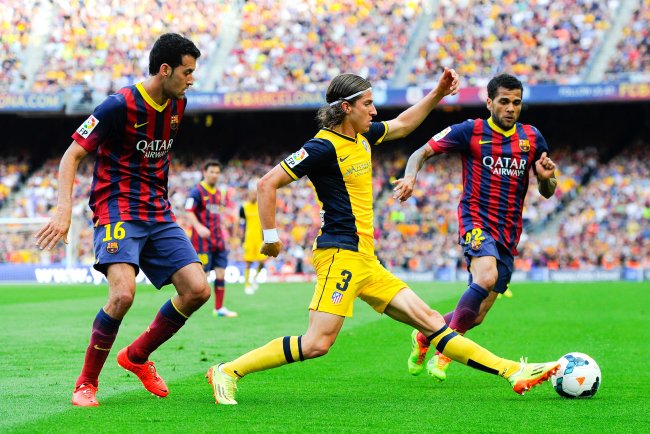 David Ramos/Getty Images
#BRA manager Luiz Felipe Scolari: "It is the worst day of my life." pic.twitter.com/adqBvGXsZq

— FOX Soccer (@FOXSoccer) July 8, 2014
League Only

Filipe

Luis

Marcelo

Tackles Per Game
4.1
2.5
Fouls Per Game
1.0
0.7
Tackles Per Foul
4.2
3.6
Interceptions Per Game
1.5
1.2
Possessions Won Back Per Game
5.6
3.7
Meanwhile, Brazilian right-back Maicon dedicated more time to diving than doing anything productive.
We've ruled out a summer bid for Maicon. We'll stick with Nicky Hunt thanks very much...

— Accrington Stanley (@ASFCofficial) July 8, 2014
Brazilian defensive midfielder Fernandinho failed to complete a tackle in a half of football.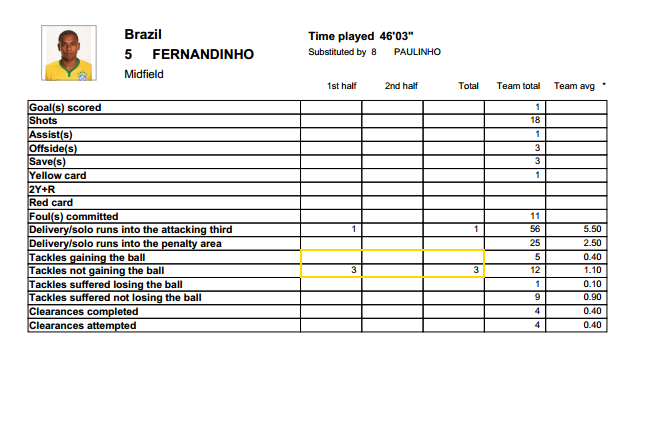 FIFA.com
There was a clear lack of cohesiveness between Fernandinho and midfield partner Luiz Gustavo, with German central midfielders Sami Khedira and Toni Kroos consistently making threatening runs.
Sami Khedira off. My Man of the Match. Surging into space, occupying defenders, clean passing. One goal, one assist. #GER

— Sam Tighe (@stighefootball) July 8, 2014
Khedira: You score Ozil: No you score Muller: No you score Kroos: No you score Klose: Shutup. Today we all score. #BrazilvsGermany

— Nauman (@iNaumanDogar) July 8, 2014
RECORD BREAKER: Miroslav Klose is now the leading World Cup goalscorer of all-time with 16 goals. Outstanding. #GER pic.twitter.com/8kcf3bpjPX

— Squawka Football (@Squawka) July 8, 2014
To think Fernandinho and Gustavo were tasked with shielding Brazil's defence.
In hindsight, what doomed Brazil was Luiz's partnership with Dante, who had Luiz-esque moments for Bayern Munich last season.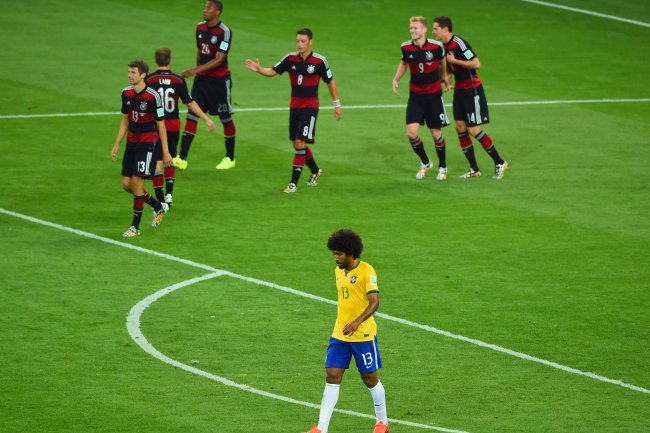 Jamie McDonald/Getty Images
It was an uncoordinated and unbalanced centre-back partnership.
David Luiz #BRA: Antes le tocó consolar a James Rodríguez; hoy fue consolado por su compañero Thiago Silva. #Respect pic.twitter.com/06iEhfdzqM

— Univision Deportes (@UnivisionSports) July 9, 2014
What Does Luiz Do Well?
League Only

Alex

David

Luiz

Marquinhos

Thiago

Silva

Tackles Per Game

1.6
1.2
1.3
1.1

Fouls Per Game

0.6
1.4
0.6
0.6

Tackles Per Foul

2.5
0.9
2.3
2.0

Interceptions Per Game

1.8
1.3
1.8
2.3

Possessions Won Back Per Game

3.4
2.5
3.1
3.4
Compared to PSG centre-backs and fellow Brazilians Alex, Marquinhos and Silva, Luiz is the only player who committed more fouls than tackles last season.
Luiz is neither a prolific ball-winner nor a conservative centre-back who blocks shots and forces opposing players into turnovers.
PSG had an issue with unforced errors from their centre-backs last season.
Alex and Silva combined for three own goals.
Marquinhos' air-swing led to Saint-Etienne central attacking midfielder Benjamin Corgnet scoring.
A careless clearance from Marquinhos saw the ball rebound off team-mate Thiago Motta and into the path of Saint-Etienne right attacking midfielder Romain Hamouma.
Alex, Marquinhos and Silva—three level-headed Brazilians—still have defensive breakdowns; therefore, PSG's choice to sign the world's most frustratingly inconsistent defender in Luiz has a high risk of failing.
Luiz's performance against Germany proved he is not a centre-back, let alone a €49.5/£39.3 million-valued defender.
Wait Oohh How much did Chelsea sell David Luiz to PSG pic.twitter.com/huzLtQ58MS

— Engr. Aondover (@Azendahh) July 8, 2014
Statistics via WhoScored.com.