In a match that Brazil will not be able to forget no matter how hard they try, Germany embarrassed the World Cup hosts with a 7-1 victory in the semi-finals.
After Thomas Mueller put Germany ahead in the 11th minute, the floodgates opened, and the European squad put four more goals into the net before the 30-minute mark. While the action slowed down in the second half, it was not any less embarrassing for Brazil, which could not score until the 90th minute.
For a team that expected to win its sixth championship, this is quite a disappointing exit. Obviously, the injury to Neymar can be considered a major reason for the poor showing, but the problems went deeper than just missing one player.
These were the biggest issues in Tuesday's poor showing by Brazil.
Midfield Was Unable to Sustain Possession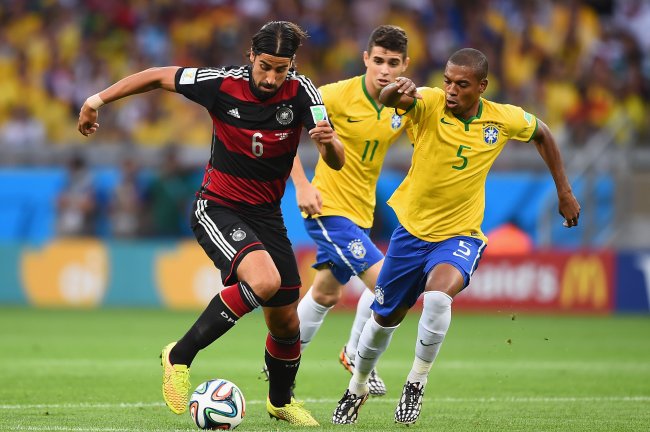 Laurence Griffiths/Getty Images
Although Neymar had done a great job of creating opportunities and finishing throughout the tournament, he might have been invisible if he played against Germany. This is because Brazil could barely even get the ball into the attacking zone in this match.
Holding midfielders Luiz Gustavo and Fernandinho failed to stop any attack, and when they did, they seemed to lose the ball almost immediately.
Fernandinho especially struggled in the first half before being subbed out for Paulinho, according to WhoScored.com:
Fernandinho: Received a lower rating (4.7) against Germany than any other outfield player did at a 2014 World Cup match #bra

— WhoScored.com (@WhoScored) July 8, 2014
On the other hand, Richard Whittall of The Score points out that there were others to blame on the defensive end:
David Luiz shouldn't get the blame. He was completely and utterly exposed by L. Gustavo, Fernandinho and Marcelo and Maicon.

— Richard Whittall (@RWhittall) July 8, 2014
Brazil ended up faring well in total possession, but they could not get anything meaningful going due to the poor showing of the midfield. Conversely, Germany had all the time in the world to set up attacks and move the ball until they could find the perfect look at the net.
Of course, the forwards did not succeed when there actually were opportunities, as illustrated by Squawka Football:
Hulk and Fred combined half in numbers: 0 shots, 0 chances created, 0/2 crosses, 0 aerial duels won. Abysmal. #BRA pic.twitter.com/7Yij1lK2mD

— Squawka Football (@Squawka) July 8, 2014
Still, the inability to control the action in the first half was the real undoing of this squad.
Dante Could Not Replace Thiago Silva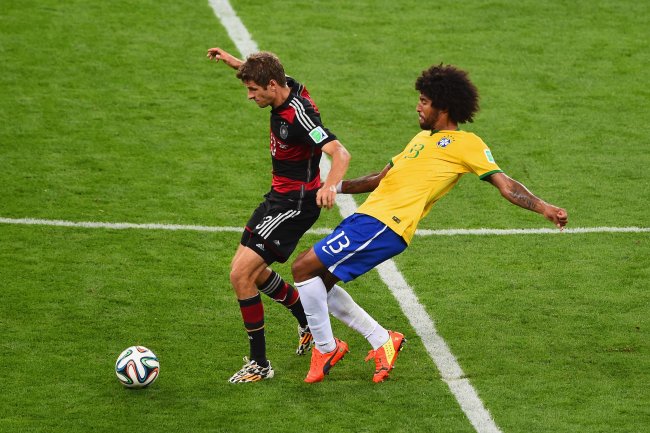 Jamie McDonald/Getty Images
Brazil fans were mourning the loss of Neymar in this match, but it is clear that Thiago Silva's absence was even greater. The centre-back and captain was forced to miss the semi-final after picking up a second yellow card against Colombia in the previous contest.
Originally, Dante was considered as good of a replacement as you could find after a successful year with Bayern Munich. Even Silva was optimistic, explaining via Henry Winter of The Telegraph:
When I spoke to Dante at the end of the match, he was one of the first players to greet me. I just told him: 'Look, the opportunity is there.'

But he's ready. He works very hard, is one of the first out at training and one of the last to leave, so he has the energy and the skills. I played with him in 2004 (at Juventude in Rio Grande do Sul) and I know what he overcame to get here. This could be his moment, to go out there and show his abilities.
Unfortunately, it was clear that there was a big drop-off for Brazil without one of their most experienced players.
Germany had shown throughout this tournament that they were capable of creating plenty of opportunities, but they were able to finish a lot more than usual thanks to the openings created by Dante.
All match long, players went unmarked in the box, and the whole Brazil back line was disorganized. This led to open looks from Mueller, Miroslav Klose, Toni Kroos and others.
Brazil had allowed four goals in five matches before facing Germany, yet there was one stretch in the match where they allowed four goals in a six-minute stretch.
Dante still has plenty of talent and has shown throughout his career that he is one of the better centre-backs in the world, but he is no Silva. This alone was probably the biggest difference for Brazil in a horrible day.
Brazil Were Not Mentally Prepared for Battle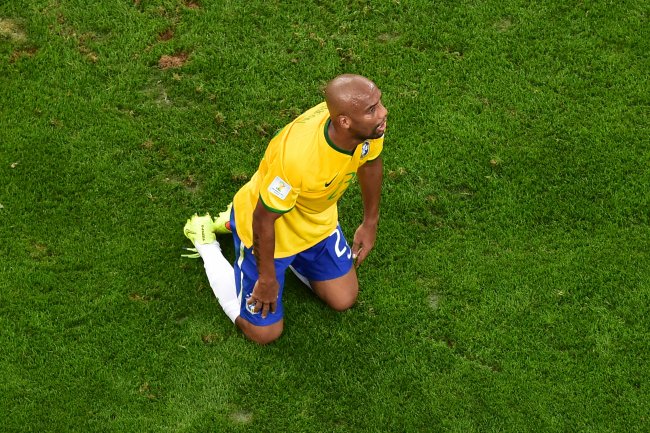 Francois Xavier Marit/Associated Press
It makes sense for any team to lose faith with a top player out, but Germany were still ready for Brazil's best effort.
Midfielder Bastian Schweinsteiger explained his expectations via FIFA.com, saying, "It's always better when the opponent have all their best players, besides it'll bring the (Brazil) team together and they'll want to win the title for him (Neymar)."
Meanwhile, FiveThirtyEight still gave Brazil a strong chance of winning this match:
#GER has a 35% chance of beating #BRA, a team that's been far from dominant during its run to the #WorldCup semis. http://t.co/KLSDWXBgWA

— FiveThirtyEight (@FiveThirtyEight) July 8, 2014
However, it was clear from the very beginning that the South American team was not ready to compete. Brazil gave up a goal in the 11th minute and then completely fell apart, allowing easy looks for the rest of the day.
Cathal Kelly of The Globe and Mail points out that the host team gave up on things early:
Based on body language, Brazil have given up and Germany don't want to rub it in. This is going to be 50 more minutes of nothing.

— cathalkelly (@cathalkelly) July 8, 2014
Obviously, a team of this ability would not ordinarily allow seven goals unless it completely stopped caring about the outcome. Germany coach Joachim Low gave his own opinion on his opponent after the match:
Low described Brazil as "shell-shocked."

— Sam Borden (@SamBorden) July 8, 2014
The players knew they were under a lot of pressure in this tournament and as soon as it was clear they were going to lose, they seemed to collapse. While this was a huge disappointment, it will certainly be something the squad thinks about for the next four years.
Follow Rob Goldberg on Twitter for the latest breaking news and analysis.