Hosts Brazil were completely embarrassed by a dominant German team in their 2014 World Cup semi-final on Tuesday, conceding five goals within the first half hour of play and losing by a final score of 7-1.
Toni Kroos (twice), Thomas Muller, Miroslav Klose, Sami Khedira and Andre Schurrle (twice) all got their names on the scoresheet thanks to a truly dreadful defensive performance from Brazil, who never expected the absence of Thiago Silva would have weakened the unit this badly.
Oscar was able to put one back late, but it wasn't enough to save the team's honour.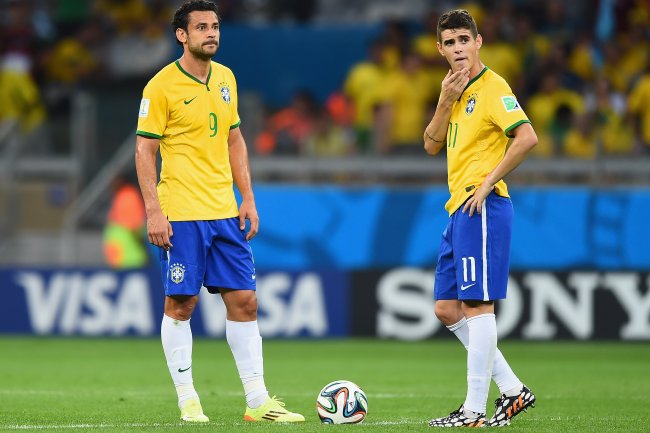 Laurence Griffiths/Getty Images
David Luiz was given the captain's bracelet, and the centre-back put in an awful performance. Emotional and constantly looking to move up the pitch, he failed to organise his teammates on the back line and was frequently caught out of position, including on the opening goal from Mueller.
Unsurprisingly, the comments on his performance on social media were brutal. Via World Cup 2014, things had started so well during the national anthems:
PHOTO: Julio Cesar and David Luiz hold up a Neymar jersey during the national anthem - pic.twitter.com/aUC5lp3ggr

— World Cup 2014 (@WorldCupPosts) July 8, 2014
TSN's Jason deVos couldn't believe a centre-back would make a rookie mistake on a corner kick, particularly one who just completed a €50 million move to Paris Saint-Germain:
50 million pounds for a defender who doesn't know how to man-mark from a corner kick. #DavidLuiz #smh

— Jason deVos (@jasondevos) July 8, 2014
The London Evening Standard's Amar Singh noted the player lacks in key areas of the game, and all of his flashy plays can't hide it:
As great as his free kicks are David Luiz could not organise a booze up in a Caprinha shop. Thiago Silva marshalls his back line

— amar singh (@amarjourno) July 8, 2014
OptaJoke had to make a Simpsons-inspired joke:
10 - David Luiz hasn't looked this angry since he stepped on 10 rakes. Simpsons.

— OptaJoke (@OptaJoke) July 8, 2014
The Daily Mirror's Mina Rzouki thought Brazil couldn't have picked a worse captain:
This is David Luiz as captain. Where is the leadership? Oh yes, charging forward when he ought to be screaming, captaining the sinking ship

— Mina Rzouki (@Minarzouki) July 8, 2014
Football Funnys thinks PSG might be looking for a refund:
LIVE IMAGES- PSG owners looking for David Luiz's receipt.. pic.twitter.com/QSGSYNw1UQ

— Football Funnys (@FootballFunnys) July 8, 2014
The Swiss Ramble summed up the night quite nicely:
Why boo Fred when David Luiz has been missing in action all game (except for a couple of flying elbows)?

— Swiss Ramble (@SwissRamble) July 8, 2014
For all of Luiz's poor play, striker Fred seemed to be the target of the crowd's anger, who started to boo the forward every time he touched the ball. Fred never saw any usable balls but didn't help matters with his positioning and lack of athleticism.
Football Funnys used this image to illustrate said lack of pace:
Mertesacker marking Fred tonight pic.twitter.com/pVQfkcYgJE

— Football Funnys (@FootballFunnys) July 8, 2014
The Daily Telegraph's Henry Winter noticed how quickly the crowd turned on the striker:
Thousands and thousands of #bra fans singing: "Dilma **** off; Fred **** off; Oscar **** off"

— Henry Winter (@henrywinter) July 8, 2014
Per World Cup 2014, his first-half performance added nothing to his team:
Fred touched the ball 6 times during the entire first half. Brazil kicked off 6 times.

— World Cup 2014 (@WorldCupPosts) July 8, 2014
The Daily Mirror's Alex Richards thought Fred was bad, but perhaps not as bad as the TV commentators would lead you to believe:
Fred's been dreadful. But Keown hammering him tonight rather pointless given how #BRA have defended.

— Alex Richards (@AA_Richards) July 8, 2014
And then the crowd got truly hostile, as BBC's Phil McNulty points out:
Fred getting what is commonly known as "the bird" from Brazil's fans every time he touches the ball. Scapegoat time.

— Phil McNulty (@philmcnulty) July 8, 2014
When Fred's night was finally over after 70 minutes of action, the Toronto Sun's Kurtis Larson noted the striker got a final chorus of boos, and he even felt bad for the player:
Fred booed off the pitch. Greeted by Scolari with a handshake. Good gesture, I think. Nobody should be put through that.

— Kurtis Larson (@KurtLarSUN) July 8, 2014
Die Mannschaft recorded a historic win on Tuesday, one that will be talked about for a long time. Brazil's World Cup bid is over, and the hosts will leave the tournament in embarrassing fashion.
The Selecao still have to play a play-off match for the tournament's third-place finish, but many will wonder whether the team will even bother to put in their best effort, knowing they've disappointed the home crowd in such fashion.
Tuesday was one of the darkest days in Brazilian football history, and one that will live on in infamy. How the team recovers from this is anyone's guess, and this loss could potentially mean the end of Luiz Felipe Scolari's coaching tenure.