The Orlando Summer League is a chance for the NBA's top young players to prove themselves in a competitive environment, and a few men did just that with strong showings on Tuesday.
While fans always like to see their teams win, the scores do not matter much at this time of the year. Even coaches are more concerned with the development of their best prospects, while fringe players work to earn a spot on the team going forward.
This creates an interesting environment, with almost everyone on the court playing their hardest to prove themselves no matter what the scoreboard reads.
Here is a breakdown of the scores and recaps from Day 4 in Orlando.
Orlando Summer League Day 4 Scores

| | |
| --- | --- |
| Time (ET) | Matchup |
| 3 p.m. | Grizzlies 80, Magic 73 |
| 5 p.m. | Pistons 80, Heat 78 |
| 7 p.m. | 76ers 92, Rockets 71 |
via NBA.com
Day 4 Recap
Grizzlies 80, Magic 73
Fernando Medina/Getty Images
The Grizzlies used a balanced effort to knock off the Summer League hosts with an 80-73 win in the opening game of the day.
Kalin Lucas was the game's highest scorer with 14 points, but the true star was Jarnell Stokes. The second-round pick finished with 11 points and 12 rebounds off the bench, his second double-double in three games.
Okaro White and Terrico White also finished in double figures, while first-round pick Jordan Adams only managed two points on 0-of-6 shooting only a day after signing his new contract. At least he did lead the break on one of the bigger plays of the game:
Orlando was led by Dewayne Dedmon, who had 13 points in a losing effort. Still, the real focus was on first-round picks Aaron Gordon and Elfrid Payton, who combined for just 10 points in the contest.
Payton has struggled early in the Summer League, but there is still some bright potential. After the Magic's second game, assistant coach Wes Unseld praised Payton to the media.
"We want him to get as much exposure now as possible," said Unseld. "I thought he played beautiful. He's got to learn to control the tempo a little better when teams try to speed us up. But overall, he handled the pressure and got us organized and got decent looks."
Chris Towers of CBS Sports points out that the defensive effort is there:
Elfrid Payton-Victor Oladipo is going to be hell for a lot of backcourts, defensively at least.

— Chris Towers (@CTowersCBS) July 8, 2014
Meanwhile, Bleacher Report's Adam Lefkoe notes that Gordon has the ability to keep fans on their toes:
Every few minutes, Aaron Gordon does something that impresses me. Kid is wonderfully raw and gifted.

— Adam Lefkoe (@AdamLefkoe) July 7, 2014
If he can continue to improve, Gordon could end up becoming one of the best players in this entire draft.
Orlando now has a day off before taking on the Boston Celtics in an interesting battle of young teams. The Grizzlies will also skip a day and then conclude their schedule with a matchup against the Houston Rockets.
Pistons 80, Heat 78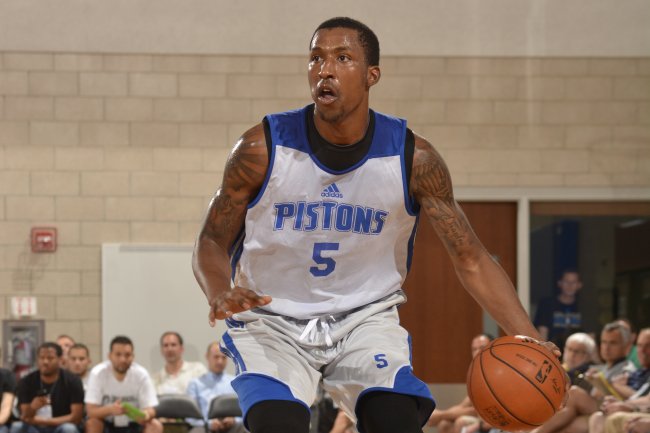 Fernando Medina/Getty Images
In a game that went down to the wire, Kentavious Caldwell-Pope hit the game-winning three-pointer in the final seconds to help the Pistons escape with a two-point win over the Heat.
Caldwell-Pope finished with a game-high 26 points, including an impressive end to the game as detailed by Shane Young of Hoops Habit:
Caldwell-Pope was fouled on a 3-point attempt, nailed all free throws. Came down the court, hit off-balanced look for the Pistons' victory

— Shane Young (@YoungNBA) July 8, 2014
The Pistons also got strong performances from DeAndre Liggins (14 points) and Ian Miller (16 points) in the victory, although Tony Mitchell might have had the most memorable play of the day:
On the other side of the court, all eyes were on Heat first-round pick Shabazz Napier. Although he only managed seven points and two assists, he did provide a few highlights with the ball:
The bench also showed up for Miami as Tyler Honeycutt scored 12 points while Eli Holman added 10 points and nine rebounds. However, it was not enough for the Heat as Caldwell-Pope and company were just too difficult to stop.
Detroit will now try to keep this momentum against the Boston Celtics on Wednesday, while the Heat will have a day off before facing the Indiana Pacers on Thursday.
76ers 92, Rockets 71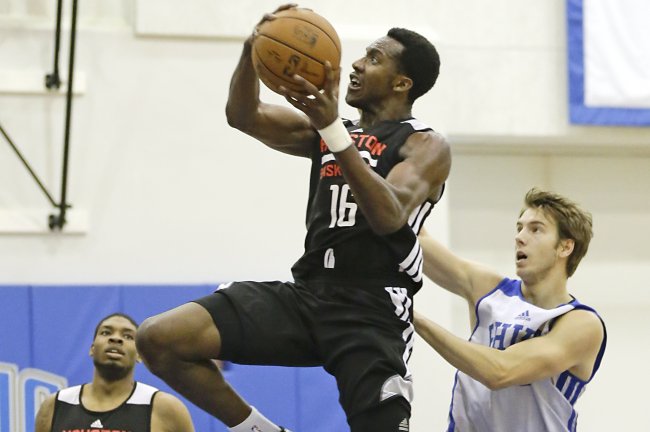 John Raoux/Associated Press
The 76ers outscored the Rockets 23-12 in the fourth quarter to help pull away for a 92-71 win.
Philadelphia saw a number of players step up with big efforts in the victory. Hollis Thompson scored 14 points on 4-of-7 from the outside, leading a squad that went 10-of-19 from beyond the arc. Casper Ware added 16 points, while K.J. McDaniels had 15 in the win.
While Nerlens Noel was limited to just eight points and six assists, he still had a few impressive moments like this steal and dunk:
Jake Fischer of the Boston Globe also points out that the coaching staff is working hard to push the young player in this tournament:
Greg Foster hollering at Nerlens to stay in a stance defensively. He's tired, Sixers staff clearly pushing him. I like it.

— Jake Fischer (@JakeLFischer) July 9, 2014
Meanwhile, Houston got a big performance out of Jahii Carson, as noted by Doug Haller of AZ Central Sports:
ASU's Jahii Carson w/ his best Summer League game today. Led Houston w/ 18 points (4-9 FG, 9-11 FT), 1 assist (30 mins) in loss to Philly.

— Doug Haller (@DougHaller) July 9, 2014
The diminutive guard is hoping that his quickness will earn him a spot on the roster. Houston got strong performances from Jabari Brown with 16 points while Nick Johnson had 11, but both went just 4-of-14 from the floor.
In the end, the young roster simply did not have enough to keep up down the stretch.
Philadelphia will now face the Brooklyn Nets in its next game while the Rockets have an off day before taking on the Memphis Grizzlies.
Follow Rob Goldberg on Twitter for the latest breaking news and analysis.