Just one match remains before we know who the two finalists of the 2014 World Cup will be, as the Netherlands and Argentina get set to take to the pitch in Sao Paulo on Wednesday.
It will be the brilliance of Lionel Messi against the tactical prowess of Louis van Gaal, as both parties have consistently risen to the occasion when called upon. One will have to fall short on Wednesday, and fans can't wait to find out which it will be.
Here's the updated 2014 World Cup bracket as well as the odds and game lines for Wednesday's match, per Oddsshark: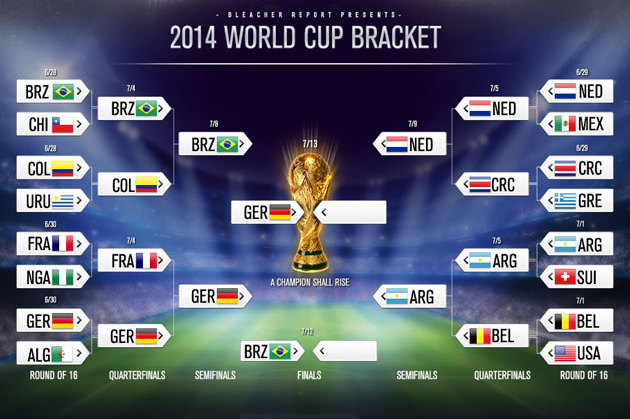 Credit: B/R
Netherlands vs. Argentina Odds

| | |
| --- | --- |
| Result | Game Lines |
| Argentina Win | +140 |
| Netherlands Win | +200 |
| Draw (After 90) | +210 |
Source: Oddsshark.com
Van Gaal Will Overcompensate For The Presence Of Messi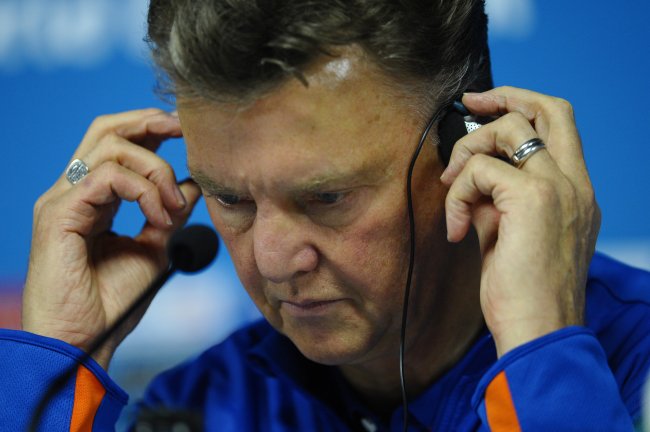 Manu Fernandez/Associated Press
The Dutch manager has been phenomenal with both his substitutions and in-game alterations so far during the tournament, but those two ignore the fact he has occasionally struggled with his initial tactics.
Both Mexico and Costa Rica (and Australia to an extent) found success again the Netherlands in the early goings only to fall victim to Van Gaal's cunning alterations.
Speaking ahead of the match against Argentina, Van Gaal told reporters he had a plan to take on the Albiceleste and Messi in particular.
Via football-italia.net, he said:
I have a plan ready on how to stop Messi and Argentina.

We are about to face Argentina, not just a single player, so we need to approach this in terms of a team and not of individuals, even if they are particularly impressive ones. If Messi has been voted World Player of the Year four times, then there must be a reason. In any case, I have a plan put in place to interrupt his moves too.
Van Gaal isn't the first manager to emphasise the presence of Messi, nor will he be the last. The four-time Ballon d'Or winner has been consistently great throughout the tournament, and he is Argentina's primary danger man.
He's far from the only threat, however, and with Van Gaal desperate to prove he can get his tactics right from the first whistle, he has to be careful not to divert too much attention to the mercurial forward.
Belgium made the same mistake, putting both Axel Witsel and Marouane Fellaini on Messi-watch, and as a result Argentina found far too much space to operate in the area between the midfielders and defenders.
Both Higuain's goal and Angel di Maria's big chance in the first half came as a result of those spaces, and the Netherlands can't afford to make the same mistakes. Unlike other teams, Argentina have enough quality to cope with Van Gaal's in-game changes, and once they grab the lead, the match could already be lost for the Dutch.
Injuries Will Decide The Winner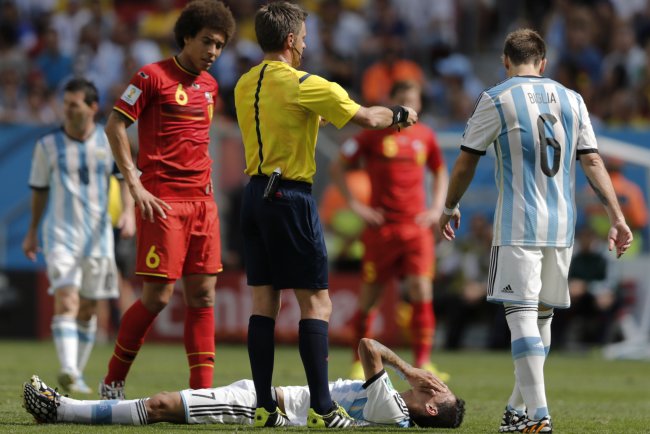 Eraldo Peres/Associated Press
Both teams will be entering this match with question marks surrounding crucial positions. According to Eurosport, Robin van Persie is struggling with illness, and he could miss out on the fixture with Argentina:
BREAKING: Dutch striker Robin van Persie could miss World Cup semi-final with Argentina due to a stomach problem.

— Eurosport.com EN (@EurosportCom_EN) July 8, 2014
AFP's Tom Williams has learned Nigel de Jong is back in training after initially being ruled out of the rest of the tournament:
Nigel de Jong training with Holland this morning. Huge boost for them if he's fit for tomorrow.

— Tom Williams (@tomwfootball) July 8, 2014
Meanwhile, World Cup 2014 knows di Maria's World Cup is truly over:
Argentina doctor has confirmed that Angel Di Maria is out of the World Cup semi-final match against Netherlands.

— World Cup 2014 (@WorldCupPosts) July 7, 2014
RVP has struggled finding the net during the knockout stages, but he remains one of the Netherlands' best players, fulfilling a crucial role next to Arjen Robben. De Jong's physicality was missed against Costa Rica, who found far too much space in the centre of the pitch.
His return to the starting XI could be huge, but still recovering from an injury, one has to wonder just how effective he will be.
Argentina struggled for creativity against Belgium once di Maria left the pitch, and while Enzo Perez is a capable replacement, he lacks the raw athleticism and deep threat di Maria brings to the table.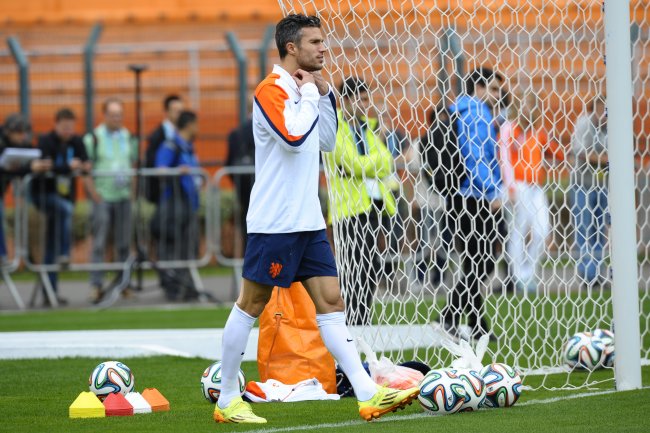 Manu Fernandez/Associated Press
Both teams have the talent to overcome injuries, but the question becomes whether both managers decide to alter their tactics or trust the replacements to fill the shoes of the starters adequately.
Argentina could give up the wide game altogether—the Dutch could decide to add bodies in front of the defence and let Argentina have the ball. Both tactics are risky, but so are the alternatives.
Matches are won by the 22 players on the pitch, but it will be the players sitting this one out who could have a major impact on the final result.