The Almost All-Time Dallas Cowboys Offense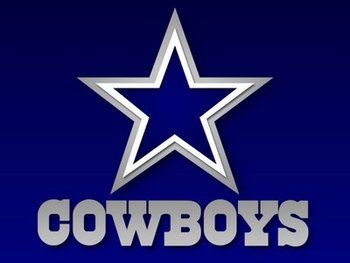 This list, as the title implies, pays tribute to greats NOT in Canton.
The Dallas Cowboys are a team that has etched a significant image in the NFL landscape over a short period of time.
Their inception year was 1960, and this was also when the legendary trio of Tom Landry, Gil Brandt, and Tex Schramm came on board to the team.
This group of men worked quickly into building the Cowboys as a perennial contender. They would appear in back to back NFL Championship games within just seven years, and would soon set an NFL record for having a winning record twenty straight seasons.
The Cowboys also went to the playoffs eight straight years, an NFL record, then broke that streak by appearing in the playoffs nine straight years. They also have appeared in a record eight Super Bowl games, winning five.
They are a team most either love or hate. This might have mostly spawned from an NFL Films editor dubbing the Cowboys "America's Team" just before the 1979 season.
This expression has brought the team and league a lot of coin. The Cowboys have sold out a record 160 games in all stadiums they have played in since the 1990 season.
Though Dallas has not been to the Super Bowl since 1995, they are a team most fans speak of as a contender yearly. This aura was created by that trio of Tom, Tex, and Gil, and it should continue in the foreseeable future.
I hope you enjoy the list, and any debate on my selections is welcome.
The Almost All-Time Defense will my next post in the upcoming days, so keep your eyes peeled for that.
Quarterback: Don Meredith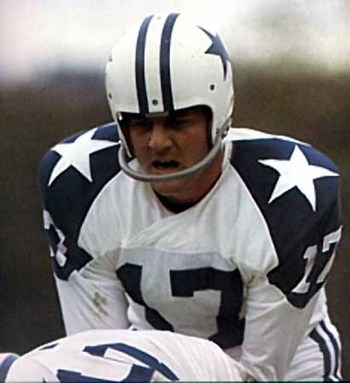 Don was already a legend in Dallas before he turned pro.
He went to SMU, which some called "Southern Meredith University" during his time there, and is a member of the College Football Hall Of Fame.
The Chicago Bears drafted Meredith in the third round of the 1960 draft, the 32nd player picked overall, but traded him to the expansion Cowboys for a few draft picks.
After starting five of the fourteen games he played in his first two season, Don replaced incumbent starter Eddie LeBaron during the 1962 season.
Though the Cowboys would not have a winning season until 1966, Meredith became a fan favorite who was known for his toughness and determination.
He led the NFL in yards gained per completion in 1965, as the Cowboys had their first non losing season by going 7-7.
The 1966 season saw Don win the Bert Bell Awards for NFL Player of the Year, as well as earn his first Pro Bowl nod, when he led the NFL in yards gained per pass completion again.
Dallas had now joined the top tier of the NFL ranks, and would go on to play in the 1967 NFL Championship.
Though they lost in the famous "Ice Bowl" to the Green Bay Packers, his leadership skills were now in the national spotlight.
"Dandy Don" would make the Pro Bowl Team in each of the following two seasons, but missed several games due to various injuries.
After the 1969 season, he suddenly retired from the game at 30 years old.
Every home football game he played from high school to the pros was in North Texas.
He then went on to enjoy a career as an NFL broadcaster for 15 years. Don Meredith is a member of the Cowboys Ring Of Honor.
Though the Cowboys have had a few Hall Of Famers play quarterback during the teams 48 years of existence, "Dandy Don" was one of a kind.
Fullback: Don Perkins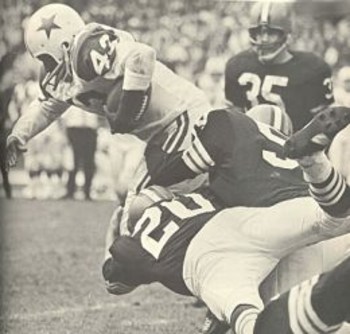 Perkins was a ninth round draft pick of the Baltimore Colts in the 1960 draft, the 106th player chosen overall.
Don never played with the Colts because he had signed a contract already with the expansion Cowboys. After the Colts were compensated, Perkins suited up for Dallas in the 1961 season.
Don's rookie year saw him play halfback and gain 815 yards on 200 carries, while catching a career high 32 passes.
He was named to his first All Pro Team for that season, an honor he would be given in each of the following two seasons.
Perkins had a career bests with 945 rushing yards on 222 carries in 1962. He also ran for seven touchdowns.
The next season Don moved to fullback, where he scored seven times on 149 carries for 614 yards over 11 games.
After scoring six touchdowns on 174 carries for 768 yards, Perkins did not score in 1965 after gaining 690 yards on 177 carries. It was the only year of his career where he failed to reach the end zone.
Perkins rebounded with an All Pro season in 1966 after gaining 726 yards on 186 carries with a career best eight rushing touchdowns.
He returned to the Pro Bowl the next year after gaining 823 yards on 201 carries and six scores.
After a Pro Bowl season in 1968, where Perkins gained 836 yards on 191 carries and 6 total touchdowns, he retired from the NFL.
He retired as the Cowboys all time leader in rushing yards with 6,217 yards, and still ranks third in franchise history.
Don wasn't a big fullback, standing 5'10" and weighing 204 lbs, but he was a hard nosed runner and an exceptional blocking back.
Don Perkins is a member of the Cowboys Ring Of Honor, and the greatest fullback in Dallas Cowboys history.
Robert Newhouse and Daryl Johnston deserve mention.
Halfback: Calvin Hill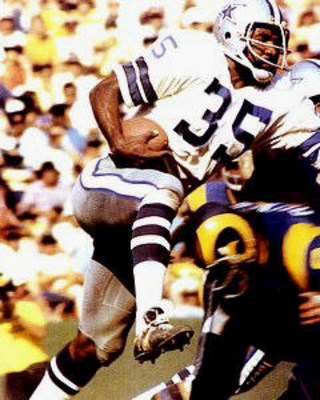 Hill was the Cowboys first round draft choice in the 1969 draft, the 24th player chosen overall.
He was put to work right away and gained 942 yards on 204 carries with eight scores. He ran one ball for a career long 55 yards, and also completed all three of his passes with two scores.
Calvin was named Rookie of the Year, and was named to the Pro Bowl Team.
The next two years were injury plagued seasons for Hill. He gained 1,045 yards on 259 carries and 15 total touchdowns while starting 14 of the 20 games he played in.
The Cowboys would reach the Super Bowl both of those seasons, winning once.
He then became the first 1,000 yards rusher in Cowboys history in 1972, after gaining 1,036 yards on 245 carries and nine total touchdowns. He also snagged a career best 43 pass receptions.
Calvin returned to the Pro Bowl, and would do again the following season after gaining career highs with 1,142 yards rushing yards on 273 carries. He also scored six times.
The 1974 season was the last year Hill would be an All Pro, and as a member of the Cowboys. He ran for 844 yards on 185 carries for seven scores.
Due to a contract dispute, Calvin joined The Hawaiians of the World Football League for 1975, the only pro football team to emanate out of Hawaii.
He joined the Washington Redskins in 1976 and played as a seldom used reserve over the next two seasons, gaining 558 yards on 148 carries and a touchdown.
Calvin joined the Cleveland Browns in 1978, and was used primarily four seasons as a receiver.
He ran for 516 yards on 138 carries and two touchdowns, along with 107 receptions 1,248 yards and 16 more scores. He then retired after the 1981 season.
Though Calvin played just six seasons with Dallas, he gained 5,009 rushing yards and was a four time All Pro with them.
He certainly was a great player.
Wide Receiver: Drew Pearson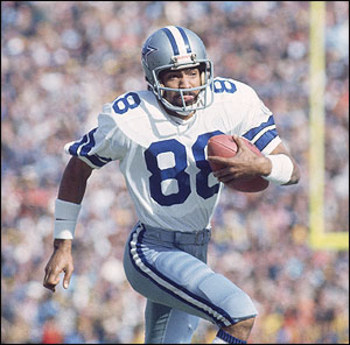 Pearson was signed by the Cowboys in 1973 as an undrafted rookie free agent.
He broke into the starting unit as a rookie for six games and caught 22 passes.
Drew had his best season the following year. He caught 62 balls for 1,087 yards, both of which were career bests, and went to his first Pro Bowl game.
After catching 46 balls for 822 yards and a career high eight touchdowns in 1975, Drew returned to the Pro Bowl in 1976 after 58 balls for 806 yards and six scores.
Pearson then went to his last Pro Bowl the following year after catching 48 passes for a league leading 870 yards to go with two scores.
His 62.1 receiving yards per game led the NFL also, which would help the Cowboys to go on and win Super Bowl XII.
After 44 receptions in 1978, Drew had 1,026 yards on 58 receptions for eight touchdowns the following season. His 18.7 yards per catch was a career best.
Though Drew was still an integral part of the Cowboys offense over the next three seasons, his production slightly declined each year with reception totals of 43, 38, and 26 respectively.
Despite missing two games in 1983, Drew would catch 47 passes and score five times.
He retired with 489 career receptions for 7,822 yards and 67 touchdowns.
"Mr. Clutch" is a member of the NFL 1970's All Decade Team, and is known for several historical catches like the "Hail Mary against the Minnesota Vikings in a 1975 playoff game, another game winning catch against the Los Angelos Rams in a 1973 playoff game, and the winning catch against the Cowboys arch rival Washington Redskins on Thanksgiving in 1974.
All three catches were part of the NFL's Top 75 Plays in NFL History by NFL Films in 1994. For some strange reason,
Drew Pearson has yet to be put in the Cowboys Ring Of Honor, but he is certainly one of the greatest wide receivers the franchise has ever had.
Wide Receiver: Tony Hill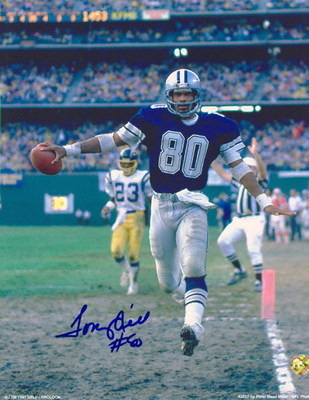 Tony was the Cowboys third round draft pick in 1977, the 62nd player chosen overall.
He only caught two balls in his rookie year, and returned 10 punts and three kickoffs. Dallas would end up winning Super Bowl XII that year.
Hill really exploded onto the NFL scene the following year, and earned his first Pro Bowl bid.
He snagged 46 balls for 823 yards and six scores.
He returned to the Pro Bowl the next year, when he scored a career best 10 touchdowns on 60 receptions for 1,062 yards. He took one pass for a career long 75 yards as well.
He had virtually identical numbers the following season, when he had 60 receptions for 1,055 yards and eight touchdowns.
Despite starting in nine of the 16 games he played in 1981, Tony averaged a career high 20.7 yards on 46 catches.
After 35 receptions in the strike shortened season of 1982, Hill had 49 catches and seven touchdowns the next year. Despite missing five games in 1984, he managed to snare 58 balls and five scores.
Tony made his last Pro Bowl Team in 1985, after catching a career best 74 passes for 1,113 yards. He also had seven touchdowns.
His last year in the NFL was in the following 1986 season. Tony had 49 receptions for 770 yards and 3 scores.
Tony Hill retired with 479 receptions for 7,988 yards and 51 touchdowns.
He and Drew Pearson formed one of the best wide receiver duo's in the NFL for several years, as you can tell by their similar career statistics.
Tight End: Jay Novacek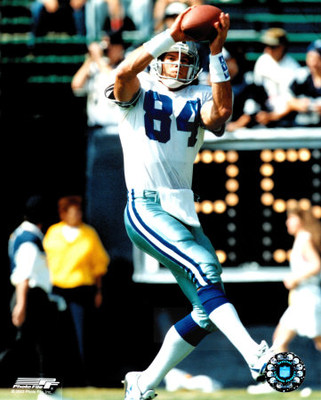 Jay was drafted by the Saint Louis Cardinals in the sixth round of the 1985 draft. He was the 158th player chosen overall.
Novacek was seldom used, and seldom healthy, in his first three seasons.
He caught a total of 22 passes during that time, but started to blossom with 38 receptions in 1988.
After catching 23 passes the next year, Novacek signed with the Cowboys as a free agent before the 1990 season.
He immediately contributed as the Cowboys starting tight end that year, when he had 59 catches.
He went to his first Pro Bowl the following year, after catching 59 more passes.
Jay returned to the Pro Bowl in 1992 after having career bests with 68 receptions and six touchdowns.
In his 1993 All Pro season, Novacek ran a ball two yards for the only rushing touchdown of his career.
Novacek would continue to make the Pro Bowl until 1996. That year saw him have a career high 705 yards on 62 receptions, while scoring five times.
Jay was then hurt during the Cowboys Super Bowl XXX victory,and never played again.
Novacek retired with 422 receptions for 4,630 yards and 31 total touchdowns.
Doug Cosbie deserves mention, but Jay Novacek may be the best tight end the Cowboys have ever had thus far.
Center: Mark Stepnoski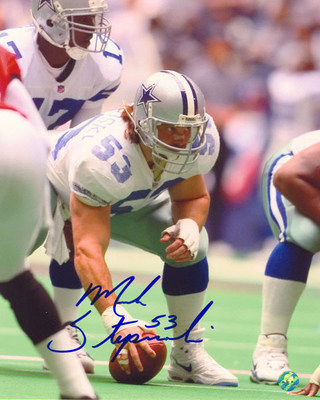 Mark was the Cowboys third round draft choice in the 1989 draft. He was the 57th player chosen overall.
He eventually took over for long time starter Tom Rafferty, and started four games in his rookie year.
He would then start in every game he played in the NFL from 1990 until his retirement.
Stepnoski made his first Pro Bowl Team in 1992, despite missing two games. He would achieve that honor for the next four seasons as well.
The Cowboys would go to, and win, back to back Super Bowls between 1992 and 1993.
He joined the Houston Oilers in 1995 and stayed with them as they moved to Tennessee in 1997.
After the 1998 season, Stepnoski rejoined the Cowboys in 1999. He then started for the team until his retirement in 2001.
Mark Stepnoski's three Pro Bowl appearances with Dallas are the most by any center in franchise history, and that mark was recently equaled by Andre Gurode.
Guard: John Niland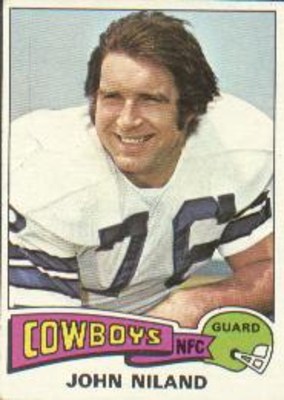 Niland was the Cowboys first round draft choice of the 1966 draft, the fifth player chosen overall.
He was plugged in as a starter at Left Guard right away, and stayed there for the rest of his time with Dallas.
He made his first Pro Bowl Team in 1968, and would garner that nod for six straight seasons.
He was an important part of an excellent offensive line that went to two Super Bowls, four Conference Championships, six Division Championships, and eight seasons of playoff appearances during his time in Dallas.
In 1972, Niland scored a touchdown off of a fumble recovery.
John made his last Pro Bowl Team in 1973, then played his last year with the Cowboys in 1974.
He was then traded to the Philadelphia Eagles before 1975, then retired after playing one season with them.
Dallas has had many great guards in their franchise history, and John Niland certainly ranks near the top.
Guard: Nate Newton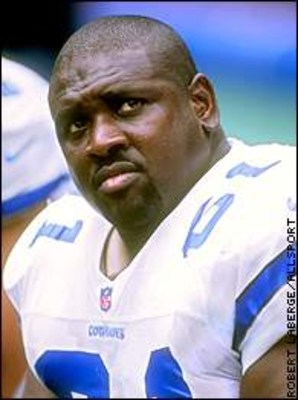 Nate went undrafted by the NFL in 1984.
He joined the Tampa Bay Bandits of the United States Football League, and played with them until 1985.
He then signed with the Cowboys before the 1986 season.
He played as a reserve in 11 games during his rookie season, but started in all 11 games he played the next year.
Nate would start in every game he played over the next four years, and missed only three due to injury.
He made his first Pro Bowl Team in 1992, a honor he would achieve for five straight seasons, and helped the Cowboys win Super Bowl XXVII.
The Cowboys repeated as champions the next year, then won again in 1995.
After Newton missed three games in 1997, he made his last All Pro Team the next year. It was also his last with Dallas.
He joined the Carolina Panthers, and played in seven games, in 1999. Nate then retired from the NFL.
I left Eric Allen off this list because I am certain he will be inducted into Canton.
Herb Scott and Blaine Nye deserve mention as well.
Nate Newton was a very big, strong, and agile man who was noted for sound technique and crushing blocks.
He is one of the best guards to have ever played for the Cowboys.
Offensive Tackle: Ralph Neely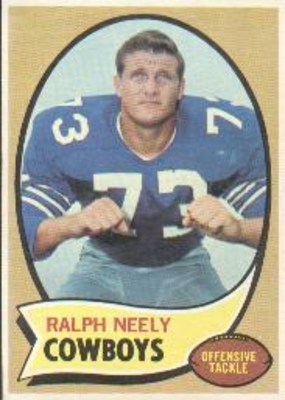 Ralph was drafted in the second round by both the NFL Baltimore Colts and the AFL Houston Oilers.
Ralph initially agreed to play with the Oilers, who even offered Neely a gas station in his contract, but he decided to join the Cowboys after Dallas acquired his rights from the Colts.
He started right away at Right Tackle, and remained there for five seasons.
He made the Pro Bowl three straight seasons from 1967 to 1969.
He moved to Left Tackle in 1970, and even saw time at Right Guard.
Now the Cowboys starter at Left Tackle, Ralph manned that position until 1977.
He was injured halfway into the Cowboys victorious 1971 Super Bowl season, and missed the rest of the year.
In 1972, Ralph rushed for 10 yards.
After the Cowboys beat the Denver Broncos at Super Bowl XII in 1977, Neely retired.
Though Ralph has yet to join his bookend, Rayfield Wright, in Canton or Cowboys Ring Of Honor, he was an excellent and versatile player.
Ralph Neely is a member on the NFL 1960's All Decade Team.
Offensive Tackle: Pat Donovan
Pat was drafted in the fourth round of the 1975 draft by the Cowboys. He was the 90th player chosen overall.
Donovan's was part of a Cowboys draft class tabbed "The Dirty Dozen", which helped the team to great successes.
After being a reserve for his first three seasons behind Ralph Neely, Pat took over as the full time starter at Left Tackle.
He made his first Pro Bowl Team in 1979, and would continue to do so until 1982.
After playing out the 1983 season, Donovan retired from the NFL.
The Cowboys have had a few great tackles in their 48 years.
Hall of Famer Rayfield Wright heads the list, and Eric Williams may soon join him in Canton.
Pat Donovan was also an excellent player in his own right.
Kicker: Rafael Septien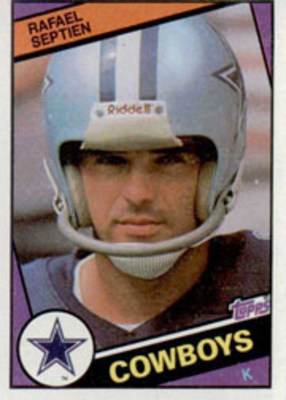 Rafael wins this spot because of service time.
The Cowboys have had several other kickers go to the Pro Bowl just once like Septien did, but none lasted with the team as long.
Rafael was a tenth round draft pick of the New Orleans Saints, the 258th player overall, in the 1977 draft.
He ended up playing for the Los Angeles Rams that year, and scored 86 points.
Septien then joined the defending champion Cowboys in 1978, and scored 94 points. He made 46 of 47 extra point attempts, both of which led the NFL that season. Septien followed that up with 97 points the next year.
He then led the NFL with 59 extra point conversions out of 60 attempts in the 1980 season, while scoring 92 points.
Rafael's best season may have been in 1981, his only Pro Bowl year. He scored 121 points, while leading the NFL with 27 field goals made.
He then had 58 points in the strike shortened season of 1981, and then had a career best 123 points the following year.
Rafael then had 101 points in 1983, and 99 the following year.
His last year in the NFL was 1986, where he scored 88 points.
Septien is the Cowboys all time leader in field goal and extra point attempts and field goal and extra point conversions.
His 874 points are the most ever by any Cowboy.
Rafael Septien was named to the Cowboys 40th Anniversary Team in 2000, and he is the greatest kicker the teams has ever had so far.
Return Specialist: Kevin Williams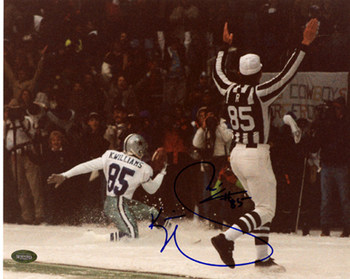 Williams, born in Dallas, was the 46th player chosen in the second round by the Cowboys in the 1993 draft.
He spent his first two seasons as the Cowboys primary return specialist.
He returned two punts for touchdowns on 36 attempts as a rookie, which was the most in the NFL that year.
Kevin also found time to receive 20 balls for two touchdowns, while scoring his only two rushing touchdowns on seven attempts. The Cowboys would go on to win Super Bowl XXVIII.
He took another punt 83 yards for a score the next year on 39 returns, while taking a kickoff 87 yards for a touchdown.
Kevin averaged a career best 26.7 yards per kick return on 43 attempts that year.
The 1995 season saw the Cowboys win Super Bowl XXX, as Williams saw his punt return duties decrease as his receiving duties increased.
He did return 49 kickoffs, the most he had as a Cowboy, as well as catching a career high 38 passes for 613 yards and two scores.
He also rushed the ball a career high ten times for 53 yards.
Williams had an injury shortened season in 1996 and caught 27 passes for a score in the 10 games he suited up for. He returned just 21 kickoffs and 2 punts that season as well.
He joined the Arizona Cardinals for the 1997 season and led the NFL with a career best 1,458 kickoff return yards on a career high 59 attempts.
Williams also returned a career high 40 punts for 416 yards, and caught 20 passes with one touchdown.
He then joined the Buffalo Bills for the following season and returned 47 kickoffs for 1,059 yards, as well as returning 37 punts for 369 yards.
Kevin also scored the last touchdown of his career that year on 29 receptions.
Williams then caught 31 passes for the Bills in 1999, as well as returning 33 punts for 331 yards and 42 kickoff returns for 8840 yards.
He then joined the San Francisco 49ers for the 2000 season.
Used only as a return specialist, Kevin had 26 punt returns for 220 yards to go with 30 kickoff returns for 536 yards. He then retired after that year.
His 3, 416 kickoff return yards are the most in Cowboys history.
Hall Of Famers Bob Hayes and Mel Renfro deserve mention, as does Kelvin Martin.
Martin has the most punt return yardage in Cowboys history, and Renfro still has the third most kick return yardage.
Hayes, Martin, and Williams all share the Cowboys franchise record for three punt returns for touchdowns in a career.
Though the Cowboys have had many decent return specialists, and Williams' 98 receptions with the team shows he was a versatile weapon.
He is my pick as their best overall return specialist who not in Canton.
Keep Reading

Dallas Cowboys: Like this team?