The UNLV campus will be overrun by hopeful young basketball players amid the searing heat of a Las Vegas July, but these ballers do not seek a spot on the Runnin' Rebels roster. Instead, they will show their stuff with hopes of landing a regular role in an NBA rotation.
Over a week-and-a-half, a total of 67 games will decide the futures of dozens of prospects, and a tournament winner will be crowned at the Las Vegas Summer League. NBA TV will televise the majority of the games live, but if you're incapable of leaving a casino or one of Vegas' In-N-Out Burger locations, you can still stream all the action to your mobile device for a small fee.
Here is the complete viewing info and schedule for all the action in Vegas, and the top team to watch for plenty of developing drama.
Las Vegas Summer League Info
Dates: July 11-21
Watch: NBA TV (showing some games live, see table below)
Stream: NBA Summer League Live (subscription required)

Where: Mack Center and Cox Pavilion, UNLV campus; Las Vegas, Nevada
Rosters: Via HoopsHype
Bracket: Full schedule via NBA.com (see table below)
Tempering Expectations
If you frequent the Internet (and it appears that you do), you may have seen basketball agog about Phil Pressey annihilating Miami Heat first-round pick Shabazz Napier at the Orlando Summer League:
VIDEO: Celtics' Phil Pressey crosses up Miami's Shabazz Napier in the NBA Summer League http://t.co/7XdPOkEvSX pic.twitter.com/jRlS2OXY9e

— Bleacher Report (@BleacherReport) July 6, 2014
That crossover grabbed attention, but the balmy action also offers a chance to evaluate marginal players and undrafted free agents trying to earn a roster spot, and the results are not necessarily a portent of things to come.
The 2013 Vegas Summer League saw talented Toronto Raptors pivot Jonas Valanciunas named the MVP. However, the Golden State Warriors won the league's inaugural tournament by downing the Phoenix Suns. Dubs guard Ian Clark earned the honor of championship game MVP, but he ended up playing in just 23 games for the Utah Jazz during the 2013-14 season, averaging 3.0 points on 39 percent shooting over 7.5 minutes per game.
Team To Watch: The Knicks
With a roster in flux and Carmelo Anthony set to make a dramatic "Decision" of his own, the New York Knicks have gambled on new head coach Derek Fisher. He brings a host of players with him to Vegas all hoping to make their mark at Madison Square Garden in 2014-15.
New Knicks president Phil Jackson swung a trade prior to the draft that sent underperforming center Tyson Chandler and out-of-favor point guard Raymond Felton to the Dallas Mavericks.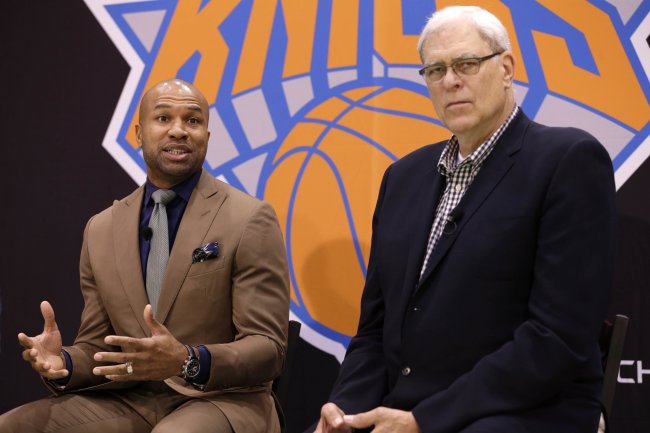 Seth Wenig/Associated Press
In return, Jackson netted a replacement center and point guard—Samuel Dalembert and Jose Calderon—plus budding prospect Shane Larkin and a pair of 2014 second-round draft picks, which soon became Cleanthony Early out of Wichita State and Thanasis Antetokounmpo from the D-League.
Early, who hails from the Bronx, played on a dominant Shockers team and could easily have been selected in the first round.
He told the New York Post's Marc Berman that there's no place he would rather be than playing for than the Knicks under Phil Jackson, and the first-round snub from other teams only serves as motivation: "The attitude would've been there regardless, and it's even more now. You fall a little bit. So you feel someone overlooked you or slept on you. It's the ultimate blessing to wind up here."
Antetokounmpo is the older brother of the Milwaukee Bucks' "Greek Freak" Giannis Antetokounmpo, whose body kept growing with his skills during his first NBA season. The Knicks selected Thanasis at No. 51, a draft position that rarely produces quality, so taking a flier on a player with family pedigree and D-League experience makes sense. The 6'7" wing averaged 12.0 points, 4.3 rebounds, 2.1 assists, 1.3 blocks and 1.2 steals per game for the Delaware 87ers.
Will Thanasis Antetokounmpo be on the Knicks roster in 2014-15?
As with most D-League standouts, Antetokounmpo possesses raw skills that the Knicks will evaluate and make decisions from there. According to Berman, the team could make him a draft-and-stash player if they determine he needs more polish for an NBA roster: "Thanasis Antetokounmpo, the 21-year-old defensive specialist...may play next season in Greece, where there is interest from teams. He will play in the summer league for the Knicks in July and they will decide if he's ready after."
Another potential gem received in the trade with Dallas is Shane Larkin—son of baseball Hall of Famer Barry Larkin—who earned praise from his Dallas teammate Dalembert:
New Knicks center Sam Dalembert calls Shane Larkin "really quick & fast." Says he's "really happy" to come over w/ Mavs teammates.

— Adam Zagoria (@AdamZagoria) June 27, 2014
Shane stands at just 5'11", but he can handle the ball and has good shooting range. The Atlanta Hawks drafted him 18th overall in 2013 before trading him to Dallas, and he subsequently broke his ankle during practice for summer league. However, he was trusty enough to get minutes in the Mavs' first-round playoff loss to the San Antonio Spurs in April.
Early, Antetokounmpo and Larkin will join Knicks role players Cole Aldrich and Jeremy Tyler, who both saw time last season, and impressive results from any one of them could certainly translate into a rotation spot under the new Jackson regime at MSG.
Of the three newest Knicks, Early would be the most likely to become a bench contributor for New York, but all of them have the skill sets to crack a Knicks rotation with more question marks than answers at the minute.
Las Vegas Summer League Schedule

| | | | |
| --- | --- | --- | --- |
| Date | Matchup (*denotes live on NBA TV) | Time (PT) | Location |
| Fri., July 11 | New York vs. Dallas* (Game 1) | 1 p.m. | COX |
| Fri., July 11 | Toronto vs. LA Lakers* (Game 2) | 3 p.m. | COX |
| Fri., July 11 | Cleveland vs. Milwaukee* (Game 3) | 5 p.m. | COX |
| Fri., July 11 | Golden State vs. Charlotte (Game 4) | 5:30 p.m. | Thomas & Mack |
| Fri., July 11 | Sacramento vs. San Antonio* (Game 5) | 7 p.m. | COX |
| Fri., July 11 | D-League vs. New Orleans (Game 6) | 7:30 p.m. | Thomas & Mack |
| Sat., July 12 | Portland vs. New York* (Game 7) | 1 p.m. | COX |
| Sat., July 12 | Atlanta vs. Washington (Game 8) | 1:30 p.m. | Thomas & Mack |
| Sat., July 12 | Toronto vs. Denver* (Game 9) | 3 p.m. | COX |
| Sat., July 12 | Dallas vs. Minnesota (Game 10) | 3:30 p.m. | Thomas & Mack |
| Sat., July 12 | Phoenix vs. Golden State* (Game 11) | 5 p.m. | COX |
| Sat., July 12 | Chicago vs. LA Clippers (Game 12) | 5:30 p.m. | Thomas & Mack |
| Sat., July 12 | Houston vs. Miami (Game 13) | 7 p.m. | COX |
| Sat., July 12 | Utah vs. Philadelphia* (Game 14) | 7: 30 p.m. | Thomas & Mack |
| Sun., July 13 | Cleveland vs. San Antonio* (Game 15) | 1 p.m. | COX |
| Sun., July 13 | LA Lakers vs. New Orleans (Game 16) | 1:30 p.m. | Thomas & Mack |
| Sun., July 13 | Sacramento vs. Charlotte* (Game 17) | 3 p.m. | COX |
| Sun., July 13 | Atlanta vs. D-League (Game 18) | 3:30 p.m. | Thomas & Mack |
| Sun., July 13 | Chicago vs. Denver* (Game 19) | 5 p.m. | COX |
| Sun., July 13 | Portland vs. Houston (Game 20) | 5:30 p.m. | Thomas & Mack |
| Sun., July 13 | Milwaukee vs. Phoenix* (Game 21) | 7 p.m. | COX |
| Sun., July 13 | Washington vs. Minnesota (Game 22) | 7:30 p.m. | Thomas & Mack |
| Mon., July 14 | New York vs. Charlotte* (Game 23) | 1 p.m. | COX |
| Mon., July 14 | Sacramento vs. D-League (Game 24) | 1:30 p.m. | Thomas & Mack |
| Mon., July 14 | Toronto vs. Dallas* (Game 25) | 3 p.m. | COX |
| Mon., July 14 | San Antonio vs. New Orleans (Game 26) | 3:30 p.m. | Thomas & Mack |
| Mon., July 14 | Cleveland vs. Philadelphia* (Game 27) | 5 p.m. | COX |
| Mon., July 14 | Miami vs. LA Clippers (Game 28) | 5:30 p.m. | Thomas & Mack |
| Mon., July 14 | Golden State vs. LA Lakers* (Game 29) | 7 p.m. | COX |
| Mon., July 14 | Utah vs. Milwaukee (Game 30) | 7:30 p.m. | Thomas & Mack |
| Tue., July 15 | Portland vs. Atlanta* (Game 31) | 1 p.m. | COX |
| Tue., July 15 | Chicago vs. Minnesota (Game 32) | 1:30 p.m. | Thomas & Mack |
| Tue., July 15 | LA Clippers vs. Houston* (Game 33) | 3 p.m. | COX |
| Tue., July 15 | Miami vs. Washington (Game 34) | 3:30 p.m. | Thomas & Mack |
| Tue., July 15 | Philadelphia vs. Phoenix* (Game 35) | 5 p.m. | COX |
| Tue., July 15 | Utah vs. Denver (Game 36) | 5:30 p.m. | Thomas & Mack |
| Wed., July 16 | # 9 Seed vs. #24 Seed* (Game 37) | 1 p.m. | COX |
| Wed., July 16 | #10 Seed vs. #23 Seed (Game 38) | 1:30 p.m. | Thomas & Mack |
| Wed., July 16 | #11 Seed vs. #22 Seed* (Game 39) | 3 p.m. | COX |
| Wed., July 16 | #12 Seed vs. #21 Seed (Game 40) | 3:30 p.m. | Thomas & Mack |
| Wed., July 16 | #13 Seed vs. #20 Seed* (Game 41) | 5 p.m. | COX |
| Wed., July 16 | #14 Seed vs. #19 Seed (Game 42) | 5:30 p.m. | Thomas & Mack |
| Wed., July 16 | #15 Seed vs. #18 Seed* (Game 43) | 7 p.m. | COX |
| Wed., July 16 | #16 Seed vs. #17 Seed (Game 44) | 7:30 p.m. | Thomas & Mack |
| Thur., July 17 | #8 Seed vs. Winner of Game 37* (Game 45) | 1 p.m. | COX |
| Thur., July 17 | #7 Seed vs. Winner of Game 38 (Game 46) | 1:30 p.m. | Thomas & Mack |
| Thur., July 17 | #6 Seed vs. Winner of Game 39* (Game 47) | 3 p.m. | COX |
| Thur., July 17 | #5 Seed vs. Winner of Game 40 (Game 48) | 3:30 p.m. | Thomas & Mack |
| Thur., July 17 | #4 Seed vs. Winner of Game 41* (Game 49) | 5 p.m. | COX |
| Thur., July 17 | #3 Seed vs. Winner of Game 42 (Game 50) | 5:30 p.m. | Thomas & Mack |
| Thur., July 17 | #2 Seed vs. Winner of Game 43* (Game 51) | 7 p.m. | COX |
| Thur., July 17 | #1 Seed vs. Winner of Game 44 (Game 52) | 7:30 p.m. | Thomas & Mack |
| Fri., July 18 | Game 37 Loser vs. Game 38 Loser* (Game 53) | 1 p.m. | COX |
| Fri., July 18 | Game 39 Loser vs. Game 40 Loser (Game 54) | 1:30 p.m. | Thomas & Mack |
| Fri., July 18 | Game 41 Loser vs. Game 42 Loser* (Game 55) | 3 p.m. | COX |
| Fri., July 18 | Game 43 Loser vs. Game 44 Loser (Game 56) | 3:30 p.m. | Thomas & Mack |
| Fri., July 18 | Game 45 Loser vs. Game 46 Loser* (Game 57) | 5 p.m. | COX |
| Fri., July 18 | Game 47 Loser vs. Game 48 Loser (Game 58) | 5:30 p.m. | Thomas & Mack |
| Fri., July 18 | Game 49 Loser vs. Game 50 Loser* (Game 59) | 7 p.m. | COX |
| Fri., July 18 | Game 51 Loser vs. Game 52 Loser (Game 60) | 7:30 p.m. | Thomas & Mack |
| Sat., July 19 | Game 46 Winner vs. Game 51 Winner* (Game 61) | 1 p.m. | Thomas & Mack |
| Sat., July 19 | Game 47 Winner vs. Game 50 Winner* (Game 62) | 3 p.m. | Thomas & Mack |
| Sat., July 19 | Game 45 Winner vs. Game 52 Winner* (Game 63) | 5 p.m. | Thomas & Mack |
| Sat., July 19 | Game 48 Winner vs. Game 49 Winner* (Game 64) | 7 p.m. | Thomas & Mack |
| Sun., July 20 | Game 61 Winner vs. Game 62 Winner* (Game 65) | 3 p.m. | Thomas & Mack |
| Sun., July 20 | Game 63 Winner vs. Game 64 Winner*(Game 66) | 5 p.m. | Thomas & Mack |
| Mon., July 21 | Game 65 Winner vs. Game 66 Winner* (Game 67) | 6 p.m. | Thomas & Mack |
NBA.com