George Groves will opt to bounce back from his memorable loss to Carl Froch by facing Christopher Rebrasse in a final eliminator bout for the WBC super middleweight title, as reported by MailOnline Sport:
BREAKING: George Groves to fight Christopher Rebrasse in final eliminator for the WBC super-middleweight title

— MailOnline Sport (@MailSport) July 8, 2014
The Sept. 20 bout will take place at Wembley Arena, just a short distance from the Wembley Stadium battleground that held 80,000 fans during Groves' second loss to Froch on May 31, per promoter Kalle Sauerland:
George Groves faces WBC #3 & Euro Champ Rebrasse: WBC Final Eliminator Sep 20th @ Wembley-tickets on sale this Fri @ 10am #returnofthesaint

— Kalle+NisseSauerland (@SauerlandBros) July 8, 2014
Saint George fell once again to the Cobra—the only person to beat him during his professional career—with both defeats coming via TKO. While Groves was beaten in controversial fashion after a speedy stoppage during the initial fight, he was dismissed in more certain terms during the rematch.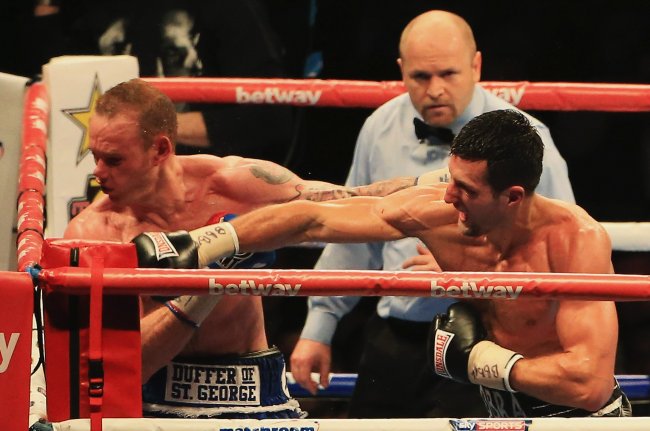 Matthew Lewis/Getty Images
Sauerland suggests a momentary lapse decided the last clash and that Groves will return with his usual self-assured manner still intact, per Nick Parkinson of ESPN.co.uk.
"He proved against Carl that he belonged at the world level and he was just punished for one mistake," Sauerland said. "But it hasn't effected George's confidence and the quickest route back for him to a world title is via an eliminator which we are trying to arrange."
Fraser Dainton of Sky Sports posted an image of the announcement press conference for Groves' next fight, showing the two hopefuls together for the first time:
George Groves will fight Christopher Rebrasse in WBC title eliminator... pic.twitter.com/Op5mwOP4K6

— Fraser Dainton (@SkySportsFraser) July 8, 2014
Groves now faces a stern test against Rebrasse, the European champion, who has put together an unbeaten streak of eight fights since losing to Rachid Jkitou in March 2011, per BoxRec. The Frenchman beat Mouhamed Ali Ndiaye by TKO during his last contest on March 22, but, vitally for Groves, only two of Rebrasse's last 14 fights have ended with such a definite result in his favour.
Tom Hopkinson of the Daily Mirror believes Groves has opted to "race back to the ring" in a bid to quickly rekindle career progress that was halted by the power and accuracy of Froch. Hopkinson indicates Groves' "preference" is to face current WBC champion Sakio Bika in December, as the Englishman looks to set up a duo of fights before the end of 2014.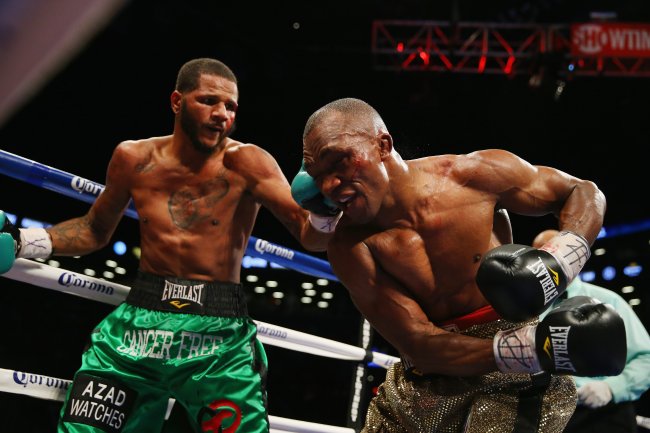 Al Bello/Getty Images
Bika, as a side note, is due to defend his belt against Anthony Dirrell in August after the pair drew during their initial showdown. The winner of Groves vs. Rebrasse will secure a title shot against the victor of the aforementioned clash.
Groves will need to be at his peak both physically and mentally to overcome an opponent who shouldn't be underestimated. Granted, Rebrasse hasn't consistently fought the same level of rivals as Groves, but he is more than equipped to cause trouble.
If Groves gets too caught up in chatting a good fight—a technique that bordered on cockiness during his buildup to the Froch losses—he may come unstuck once again. There's no denying he's the heavy favourite heading into this one, but a loss to Rebrasse would deal a more permanent blow to his reputation.