The 2014 World Cup final is on the horizon, but the semifinals need to be the next games on your radar. These two matchups are going to be phenomenal.
Just four teams remain after we started with a field of 32 teams. Germany, Brazil, Argentina and the Netherlands have outlasted the remaining countries, and they'll now look to overcome the final hurdle before making it to the pinnacle of the sport.
Playing in the World Cup final is often just a dream for most of the players involved in the action, but after Wednesday, it will be a reality for two squads.
Below are my predictions for which two teams will play for the highest honor in international soccer.
Germany vs. Brazil
Brazil will be without their most outstanding player for the rest of the World Cup, as Neymar has been ruled out after the devastating injury he suffered in the quarterfinals.
Neymar isn't the only star the host country will be without. Thiago Silva is suspended from the match after FIFA denied Brazil's appeal of his second yellow card, reports Matt Bonesteel of The Washington Post.
Brazil's secondary stars must now step up to make up for the losses. David Luiz and Oscar must play at a high level. Without them, Brazil might be hopeless against a German side that boasts one of the top goalscorers in the tournament, Thomas Mueller.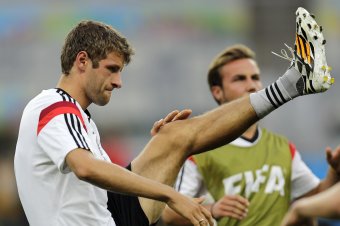 Frank Augstein/Associated Press
Mueller has four goals in five games, and he'll make his presence felt early and often against Brazil. He'll get early chances to score, and even if he doesn't convert those chances, the holes in the defense will only continue to grow more porous.
He might not find the back of the net against Brazil, but Mueller will be involved in the scoring in some way.
Despite what looks to be an overwhelming advantage, the Germans aren't counting Brazil out just yet, via Rick Maese of The Washington Post: "It's definitely a loss for Brazil," Germany assistant coach Hansi Flick said. "Neymar has lived up to expectations, but his absence can unite the team more and we expect a very strong opponent."
Brazil will find ways to compete, but in the end, it will be the German side that moves on to the World Cup final on Sunday.
Prediction: Germany, 2-1
Netherlands vs. Argentina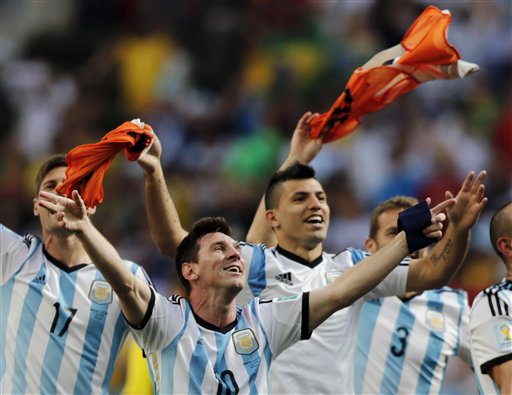 Eraldo Peres/Associated Press
The Netherlands lost to Spain in the 2010 World Cup final, and the only thing on their mind right now is revenge.
The Dutch have been great during this tournament, and their potent line, led by Arjen Robben, Robin van Persie and Wesley Sneijder, has made it difficult for opposing defenses to keep them from scoring. Sergio Romero will have his hands full in goal.
Attacking the box and getting numbers in front of the net is what the Dutch do well, and that has made their attack nearly unstoppable. ESPN's Britt McHenry even cited this when making her picks for the semifinals:
My World Cup prediction: GER over Brazil, NETH over Argentina. Netherlands win it all. That offense is so dynamic & sticking with Persie

— Britt McHenry (@BrittMcHenry) July 6, 2014
Argentina hasn't been in this position in several years. This is their first World Cup semifinal since 1990, and it remains to be seen how this group will handle the pressure.
Luckily, they have a weapon no other teams does—Lionel Messi.
Messi has been expectedly great, scoring four goals during this tournament and leading his team to victory match after match. Just when you think the Argentinians are down, Messi comes out of nowhere with a calculated strike to even the score or put his team ahead.
He's good enough to take over this game entirely if the defense of the Netherlands doesn't step up its game. You can never completely count out a team with a player of Messi's caliber.
All in all, this will be an exciting match. The trio of Dutch attackers gives them the edge in my book, but I wouldn't be surprised if the result was the exact opposite of this prediction.
Prediction: Netherlands, 2-1
Follow Kenny DeJohn on Twitter: @KennyDeJohn_BR