The Ottawa Senators announced on Monday that team general manager and president of hockey operations Bryan Murray has been diagnosed with cancer. The team released a statement on its official website addressing the news:
Mr. Murray is undergoing further testing and will begin treatment immediately for this condition as prescribed by the team's doctors in collaboration with specialists.

Mr. Murray's treatment schedule may require him to be away from the Senators office periodically. During his periodic absence, assistant general managers Pierre Dorion and Randy Lee will be responsible for managing the Ottawa Senators hockey operations department.

On behalf of the entire Senators family, the team is asking that the thoughts, prayers and support of the entire hockey community are with Bryan and his family.

The Senators and Mr. Murray ask that you please respect his family's privacy during this time.

There will be no further comment from the Senators organization.
Many took to Twitter to wish Murray and his family the best:
The #Sens have confirmed that Bryan Murray has cancer & is seeking treatment. All the best to Bryan & his loved ones as they go through this

— Steve Lloyd (@TSNSteveLloyd) July 7, 2014
My thoughts are with OTT GM Bryan Murray, who has recently been diagnosed with cancer. Bryan is one of the really good men in this game.

— Bob McKenzie (@TSNBobMcKenzie) July 7, 2014
Our thoughts, prayers and well wishes are with @Senators GM Bryan Murray as he fights this battle.

— NHL Blue Jackets (@BlueJacketsNHL) July 7, 2014
Extending our thoughts and prayers to @Senators GM Bryan Murray on his battle with cancer.

— Tampa Bay Lightning (@TBLightning) July 7, 2014
All the best to Ottawa Senators GM, Bryan Murray in his battle with cancer. http://t.co/fW0uvZyle9

— Darren Dreger (@DarrenDreger) July 7, 2014
Murray, 71, is someone you'd consider a hockey lifer. In each the past four decades, he's been involved in the NHL in one way or another.
He started out his head-coaching career with the Washington Capitals in the 1981-82 season. He remained there until the 1989-1990 campaign, after which he coached the Detroit Red Wings for three years before making brief pit stops with the Florida Panthers and the then-Anaheim Mighty Ducks.
Murray spent parts of three seasons as the Senators coach, finishing with a 107-55-20 record in his 182 games on the bench. The 2006-07 campaign was his best, as he helped Ottawa finish fourth in the Eastern Conference and advance to the Stanley Cup Final.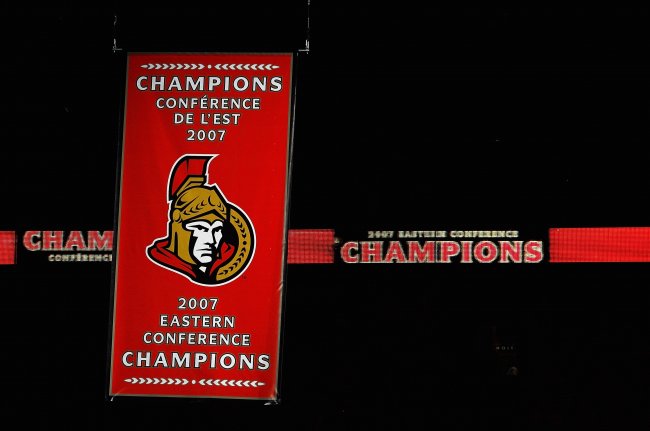 Phillip MacCallum/Getty Images
In 2007, Murray moved into a front-office job, taking over as GM for John Muckler. Since then, Ottawa has made the playoffs four out of seven years, advancing to the second round in 2013. He did a good enough job to earn a two-year contract extension in January.
The outpouring of goodwill toward Murray is a testament to how he's viewed in hockey circles. While not the most successful head coach during his career, he has always done his job with class and professionalism, and he has been successful in his role as GM.
Most will agree that the sooner Murray is in an NHL front office the better. For now, all of his focus will be on getting back to full health.