Should Arsenal sign Lorient backup Florent Chaigneau instead of Real Madrid's Iker Casillas?
Arsenal manager Arsene Wenger wants to take advantage of Casillas' transfer stock bottoming out after a disastrous 2014 FIFA World Cup for Spain, per Mundo Deportivo (h/t the Metro).
Spain's Iker Casillas apologises for 'worst performance of my career' http://t.co/FC1gcwKB5u

— The Guardian (@guardian) June 14, 2014
Casillas is in career-worst form, commands substantial wages and would not be value-for-money as a reserve to Arsenal No. 1 Wojciech Szczesny.
So how about a cheaper alternative in Chaigneau?
To cover the hypothetical scenario of Arsenal targeting Chaigneau, here is a scouting report on the 30-year-old, 6'6", 207-pound Frenchman.
30 ans aujourd'hui ! Joyeux anniversaire @flochai85 ! pic.twitter.com/F82UuFZrV7

— FC LORIENT Officiel (@FCLorientOff) March 21, 2014
Chaigneau Positives
La composition du @FCLorientOff ! Allez Lorient ! pic.twitter.com/PbnsP3Uk5v

— FC LORIENT Officiel (@FCLorientOff) November 9, 2013
Blessed with superlative physical attributes, Chaigneau seized his window of opportunity last season.
Chaigneau possesses outstanding reflexes, as evident when he flicked Guingamp central midfielder Lionel Mathis' powerfully driven shot over the crossbar.
While airborne, Chaigneau thwarted Lyon centre-forward Alexandre Lacazette's goal-bound shot.
Moving across the line, Chaigneau covered Bastia defensive midfielder Julien Sable's scuffed shot.
Chaigneau displayed his agility by acrobatically denying Ajaccio central midfielder Ricardo Faty's snap-shot.
When Montpellier substitute Jonathan Tinhan raced through on goal, his bolt-like shot was easily snuffed out by Chaigneau.
Showing standard positioning, Chaigneau palmed away Rennes left attacking midfielder Adrien Hunou's header.
Chaigneau Negatives
Chaigneau lacks top-flight experience, having only played 21 career Ligue 1 games.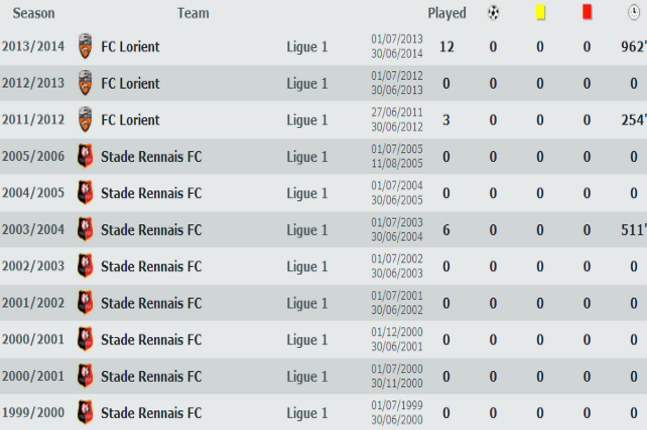 Ligue1.com
Despite proving to be on par with seasoned professional Fabien Audard, there are concerns with Chaigneau.
Gifting Bordeaux centre-forward Guillaume Hoarau a goal and failing to stop Nantes substitute Ismael Bangoura's shot are warning signs.
It could foreshadow Chaigneau committing more errors if he played the entirety of a season.
Bottom Line
Casillas would be an extravagant substitute at Arsenal, especially with him experiencing a career downturn.
Iker Casillas #ESP pic.twitter.com/k94yeQaj2Z

— Football Funnys (@FootballFunnys) June 19, 2014
| | | |
| --- | --- | --- |
| League Only | Florent Chaigneau | Wojciech Szczesny |
| Games Played | 12 | 37 |
| Saves | 38 [1] | 113 |
| Saves Per Goal Conceded | 4.8 | 2.8 |
| Saves Per Game | 3.2 | 3.1 |
| Clean Sheets | 7 | 16 |
| Clean Sheets (%) | 58.3 | 43.2 |
[1] blocks included.
Sources: Ligue1.com and the official Premier League website.
---
Chaigneau played 12 Ligue 1 games last season, registered seven clean sheets and went on a five-game clean sheet run.
In the small sample of games last season, Chaigneau impressed.
However, he was a stop-plug measure at Lorient, whose management have since elevated young gun Benjamin Lecomte to the No. 1 role.
@Benj_Lecomte, nouveau numéro 1 au @FCLorientOff ! Il revient sur cette nomination http://t.co/IdA51AusTN pic.twitter.com/cvieLDWDkR

— FC LORIENT Officiel (@FCLorientOff) July 4, 2014
Instead of warming Lorient's bench, why not sit on Arsenal's bench?
Signing a bargain-basement backup in Chaigneau would be a quintessential Wenger decision.
Statistics via WhoScored.com.