Just how glorious was the battle between Sebastian Vettel and Fernando Alonso in the latter stages of the British Grand Prix?
Forget the whining that occurred over team radio, this involved the finest—and the most successful—drivers on the current grid racing side by side for an extended period of time.
It required both Vettel and Alonso to use the most of their skill, experience, judgement and, most importantly, respect to get through the same series of corners at the same speed for 14 consecutive laps.
It was a showcase of athletic brilliance. It trod the line between the terrifying and the triumphant with absolute perfection.
And you know what else it was? It was for fifth place.
Fifth.
On a day when the title race took its latest and potentially decisive twist, Alonso and Vettel were nowhere to be seen, a minute down the road.
The fight between the men with six world championships between them was effectively a mere sideshow, an afterthought.
The wheel-to-wheel tussle was exciting—of course it was—but ultimately, in the grand scheme of things, it was completely and utterly meaningless.
Perhaps it was, though, that pointlessness which gave Alonso and Vettel the freedom to make their duel so exciting.
After all, what's a world champion got to lose when he's messing around in sixth place? If I get a warning for running a wheel or two off the track, so what? Who cares if I risk taking us both out by steaming into a corner? There's nothing to play for anyway.
Nevertheless, it was with more than a degree of unease that you watched Vettel and Alonso coming within inches of hitting each other on the entry to Copse corner with the knowledge that it meant very little to anyone, apart from the egos of both drivers.
Speed ​​= 293km / h Gear = 7th Risk = High Adrenaline = Max Possibility that I will repeat = unlikely http://t.co/1I0dIVqmJj

— Fernando Alonso (@alo_oficial) July 6, 2014
The rivalry that has existed between Alonso and Vettel since 2010—if we are to call it a rivalry—has been similarly, strangely unfulfilling.
Twice they have fought for the world championship over the last four full seasons but rarely have they come to blows.
The skirmish of Silverstone, in fact, is the latest of only three defining moments of the Alonso and Vettel years, with the conflicts of Curva Grande at Monza in 2011 and 2012 the only other wheel-to-wheel moments that immediately come to mind when you think of the navy-blue Red Bull against the scarlet-red Ferrari.
The main reason why Alonso and Vettel have only occasionally come into contact, of course, is the genius of Adrian Newey, Red Bull's chief technical officer.
Vettel joined Red Bull just as the Milton Keynes team began their rise to the front of the field, while Alonso arrived at Ferrari just as the Prancing Horse began their descent.
The other-worldly cars produced by Newey meant Alonso, often in an inferior car, could only ever pick up the pieces when Vettel encountered difficulties.
This is backed up by the fact that three of the eight grands prix which Alonso won in the 2010 and 2012 campaigns combined were only achieved after Vettel suffered technical problems while leading.
The battle between Vettel & Alonso couldn't have got more wheel to wheel! #BritishGP http://t.co/kmvey1q8H0 #SkyF1 pic.twitter.com/cYZF3EMnvL

— Sky Sports F1 (@SkySportsF1) July 6, 2014
How cruel it is for the rest of us, then, that the one season when Vettel and Alonso have relatively equal cars sees them fighting for nothing more than solid points positions.
Genuine sporting rivalries are defined by not only the calibre of the protagonists but the arenas and circumstances in which their tussles take place.
The incidents between Ayrton Senna and Alain Prost at Suzuka in 1989 and 1990, for instance, would not have entered Formula One folklore had the world championship not been on the line.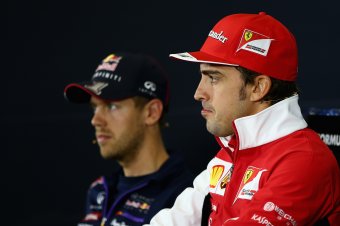 Clive Mason/Getty Images
The five-set exhibition, arguably the greatest tennis match in history, between Roger Federer and Rafael Nadal in 2008—to take an example from another sport—might not have been remembered quite so fondly had it not occurred on Centre Court on the final day at Wimbledon.
Although Vettel and Alonso have entered a final-race title decider on two occasions in this decade alone, they are not rivals in the strictest sense—they are two drivers whose talents and qualities are remarkably similar, but their paths remain parallel.
They are the great rivals that never were.
And that 14-lap battle at Silverstone on Sunday only served to remind Formula One of what it could have had—and what it might never get.