Updates from Tuesday, July 15
ESPN's Chris Broussard indicates Mike Miller will join LeBron James in Cleveland:
Sources: Mike Miller will sign with Cleveland. 2 yr deal with player option after 1 yr. Miller turned down more $ from Houston & Denver

— Chris Broussard (@Chris_Broussard) July 15, 2014
Yahoo! Sports' Adrian Wojnarowski confirmed the news:
Mike Miller has reached an agreement on a deal with Cleveland, league source tells Yahoo Sports.

— Adrian Wojnarowski (@WojYahooNBA) July 15, 2014
Wojnarowski previously reported Miller was torn in his decision:
Free agent process of Mike Miller pushes on, w/ Denver and Cleveland leading stretch run. "He's legitimately torn," source in talks says.

— Adrian Wojnarowski (@WojYahooNBA) July 15, 2014
Updates from Monday, July 14
Two more teams have jumped into the battle to sign Mike Miller according to ESPN's Marc Stein:
ESPN sources say Houston and Dallas have barged into the Mike Miller race trying to keep LeBron's sharpshooter buddy from choosing Cleveland

— Marc Stein (@ESPNSteinLine) July 15, 2014
Denver has had best financial offer on the table for Mike Miller. But Rockets, Mavs and now Cavs farther down winning path he's said to seek

— Marc Stein (@ESPNSteinLine) July 15, 2014
Gary Parrish of CBS Sports previously reported on Miller's free agency:
Mike Miller will be picking between Denver and Cleveland, a source told @CBSSports. Decision expected soon.

— Gary Parrish (@GaryParrishCBS) July 14, 2014
Updates from Sunday, July 13
Jeff Goodman of ESPN reported on Cleveland's offer to Mike Miller:
Cavs offer to Miller is for two years and about 5.5 million while Denver offering 3 years and 12 million, source told ESPN.

— Jeff Goodman (@GoodmanESPN) July 13, 2014
Goodman reports on the team that is still the leader in the clubhouse to land Miller:
Denver currently the frontrunner to land Mike Miller, source told ESPN. Houston and Cleveland also in mix, but Nuggets offering best deal.

— Jeff Goodman (@GoodmanESPN) July 14, 2014
What will ultimately sway Miller? Sam Amico of FOX Sports provides the biggest factor:
As for Mike Miller, I've been told his free agency decision will largely be determined by (no shocker here) his wife.

— Sam Amico (@SamAmicoFSO) July 14, 2014
Updates from Saturday, July 12
ESPN's Brian Windhorst has an update on Miller's status with the Cavaliers:
Cavs and Mike Miller are making progress on a contract, sources told ESPN

— Brian Windhorst (@WindhorstESPN) July 12, 2014
Updates from Friday, July 11
Sam Amico of Fox Sports reports Mike Miller may be joining LeBron James in Cleveland in the near future:
Cavs closing in on deal with free agent G Mike Miller, source tells @FOXSportsOH. "Unless something unforeseeable happens," Miller will sign

— Sam Amico (@SamAmicoFSO) July 12, 2014
Miller posted a farewell to Memphis on his Instagram:
letitflymm13: Just informed the Grizz are going in another direction. I completely understand, but wanted to thank you so much for everything. Awesome city. Awesome fans. Thank you for the opportunity. I will always love Memphis #letitfly
ESPN's Brian Windhorst has the latest on where Miller may be headed:
LeBron James has spoken with Mike Miller about joining him in Cleveland, source told ESPN.

— Brian Windhorst (@WindhorstESPN) July 11, 2014
ESPN's Marc Stein has more:
ESPN sources say Mike Miller is indeed exploring every option to try to reunite with LeBron James in Cleveland after halting talks w/ Denver

— Marc Stein (@ESPNSteinLine) July 11, 2014
Updates from Wednesday, July 9
Fox Sports' Sam Amico reports on a new team showing interest in Mike Miller:
The Cavs are pursuing free agent shooting guard Mike Miller, sources tell @FOXSportsOH.

— Sam Amico (@SamAmicoFSO) July 9, 2014
Adrian Wojnarowski of Yahoo Sports reports that LeBron James recently reached out to Miller, a fellow free agent:
LeBron James reached out to two vet free agents last week about joining him, IF he left Miami, sources tell Yahoo. Mike Miller was one.

— Adrian Wojnarowski (@WojYahooNBA) July 9, 2014
A Western Conference team is also working hard to land Miller, according to ESPN's Chris Broussard:
While Cavs pursue Mike Miller, Miller is getting close to agreeing to terms with Denver, source says

— Chris Broussard (@Chris_Broussard) July 10, 2014
Original Text
We've learned time and again that a healthy Mike Miller is a dangerous commodity in May and June. Where the veteran forward is launching his above-the-break threes come next postseason still remains to be seen.
John Martin of ESPN 92.9 FM reported that Miller has been in Denver since Sunday, where he and Nuggets brass are expected to at least go through initial negotiations. Martin did not note how serious the interest was between the two sides, though Miller's willingness to make visits is telling in regard to his status in Memphis.
Heading into the offseason, most expected Miller's return to the Grizzlies to be a foregone conclusion. He chose to return to the city where he spent the longest chunk of his NBA career last summer after the Miami Heat used their amnesty provision to release him. The line of logic went that if Miller spurned multiple championship contenders for Memphis last season, then he'd do it again as he heads into the twilight of his career.
Miller, 34, enjoyed a renaissance season in 2013-14. Playing in 82 games for the first time since his rookie season, he averaged 7.1 points per game on 45.9 percent shooting from beyond the arc. Expected to be a bit player on the Grizzlies bench, Miller instead became an integral cog for the spacing-deficient roster. He also showed up big once again in the postseason, pouring in a 21-point effort in a Game 5 win in Memphis' first-round series against Oklahoma City.
Although the Grizzlies were undoubtedly pleased with Miller's unexpected play, it may also expedite his departure. Martin's report says Memphis' initial offer was between $2.4 million and $2.9 million per season. Given the precedent set by high-salaried contracts being given to shooters this summer, Miller and his representatives saw the offer as being well below market value.
A source told CBS Sports' Gary Parrish that other teams have reached out, offering more guaranteed money and a longer deal.
"He really wants to stay in Memphis, if everything is equal," the source said. "But, right now, everything isn't equal. It's not really close. So we'll see."
On Mike Miller- would be really surprised if anyone way higher than Grizz on offer. And if close, I think they win. (1/2)

— Chris Vernon (@ChrisVernonShow) July 3, 2014
70% RT @collierturner25: @ChrisVernonShow if you had to put percentage on it, how confident are you Mike Miller signs back with the grizz?

— Chris Vernon (@ChrisVernonShow) July 4, 2014
Considering his age and injury history, it's difficult to find fault in Miller wanting to squeeze every dollar out of the free-agent process. His back problems in Miami were so debilitating, they nearly ended his career. Part of the reason the Heat felt comfortable waiving the final two seasons of Miller's contract is because he was so intermittently available.
Last season in Memphis was far more likely to be an anomaly than the rule going forward. Players don't typically get healthier as they age. Their bodies wear, and the years of mileage start to take a toll. With back injuries especially, there is rarely a perfect cure. As Miller noted to Bleacher Report's Jared Zwerling in March, he's tried nearly every possible remedy at his disposal.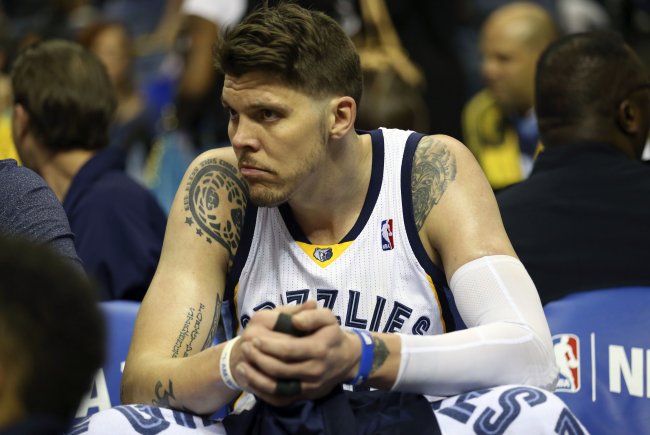 USA TODAY Sports
In that sense, any team that signs Miller is taking a risk. If he's unwilling to sign in the range Memphis is offering, then odds are negotiations begin at or right near the mid-level exception. Adding $4-5 million to the payroll for a sharpshooter like Miller is a bargain on this market if he stays on the court. In the event injuries crop up, though, Miller's deal could become constricting for teams near the tax line that need production.
Blaming Miller for taking meetings and chasing money isn't fair. This will be the last big payday of his career and may even be his last contract, period, depending on the length. Whatever team does wind up inking the deal better carefully weigh the risk versus the reward.
Follow Tyler Conway (@tylerconway22) on Twitter.