Updates from Tuesday, July 15
Pistorius was reportedly involved in an altercation at a night club over the weekend, according to the BBC.
South African athlete and murder accused Oscar Pistorius was involved in an argument at a nightclub at the weekend, his spokesperson has said.

Mr Pistorius had an altercation with businessman Jared Mortimer who said he was drunk, The Star newspaper says.

Mr Pistorius' spokesperson said the argument took place after Mr Mortimer started to "aggressively interrogate" him about his murder trial.
Updates from Tuesday, July 8
The defence of Oscar Pistorius reached a climax on Tuesday, as the trial of the South African track star took a significant step toward closing statements.
Pistorius denies the premeditated murder of girlfriend Reeva Steenkamp, claiming he mistook her for an intruder on Valentine's Day 2013, but the prosecution has spent the past five months attempting to convince the court he is guilty.
You can follow the live stream right here (subject to territory):
Defence lawyer Barry Roux confirmed the closing of his case on Tuesday, but not before informing the court of one intriguing detail, per BBC News' Andrew Harding:
Interesting. Defence puts on record fact that number of potential witnesses declined to testify due to televising of trial. #OscarPistorius

— andrew harding (@BBCAndrewH) July 8, 2014
Court will now break for three weeks before final arguments are entered, as detailed by Harding and EyeWitness News' Barry Bateman:
Defence rests. Prosecution agrees to file its arguments by 30th July. Defence by 4th August. Back in court on 7 and 8th August.

— andrew harding (@BBCAndrewH) July 8, 2014
#OscarTrial postponed until 7 August for argument. BB

— Barry Bateman (@barrybateman) July 8, 2014
Following the oral arguments, Judge Thokozile Masipa will outline a timeline for her final verdict.
Updates from Monday, July 7
Oscar Pistorius headed back to court on Monday to resume the trial into his shooting of his girlfriend, Reeva Steenkamp. The defence will almost certainly reach a close on Tuesday.
Pistorius, who maintains he mistook the model for a burglar on Valentine's Day 2013, is aiming to prove his actions weren't premeditated during the high-court case in Pretoria.
Monday began with an apology from the Australian TV channel that leaked footage of Pistorius re-enacting moments from the night in question.
The reconstruction had been aimed at helping the defence team to form its case, and EyeWitness News' Barry Bateman noted the apology:
#OscarPistorius producer Mark Llewellyn said the video would not have been shown if the channel had thought it was obtained unlawfully. BB

— Barry Bateman (@barrybateman) July 7, 2014
BBC News' Andrew Harding confirmed that the video would not be used in court:
Am assured the video issue won't be raised in court. Which means defence could very well close today... #OscarPistorius

— andrew harding (@BBCAndrewH) July 7, 2014
Prosecutor Gerrie Nel then resumed his tetchy relationship with witness Professor Wayne Derman, who worked with Pistorius for six years as South Africa's paralympian team doctor.
Nel attempted to establish that Derman is no expert on psychiatry after the witness had spent most of Thursday explaining the "involuntary" thought processes of Pistorius during the moments in which he killed Steenkamp. Harding noted:
Derman explains how he is able to analyse the tests and conclusions of other experts as a doctor. Nel wants to undermine his "expertise."

— andrew harding (@BBCAndrewH) July 7, 2014
Nel, hand on hips, looks away (bored) from witness as Derman explains in detail how he analyses the tests of other experts. #OscarPistorius

— andrew harding (@BBCAndrewH) July 7, 2014
Nel then switched focus to whether—by Derman's understanding—Pistorius can run or walk backwards on his stumps without one arm against a wall for balance:
#OscarTrial Derman can't say whether Pistorius can run without having his hand against a wall. BB

— Barry Bateman (@barrybateman) July 7, 2014
The issue centres on Pistorius' ability to run between bedroom and bathroom through the passageway that links the two. Harding provides a reminder of the layout of Pistorius' house:
One of the crime scene "animations" done by the American company hired by #OscarPistorius here: https://t.co/vzdxokzfoT

— andrew harding (@BBCAndrewH) July 7, 2014
In truth, the exchange between prosecutor and witness broke little ground. Nel attempted to showcase that Derman's report lacked expertise and therefore credence, while Derman yielded little ground.
The following tweet summed up the back-and-forth:
Nel, looking to undermine sense of #OscarPistorius as vulnerable, mentions his "big support group." Derman disagrees "strongly."

— andrew harding (@BBCAndrewH) July 7, 2014
Nel and Derman then argued over the witness' "startle" theory, which claims three separate noises prompted involuntary responses from Pistorius.
The last of those three, according to the defence, was the noise from inside the toilet cubicle, where Pistorius suspected there was an intruder. The accused claims he mistook the moving of a magazine rack as the sound of the door opening, prompting him to fire.
Nel queried:
Interesting point. Nel argues that if #OscarPistorius expected a sound from inside toilet - then less likely to be "startled."

— andrew harding (@BBCAndrewH) July 7, 2014
Aislinn Laing of the Telegraph provided Derman's response:
Indeed, Derman says, if you're expecting it, it "potentiates the startle and makes it worse". #OscarPistorius

— Aislinn Laing (@Simmoa) July 7, 2014
One more stern exchange followed before Nel had Derman confirm that Pistorius aimed his gun to fire—albeit at a sound:
#OscarTrial Derman: agrees that the accused aimed at the door, and confirms he said last week that the accused aimed at the sound. BB

— Barry Bateman (@barrybateman) July 7, 2014
Derman was finally released from the witness box, at which point defence lawyer Barry Roux confirmed his intention to close, requesting an adjournment until Tuesday morning in order to be sure.
Court resumes at 8.30am Tuesday morning.
Original Text
The trial resumes for a second week back after Pistorius' six-week psychiatric evaluation at the Weskoppies mental health institute. Last week it was revealed he wasn't "mentally ill" at the moment he shot Steenkamp dead and "can be held criminally responsible" for his actions, reported by David Smith of The Guardian.
Reading from a report written by a psychologist and trio of psychiatrists, prosecutor Gerrie Nel said aloud, "Mr Pistorius was capable of appreciating the wrongfulness of his act," per Smith.
It was Nel who called for an early adjournment last week in order to call one of the authors of the psychiatric report forward. He is expected to use this opportunity to address claims made by Professor Derman, who admitted he grew to know Pistorius "intimately" on the South African Paralympic team's world tour, reported by Aislinn Laing of The Telegraph.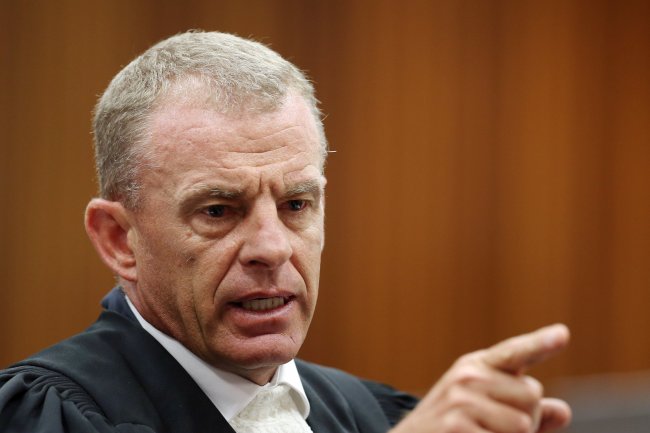 Themba Hadebe/Associated Press
Derman previously explained why Pistorius decided to take action when hearing a noise in his bathroom, a response potentially brought on by the anxiety of his disability. He claimed Pistorius moved into action without thinking, supporting the accused's events, but the BBC's Andrew Harding reports why this can be utilised by Nel:
Nel won't let that go by - remember that #OscarPistorius admitted to thinking about danger of ricochet if he fired into shower.

— andrew harding (@BBCAndrewH) July 3, 2014
This is important evidence. We're back to the heart of this trial - what was going through #OscarPistorius mind when he fired those shots?

— andrew harding (@BBCAndrewH) July 3, 2014
It was also claimed Pistorius was prone to "startle" responses. Derman claimed Pistorius' decision to shoot came through three "startle" responses, the first of which was him reaching for his gun. As expected, Nel leaped on this, per Harding:
Nel asks if one startle, rather than 2 or 3, would be enough to sustain #OscarPistorius fight or flight response up to moment of shootings.

— andrew harding (@BBCAndrewH) July 3, 2014
It's pretty easy stuff Nel is asking - is there a chance #OscarPistorius fired gun without being in "fight mode." Derman ducks it.

— andrew harding (@BBCAndrewH) July 3, 2014
News surrounding the trial took an unlawful turn over the weekend as a video allegedly showing Pistorius reenacting the night of Steenkamp's death was shown on Australian's Channel Seven.
One section of the footage shows Pistorius "pretending to hold a gun," as he and two casual onlookers move through the home of his uncle, Arnold, where he continues to stay during the trial, reported by an alternate Smith report.
Another section of the video shows Pistorius struggling to carry a "motionless" woman out of a toilet cubicle, before moving on to highlight the athlete with his prosthetic legs on, trying to carry her downstairs. The defence team "does not believe the content of the video will harm Pistorius's case," per Smith.
Nel's questioning of Derman may play a vital role in the conclusion of the trial, as Judge Thokozile Masipa heads toward her final verdict. The case will ultimately come down to the thought process behind Pistorius' decision to shoot, an action he maintains was involuntary.