Could Hannover 96 utility player Lars Stindl be Manchester United's cheaper summer transfer window alternative to Arturo Vidal?
Juventus want £40 million from United for Vidal, per Jamie Jackson at The Guardian.

What happens if Juventus up the ante and their demands spiral out of control?
Daily Star Sunday back page - "£50m plus Nani for Vidal" #tomorrowspaperstoday #bbcpapers #mufc pic.twitter.com/ASP6m5PtXY

— Nick Sutton (@suttonnick) July 5, 2014
"@Kenty234: @rioferdy5 rio, what do you think of vidal? Midfield beast?" Really like him, Pogba better value for money now though....

— Rio Ferdinand (@rioferdy5) June 27, 2014
In that case, United manager Louis van Gaal should take a look at Stindl as a viable plan B to Vidal.
To cover that hypothetical scenario, here is a scouting report on Stindl, a 25-year-old, 5'11", 172-pound German.
Stindl Positives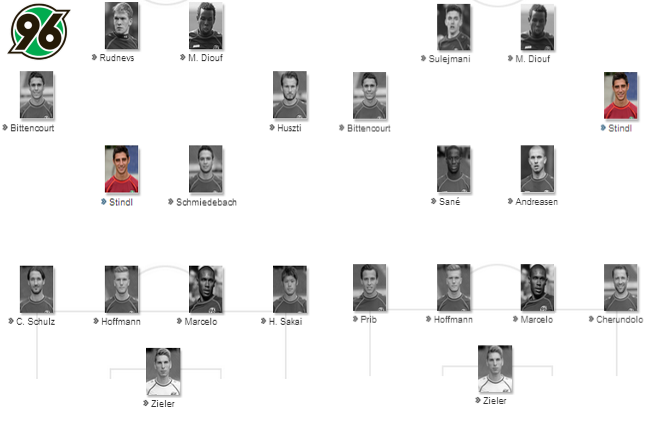 Credit: Kicker.de
An all-action midfielder with the capacity to play box-to-box or on the wings, Stindl is indispensable to Hannover.
While not having Andre Hahn-type straight-line speed, Stindl's short burst of acceleration is a dependable go-to move.
That was why Stindl averaged more dribbles per game (2.2) than Vidal (0.4) last season.
Zipping in between two Mainz players, Stindl manufactured space and supplied a cross for Hannover centre-forward Artur Sobiech.
Generating separation from Stuttgart centre-backs Antonio Rudiger and Georg Niedermeier, Stindl created his own shot.
Cutting in from the left wing, Stindl played an incisive pass between Eintracht Frankfurt centre-back Carlos Zambrano and defensive midfielder Marco Russ to Hannover left winger Szabolcs Huszti.
Intercepting Borussia Monchengladbach left-back Oscar Wendt's pass, Stindl broke free and played a reverse pass to Hannover centre-forward Mame Biram Diouf.
Anticipating a cutback from Hamburg's Hannover loanee, Artjoms Rudnevs, Stindl noticed Hoffenheim right-back Andreas Beck out of position.
Predicting the run of Hannover central midfielder Leon Andreasen, Stindl perfectly hit a one-touch pass with Marco Reus-esque precision.
Stindl flashed scoring potential with goals against Hertha Berlin, Hamburg and Eintracht Frankfurt.
Lars Stindl's 3rd goal of the 2013/14 season #SGEH96 pic.twitter.com/YIfvYWUFPG

— Bundesliga (@Bundesliga_EN) April 17, 2014
Stindl Negatives
Frank Augstein/Associated Press
Ineffective defending is a red flag in Stindl's game.
A lapse in concentration from Stindl resulted in him not marking goal side of Freiburg substitute Philipp Zulechner, who poached a goal.
Stindl was caught off guard by Bayern Munich right winger/deep-lying forward Thomas Mueller's run in behind.
There was only a plus-0.3 difference between Stindl's tackles per game (2.3) and fouls per game (2.0).
Whereas, Vidal had a plus-1.8 difference (4.1 tackles per game, 2.3 fouls per game).
In addition, Stindl's tackle percentage (30, per Squawka.com) was 13 percent lower than Vidal's (43, per Squawka.com).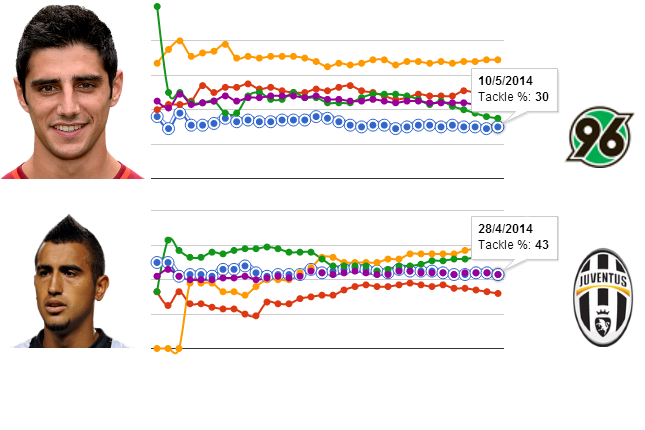 Credit: Squawka.com
Despite roaming forward, Stindl was inconsistent in the attacking half.
League Only

Arturo Vidal

Ander

Herrera
Lars

Stindl

Goals
11
5
3
Shots Per Goal
5.2
13.6
18
Assists
5
5
2
Key Passes Per Game
1.5
1.6
1.5
Passes Per Game
45.9
47.2
46.2
Pass Completion %
83.7
80.6
77.4
Bottom Line
Stindl has the characteristics of a Van Gaal player: can start in two positions, high motor, all-round playing style, is team-focused and a leader of men.
What a shift from Lars Stindl! Has scored one and ran a nice easy 10km! @Hannover96 #SGEH96 pic.twitter.com/gP18YXS74o

— Bundesliga (@Bundesliga_EN) April 17, 2014
If Juventus continue to inflate Vidal's valuation, then United should have Stindl on the long list of fallback options.

Statistics via WhoScored.com.