Just four teams remain in the hunt for the 2014 World Cup title.
We've all been witnesses to some compelling action over the past several weeks. Some results were shocking and others were expected, but even those expected outcomes were fun to follow.
Now that the field has been dwindled down to four, the excitement is still growing. We didn't think anything could best the buzz of the group segment, but both the round of 16 and the quarterfinals have still left us wanting more.
Luckily, there's more on the horizon.
Below you'll find important information and predictions for the semifinals from Brazil.
TV Info
*Note: All matches can be watched online at WatchESPN.com.
2014 World Cup Semifinals TV Info

| | | | | |
| --- | --- | --- | --- | --- |
| Date | Time (ET) | Match | Station | Prediction |
| July 8 | 4 p.m. | Brazil vs. Germany | ESPN | Germany, 2-1 |
| July 9 | 4 p.m. | Netherlands vs. Argentina | ESPN | Netherlands, 2-1 |
FIFA.com
Semifinals Predictions
Brazil vs. Germany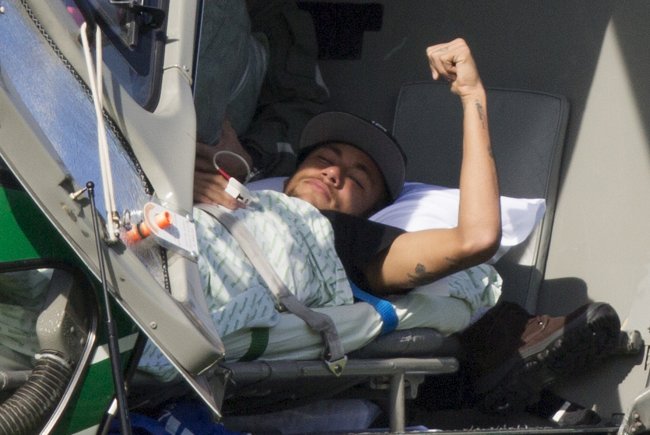 Leo Correa/Associated Press
Brazil advanced to the quarterfinals thanks to the strong play of Neymar, but now that he's out for the remainder of the World Cup, things will be difficult for the host country.
That said, the Germans are still expecting a fight. Germany assistant coach Hansi Flick told reporters what his team is preparing for, per Rick Maese of The Washington Post: "It's definitely a loss for Brazil. Neymar has lived up to expectations, but his absence can unite the team more and we expect a very strong opponent."
Will Brazil overcome the loss of Neymar?
Brazil are looking to play strong without Neymar, but players that have had inconsistent tournaments thus far have to show up ready to play. Oscar and David Luiz must at the top of their games for Brazil to advance.
Brazil will also be without star Thiago Silva, unless, of course, the appeal on his ban for the game is successful. The Associated Press reported on Sunday that Brazil would appeal the suspension (via ABCNews.com).
The Germans have ridden Thomas Muller all the way to the semis, as he has been absolutely stellar. He has four goals in five World Cup matches, making him the key weapon on offense for the German side.
In all likelihood, he'll be involved in the scoring in some capacity on Tuesday.
Assuming Brazil are without Silva on top of being without Neymar, it's going to be extremely difficult to oust a German side that is playing very well. The host country might fall in the semis.
Prediction: Brazil 1-2 Germany
Netherlands vs. Argentina
Martin Meissner/Associated Press
The story of Tim Krul captivated the world after his impressive showing in the penalty shootout against Costa Rica in the quarterfinals. The Netherlands are looking to make it back to the World Cup for the second consecutive tournament, while Argentina are in relatively uncharted territory:
This is Argentina's first #WorldCup semifinal since 1990. #ARG will play either Costa Rica or the Netherlands. http://t.co/ajrNtjzLkF

— NBC Sports (@NBCSports) July 5, 2014
The Dutch side is packed with stars. Robin van Persie, Arjen Robben and Wesley Sneijder are an imposing trio, and the three stars are capable of carrying the side individually. Put that attacking prowess together, and you've got a three-headed monster running down the pitch for the Netherlands.
ESPN's Britt McHenry is also a fan of the attacking prowess the Netherlands possess:
My World Cup prediction: GER over Brazil, NETH over Argentina. Netherlands win it all. That offense is so dynamic & sticking with Persie

— Britt McHenry (@BrittMcHenry) July 6, 2014
Of course, you can never write off Argentina because of Lionel Messi. Once again, Messi has proved to be formidable in international play. He has four goals in Brazil, and he's always a candidate to put one in the back of the net.
Messi is also an extraordinarily clutch performer, so the Dutch really need to pour it on early to attempt to put this game out of reach before Messi can work his magic.
Prediction: The Netherlands 2-1 Argentina
Follow Kenny DeJohn on Twitter: @KennyDeJohn_BR