Another Grand Slam is in the books, and the 2014 Wimbledon tournament yielded some fantastic results in its final weekend.
Days 12 and 13 played host to the women's singles final and the men's singles final, respectively, and the last-standing competitors brought their "A" games. The results, while predictable based on seedings, were still great to watch unfold.
Below you'll find the final scores from the title matches and some analysis for each clash.
Men's and Singles Final Results - Wimbledon 2014

| | | | |
| --- | --- | --- | --- |
| Date | Match | Winner | Score |
| July 5 | Petra Kvitova def. Eugenie Bouchard | Kvitova | 6-3, 6-0 |
| July 6 | Novak Djokovic vs. Roger Federer | Djokovic | 6-7 (7-9), 6-4, 7-6 (7-4), 5-7, 6-4 |
Wimbledon.com
Petra Kvitova def. Eugenie Bouchard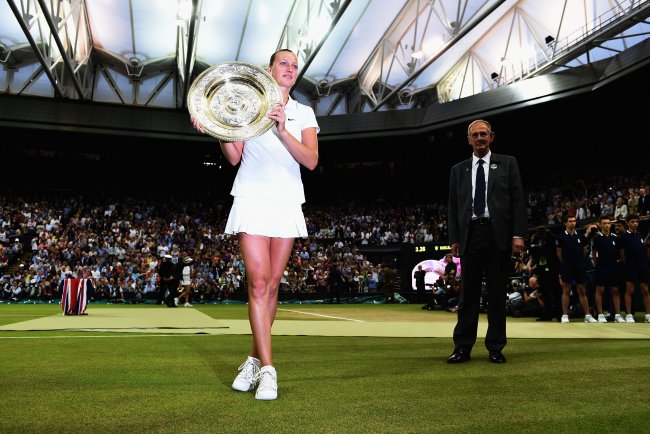 Pool/Getty Images
Petra Kvitova didn't just defeat Eugenie Bouchard in the women's final; she demolished her. The match took just 55 minutes, as Kvitova won in straight sets 6-3, 6-0.
Kvitova won the 2011 Wimbledon title by beating Maria Sharapova in straight sets, but this match is even more impressive. While Sharapova was the far better opponent, Bouchard couldn't put up any fight at all against the 24-year-old.
John Branch of The New York Times broke down the incredible efforts by Kvitova on Centre Court:
Kvitova, seeded sixth, surprised Bouchard with her ability to cover the court, extending points that would have long been lost by Bouchard's previous opponents. Kvitova's powerful strokes were directed at all the proper angles, as if drawn by a protractor. Her two-handed, crosscourt backhand, in particular, was routinely out of reach for the quick-footed Bouchard.
The win was simply incredible given the above efforts. What's even more amazing are the two facts ESPN Stats & Info tweeted following the match:
Petra Kvitova joins Steffi Graf, Venus Williams, Serena Williams as only women with multiple Wimbledon titles since 1990

— ESPN Stats & Info (@ESPNStatsInfo) July 5, 2014
Petra Kvitova: 1st woman since Steffi Graf in 1992 to lose 3 or fewer games in Wimbledon final

— ESPN Stats & Info (@ESPNStatsInfo) July 5, 2014
Bouchard was simply outplayed, and she knew it:
"I definitely got outplayed. Sometimes your opponent just plays better than you and that's what she did" - @geniebouchard on @Petra_Kvitova

— Wimbledon (@Wimbledon) July 5, 2014
Kvitova was brilliant, and she puts this match up there with some of the best of her career, via Branch: "It means everything. It's Wimbledon — the tennis history, and Centre Court is great to play on, and I feel at home."
Now with two titles at Wimbledon, Kvitova has to be considered a strong competitor in the women's draw at the U.S. Open in August.
Novak Djokovic def. Roger Federer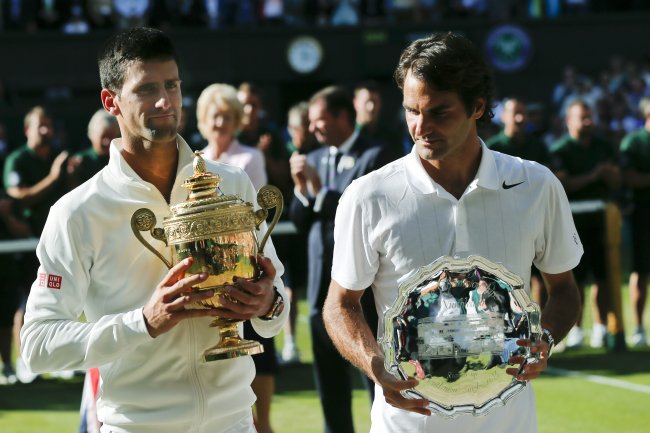 Ben Curtis/Associated Press
In what was easily the top match of the tournament and arguably one of the best ones we've seen this year overall, Novak Djokovic defeated Roger Federer in five sets to claim his second career title at the All England Club.
Federer won the first set before surrendering the next two to Djokovic. The Serb was then serving for the championship before Federer stormed back in set No. 4 and forced a fifth set. The emotions on display during the three middle sets were evident throughout the stadium, and Live Tennis even captured somewhat of a smirk from Federer:
Federer is..umm...happy... pic.twitter.com/159f6ntSF5

— Live Tennis (@livetennis) July 6, 2014
Of course, Djokovic had the most reason to smile after the fifth set. He took care of Federer's comeback attempt and secured the tough victory.
The win for the Serb has to rank among the top moments in his career. Not only was the match in a Grand Slam final, but it was against one of the top competitors of the men's draw.
#Djokovic "This is the tournament I always dreamed of winning. The best tournament, the most valuable one." pic.twitter.com/n7Vsf58zBJ

— Wimbledon (@Wimbledon) July 6, 2014
He'll head into the U.S. Open at Arthur Ashe Stadium as one of the favorites, especially after this fantastic display.
Follow Kenny DeJohn on Twitter: @KennyDeJohn_BR