Updates from Monday, July 28
Jon Heyman of CBSSports.com reported on Alfonso Soriano's future in baseball:
Seven-time All-Star Alfonso Soriano, released by the Yankees earlier this month, has told friends he expects to take the rest of this season off, then consider next season whether to return to play in the majors.

(...)

A few teams have talked to Soriano since the Yankees designated him for assignment July 4, but after being away for nearly four weeks he has told friends he believes he would need time to get into playing shape, making next year seem more realistic. Soriano, 38, has 412 career home runs.
Updates from Monday, July 14
The Yankees officially released Alfonso Soriano, according to the MLB's transaction page.
Zach Links of MLBTradeRumors.com later followed with financial details surrounding Soriano's release:
New York will owe Soriano the remainder of the $5MM portion of his salary for which the team is obligated. He will be free to sign with any club (likely at a league-minimum rate), though Soriano has indicated that he would give at least some consideration to retirement.
Original Text
The New York Yankees have designated veteran Alfonso Soriano for assignment, manager Joe Girardi announced Sunday, per Mark Feinsand of the New York Daily News:
Girardi said Soriano has been DFA'd

— Mark Feinsand (@FeinsandNYDN) July 6, 2014
According to Meredith Marakovits of the YES Network, the Yankees made the move in order to add a pitcher. Soriano's offensive dip also provided motivation for the decision:
Girardi confirmed that Alfonso Soriano was DFA'd cited struggles offensively and need for more pitching as reason move was made today

— Meredith Marakovits (@M_Marakovits) July 6, 2014
Girardi and Yankees management didn't blithely DFA the 38-year-old, as Daniel Barbarisi of The Wall Street Journal believed the manager grappled with the decision:
Girardi seems genuinely sad to have had to make the soriano move.

— Daniel Barbarisi (@DanBarbarisi) July 6, 2014
Girardi commented that the hard part is not knowing what the future holds, per Yankees play-by-play man Michael Kay:
Girardi on DFAing Soriano: "it's extremely difficult because you just don't know."

— Michael Kay (@RealMichaelKay) July 6, 2014
Yankees general manager Brian Cashman also spoke about the decision to move Soriano with Joel Sherman of the New York Post:
Cashman on Soriano: "He was struggling on offense, even against lefties recently, and struggling on defense. It had been a half season."

— Joel Sherman (@Joelsherman1) July 6, 2014
Cashman said understood Soriano probably needed full-time ABs if he was going to get better, but #Yankees couldn't afford to give to him

— Joel Sherman (@Joelsherman1) July 6, 2014
Weep not for Soriano, though, since he's still counting the money from the massive eight-year, $136 million deal he received from the Chicago Cubs in 2006, per Mark Zuckerman of CSNWashington.com:
Wow, Alfonso Soriano DFA'd by #Yankees. He's in final year of that $136 million contract he got after leaving #Nats in 2006.

— Mark Zuckerman (@ZuckermanCSN) July 6, 2014
If you simply look at the numbers, you can understand why New York feels Soriano is expendable.
After getting traded to the Yankees from the Cubs last year, he looked like his old self, hitting .256 with 17 home runs and 50 RBI in 58 games.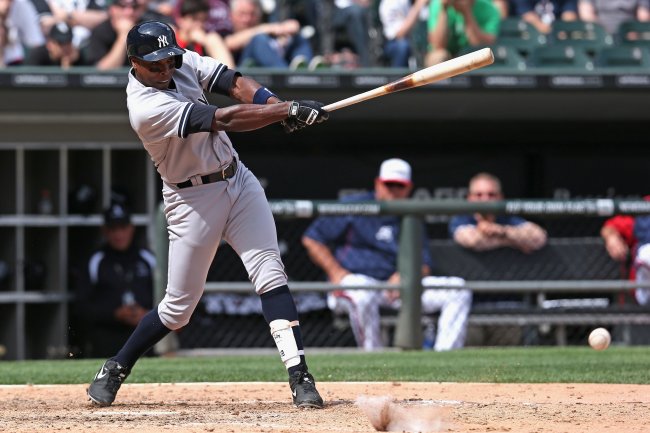 Jonathan Daniel/Getty Images
However, in 2014, his average dropped to .221, while his power numbers are down precipitously to six homers and 23 RBI in 67 games. MLB.com's Andrew Simon found the best indicator to signify Soriano's offensive decline:
Last year for the Yankees, Alfonso Soriano SLUGGED .525 in 243 PA. This year, he has a .611 OPS in 238 PA. Pretty steep dropoff.

— Andrew Simon (@AndrewSimonMLB) July 6, 2014
Considering how much money he's still due for this year, Soriano will almost certainly clear waivers.
Once he's a free agent, some team might take a flier in the hope that he can return to his form. Having a player with his track record and experience coming off the bench could be a valuable asset come playoff time for a contender.
Meanwhile, the Yankees can use that open roster spot to help improve a pitching staff that ranks 21st in ERA (3.95), 23rd in quality starts (42) and 19th in opponents' batting average (.256). They already made a move earlier Sunday to acquire right-hander Brandon McCarthy from the Arizona Diamondbacks, so it will be interesting to see what they do next.