Day 13 of the 2014 Wimbledon tournament was all about Novak Djokovic and Roger Federer.
Both players went on spectacular runs through the men's draw, culminating in what turned out to be an absolutely epic final. Federer, seeking his eighth-career championship at the All England Club, fought valiantly against the No. 1-seeded Djokovic. Djokovic, the 2011 champion at Wimbledon, staved off a late run from the Swiss to secure his second career title in London.
Djokovic showed great respect for Federer prior to the match, via Wayne Coffey of the Daily News: "To come back and play finals of Wimbledon again, it's incredible what he's doing, ... His level (in this tournament) has been very high, I have to say."
Federer played at a high level yet again on Sunday.
Below you'll find the score, as well as some highlights and analysis from one of the best finals we've seen this year.
2014 Wimbledon Men's Final

| | | |
| --- | --- | --- |
| Match | Winner | Score |
| Novak Djokovic vs. Roger Federer | Djokovic | 6-7 (7-9), 6-4, 7-6 (7-4), 5-7, 6-4 |
Wimbledon.com
Analysis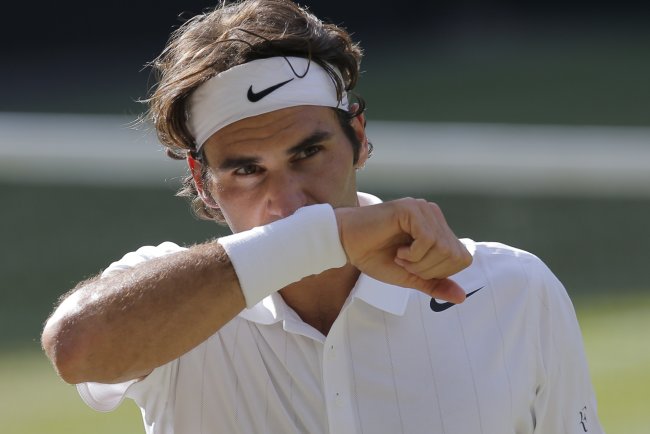 Pavel Golovkin/Associated Press
Federer, the No. 4 seed, started off the match quite well. He took the first set, 7-6 (9-7), after displaying great resilience to fight off Djokovic's attempts. No stranger to success on grass, Federer was set up well for success early.
The Serb came storming back, however, taking the second set, 6-4, and the third set, 7-6 (7-4). Djokovic used his entire arsenal to win the second and third sets, as he had Federer running wildly to set himself up for quality returns.
Those two sets were exciting to watch, and SI Tennis tweeted out the semicomedic aspect of the action:
Djokovic falls down. Gets up. Hits forehand return winner. Federer messes up toss. Says sorry. Tosses up again, pounds ace. These two.

— SI Tennis (@SI_Tennis) July 6, 2014
ESPN Tennis tweeted an interesting statistic following the third set:
Federer has never come back from 2 sets 1 in a grand slam final, and Djokovic has never lost from 2-1 up in a Slam final. #ESPNTennis

— ESPNTennis (@ESPNTennis) July 6, 2014
Perhaps ESPN Tennis was on to something.
Federer would not go down quietly, as he rallied from down 5-2 in the fourth set and forced a fifth set. He challenged the championship point and still was able to rally for a deciding set. ESPN's Josina Anderson loved seeing the emotion of Federer's play:
I love seeing the champion spirit come out of Federer. Father time has never been defeated, but once a fighter always a fighter. #ComeOn

— Josina Anderson (@JosinaAnderson) July 6, 2014
It was anybody's match heading into the deciding fifth set. It got off to a rough start for Federer, however, as after Djokovic went up 2-1, he called the trainer out for an injury timeout. With the momentum on his side, this was the last thing the Swiss could have wanted:
Long switchover for Roger w this injury timeout ...... Not what you want when serving from behind in a 5th set ...

— andyroddick (@andyroddick) July 6, 2014
Wimbledon's official Twitter account posted an image capturing the medical timeout:
#Djokovic medical time out, receiving massage on his right calf leading fifth set 2-1 #FederervsDjokovic pic.twitter.com/QW0EtPq5jr

— Wimbledon (@Wimbledon) July 6, 2014
Dkjokovic wouldn't let what appeared to be calf issues halt his run for the title, however.
Once play continued, the two resumed their duel. Federer continued his fight and even showed a slight bit of emotion on the court—something we're not that used to seeing from the veteran:
Federer is..umm...happy... pic.twitter.com/159f6ntSF5

— Live Tennis (@livetennis) July 6, 2014
Despite the emotional play, Federer was simply unable to get an advantage over Djokovic. The five-set epic culminated in Djokovic's second career win at Wimbledon:
#Djokovic "This is the tournament I always dreamed of winning. The best tournament, the most valuable one." pic.twitter.com/n7Vsf58zBJ

— Wimbledon (@Wimbledon) July 6, 2014
The win for Djokovic certainly must rank among the best of his career, as the 27-year-old repeatedly fought off one of the game's best to secure his second Wimbledon crown. He'll head into the U.S. Open in August at Arthur Ashe Stadium as one of the favorites to dominate the men's draw.
Of course, he might not be able to hold off Federer in another marathon match like this one.
Follow Kenny DeJohn on Twitter: @KennyDeJohn_BR