Scouting Report: Should Everton Take a Chance on Yeltsin Tejeda?
July 6, 2014

Robert Cianflone/Getty Images
Should Everton manager Roberto Martinez gamble on Saprissa central midfielder Yeltsin Tejeda after the Costa Rican international's promising 2014 FIFA World Cup tournament?
To cover that hypothetical scenario, here is a scouting report on Tejeda, a 5'10", 146-pound 22-year-old. 
Tejeda Positives
Energetic, self-sacrificing and tenacious, Tejeda played an invaluable role in Costa Rican manager Jorge Luis Pinto's midfield. 

FIFA.com
Tejeda showed remarkable discipline by staying in his zone as Costa Rica defied the odds to reach the quarter-finals. 
This was evidenced by Tejeda's average positioning over five games being near-identical. 
By adhering to Pinto's commands, Tejeda ensured he played his part in Costa Rica maintaining their shape throughout the World Cup.  
vs. the Netherlands; HuffingtonPost.com
vs. Greece; HuffingtonPost.com
vs. England; HuffingtonPost.com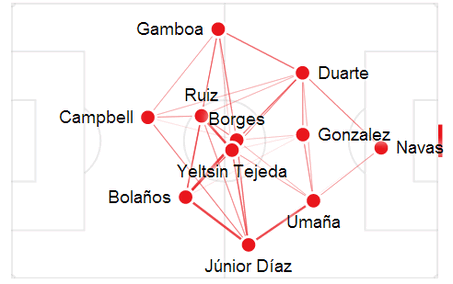 vs. Italy; HuffingtonPost.com
vs. Uruguay; HuffingtonPost.com
Tejeda displayed snippets of first-rate play. 
Against England, Tejeda acted as a passing outlet, completing 43 of 51 passes, per FourFourTwo.

FourFourTwo.com
Averaging 3.2 tackles per game, Tejeda's output bettered Brazilian defensive midfielder Paulinho (2.0).
Making a last-ditched clearance to stop Dutch centre-forward Robin van Persie from scoring proved Tejeda can produce important plays under intense pressure.  
Unlike compatriot Joel Campbell, 22, whose playing rights are owned by Arsenal, Tejeda, 22, is still plying his trade in his homeland.
Tejeda stands to be the youngest non-European-based Costa Rican to be highlighted as an outstanding player by the FIFA technical study group.
Costa Rican Highlighted by FIFA TSG

 

World Cup

Age

Club

Mauricio Solis

2002
29

Alajuelense

Paulo Wanchope
2002, 2006

25/29
Manchester City/

Herediano

Ronald Gomez 
2002, 2006
27/31

OFI Crete/Saprissa 

Walter Centeno
2002
27

Saprissa 

Wilmer Lopez
2002
31

Alajuelense

 
 
 
 
Tejeda Negatives
The big red flag is Tejeda's inefficiency. 
He lost out in 62 percent of tackles and 80 percent of aerial duels, per Squawka.com.

Squawka.com
While Tejeda could end up being the youngest non-European-based Costa Rican to receive a mention by the FIFA TSG, here is one fact you need to know. 
The FIFA TSG did not systematically point out individual players from each nation at the World Cup until 2002. 
If you were to go back to Bora Milutinovic's 1990 Costa Rican outfit, it was a similar story to Pinto's team: plucky, team-focused and a surprise package. 
There was also then-30-year-old Gabelo Conejo, who was Keylor Navas before Keylor Navas.
"I was named goalkeeper of the tournament," Conejo said, per FIFA.com. "That was a real honour for someone from a small country [Costa Rica] that didn't have any professional players back then."
Two of Conejo's teammates were hopeful stars like Tejeda. 
Ronald Gonzalez, a then-19-year-old defender from

Saprissa

, who scored the same amount of goals as the Netherlands' former 

Ballon

d'Or

winner 

Ruud

Gullit

(one). 

FIFA.com
Hernan

Medford

, a then-22-year-old forward from 

Saprissa

, whose goal against Sweden elevated 

Costa Rica into the round of 16. 
Neither Gonzalez or Medford had lengthy careers in an elite European league. 
Even Tejeda's teammate, Campbell, the best Costa Rican talent of his generation, has been hit-and-miss in Europe. 
Tejeda will need to overcome the odds again if he is to earn a living playing abroad in a top-flight European league. 


Paul Gilham/Getty Images
Bottom Line
Gareth Barry, who spent last season on loan at Everton, is not a certainty to sign with the Toffees, per Dave Kidd at The Daily Mirror. 

This means Everton need midfield reinforcement. 

Saprissa.cr
Tejeda is being monitored by several clubs, according to his representative Mike Williams.
"We already have a good level of interest in Yeltsin, both here in the United Kingdom and also from Belgium and Spain," Williams said, per Pete O'Rourke at Sky Sports. "We also turned down offers from Vancouver Whitecaps in the MLS [Major League Soccer] earlier this year."
Tejeda would be a good squad addition to Everton.
Statistics via WhoScored.com