Well then, that didn't take too long.
In 16 seconds, "Rowdy" Ronda Rousey blew away Alexis Davis on Saturday night in Las Vegas. It was the most impressive performance we've seen from the women's bantamweight champion.
When it was over, the polarizing champion actually heard some cheers. Per the UFC 175 pay-per-view broadcast, Rousey said:
"Hopefully you guys stay cheering for me, but I'm not going to keep my fingers crossed."
Without question, Rousey's latest win was worthy of a Performance of the Night bonus. Per MMA Junkie, it's on the way:
UFC 175 bonuses: Weidman, Machida, Rousey, Font get $50,000 http://t.co/2WB5c2CnWy

— MMAjunkie (@MMAjunkie) July 6, 2014
After a fight like this, it's hard to decide whether Rousey is this good, or if the competition is just that far behind her. It's probably a little bit of both.
Ryan Bivins of Sweet Boxing had another take on Rousey's dominance:
Ronda Rousey might be the Mike Tyson of #wmma. But I'm tired of seeing her fight the likes of Henry Tillman & Peter McNeeley.

— Ryan Bivins (@sweetboxing) July 6, 2014
Still, nothing should take away from what Rousey did on Saturday.
She stood and traded on her feet for the first five to seven seconds. A hard right hand dazed Davis, and before the challenger could stumble, Rousey had locked in a side headlock and launched her to the ground with a powerful judo throw.
It looked like a schoolyard bullying as opposed to a fight between two trained professionals. Sherdog Rewind described it this way:
The Ronda finishing sequence looked like some hokey self-defense/disarm/kill sequence you'd learn before there was UFC

— Jack (@SherdogRewind) July 6, 2014
Rousey is the Royce Gracie of her time—only better. When the MMA legend was ruling the sport in its infancy, no other competitor was as skilled as Gracie in grappling. He rode his edge in that aspect of the sport to the success that made him an icon.
Initially, Rousey's grappling prowess was her prevailing edge. It seemed like she might be a one-trick pony. But she has proven that's not the case. Rousey has now finished her last two opponents with strikes.
Don't look now, but she's getting better. If that's not the scariest thought for potential opponents, I don't know what is.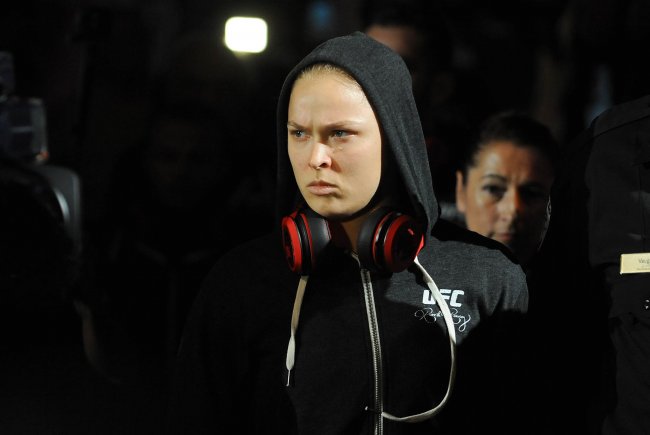 USA TODAY Sports
The only unconquered and highly regarded opponent left is Cat Zingano. She is 8-0, a dangerous striker and looks to be next in line once she returns from knee problems. However, pardon the world for not seeing Zingano as the one capable of conquering Rousey.
Each of the opponents Rousey has faced in the UFC seemed to present a special challenge, but Rousey made them all look less than formidable.
It's getting hard to find a weakness in Rousey's game. Maybe that's because there isn't one.
Follow me on Twitter.