When Argentina and the Netherlands face off in the semifinals at the 2014 World Cup Wednesday, every single player on the pitch will have to step up to help his side win.
The highly anticipated match is certain to include big performances from stars such as Lionel Messi and Gonzalo Higuain battling Robin van Persie and Arjen Robben. However, many of the players who get less attention will also have a huge impact in the action.
These players might not end up with the game-winning goal, but their performances will help decide which team advances to the finals in Brazil.
Ezequiel Garay, Argentina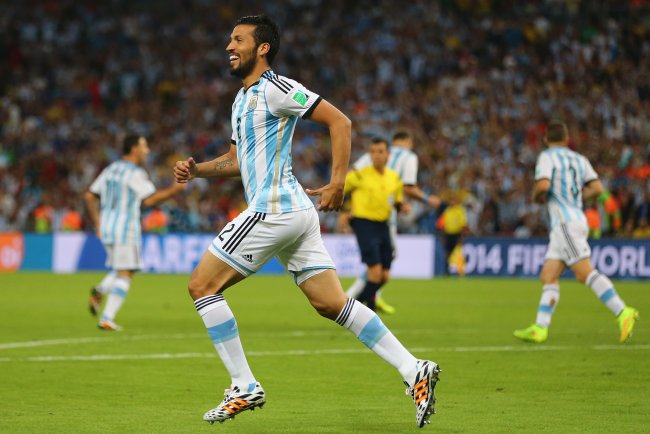 Jamie Squire/Getty Images
Those watching Argentina's win over Belgium likely saw what Ezequiel Garay is capable of on the back line.
The center back was intercepting almost every pass the opponent made in the final third. When he needed to, he would also come through with perfect tackles to stop an attack.
Dermot Corrigan of ESPN FC discussed how well Garay has played to this point in the World Cup:
Ezequiel Garay challenging Mats Hummels for CB of tournament so far.

— Dermot Corrigan (@dermotmcorrigan) July 5, 2014
Against some of the best scorers in the world, the defender will have a huge role in keeping Van Persie and Robben as far from the box as possible.
Amazingly, Garay has also done a great job making plays when his team has the ball, according to WhoScored.com:
Ezequiel Garay: Has a better pass accuracy (95.4%) than any other player to attempt 150+ passes in World Cup 2014 #arg

— WhoScored.com (@WhoScored) July 5, 2014
As long as he continues to make smart decisions all over the pitch, the Netherlands will not have too many opportunities to score in this match.
Pablo Zabaleta, Argentina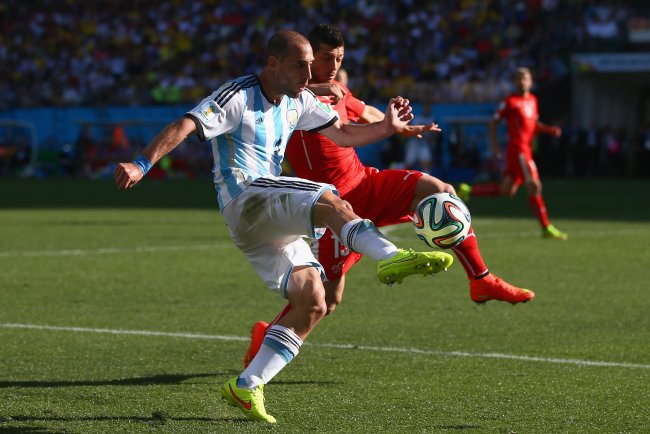 Julian Finney/Getty Images
Although Belgium (and Chelsea) fans were expecting Eden Hazard to get the better of Pablo Zabaleta on the left side of the pitch, the talented player was held in check throughout the match and could not help his squad get onto the scoresheet.
This is the type of performance Zabaleta has to provide once again in the next round against the Netherlands. The Dutch like to use width on the attack, and Argentina will need their full-backs to hold up defensively.
Of course, defense will not be the only role for Zabaleta. With Angel di Maria out with a thigh injury, per Argentinian newspaper Ole (h/t Dirty Tackle's Brooks Peck), Argentina will need help getting the ball up to the stars up front.
The good news is the Manchester City player already knows his strategy, via Julian Bennetts of the Express:
Every time we recover the ball we try to pass to him as he is the best player we have in the team and he will score goals. Messi has been one of the best players in the world for many years and you always expect a lot of things from them, like [Diego] Maradona many years ago.

That is why we need to keep working hard. This team is doing well in the World Cup. We try always to keep a clean sheet as we know we have quality enough to score goals.
If he can be aggressive and provide a few crosses to Messi and Higuain, Argentina will be in good shape.
Daley Blind, Netherlands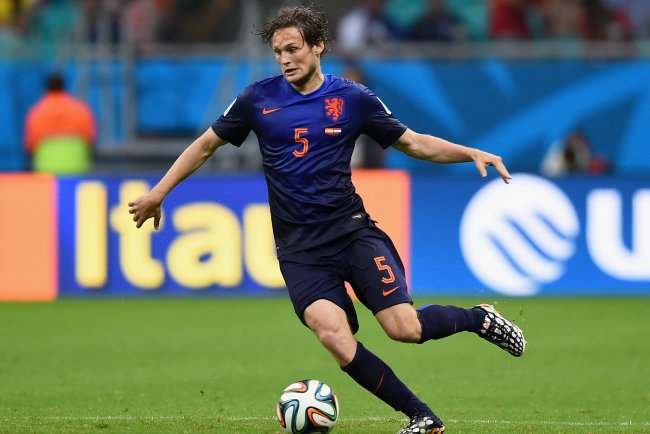 David Ramos/Getty Images
No matter where he is playing on the pitch, Daley Blind has been a big part of the team's success in this tournament.
The left back had three assists in the first two matches and has continually made important passes all month. Interestingly, he also can be trusted in a midfield role, as pointed out by former English footballer Stan Collymore:
#NED looking forward to seeing Daley Blind in a Lahm-esque defensive midfield role. Chip off the old block! @talkSPORT ON AIR LIVE

— Stan Collymore (@StanCollymore) July 5, 2014
With his strong passes and clever decisions, Blind was a big reason the squad was able to keep possession for two-thirds of its quarterfinals match with Costa Rica.
Although it will not be as easy to control the possession against Argentina, the battle in the midfield will be a major decider in the upcoming match. With the way each side can finish up front, whoever does a better job getting the ball to the scorers will win.
Blind has to be a force wherever he lines up and create opportunities for his teammates.
Jasper Cillessen, Netherlands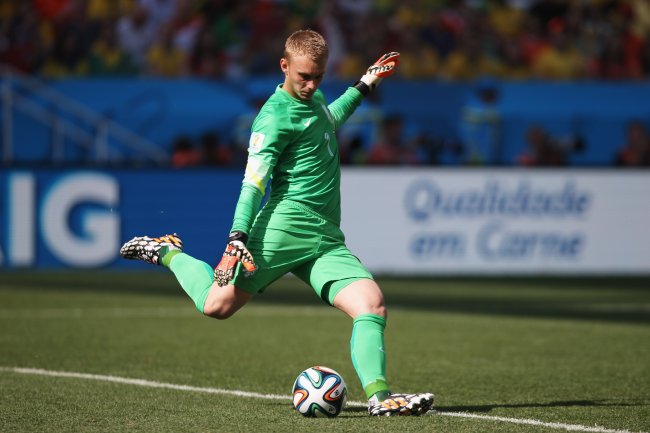 Dean Mouhtaropoulos/Getty Images
Manager Louis van Gaal made a dramatic move at the end of extra time when he subbed out his keeper Jasper Cillessen for Tim Krul. This ended up working out for the squad, as it outlasted Costa Rica in penalties.
Still, Fox Soccer Trax breaks down what Cillessen must have been thinking at this stage:
Not exactly a vote of confidence in Cillessen, but he has been poor at kicks with Ajax.

— FOX Soccer Trax (@FOXSoccerTrax) July 5, 2014
Van Gaal did mention that his No. 1 goalkeeper came up big just before the switch. According to Owen Gibson of The Observer, the coach explained, "It was exciting, thrilling. They had their only chance in the 117th minute. We had all the chances but, if Cillessen doesn't save that, we're out."
He will almost certainly return to the lineup for the next match, but the question is whether he will be mentally ready to compete after being removed in such a big situation.
However, he will face a lot of action with Messi and the rest of the Argentina attack. If he does not come ready to play, the Dutch will be in trouble.
Follow Rob Goldberg on Twitter for the latest breaking news and analysis.