As unpredictable as the 2014 World Cup has been, is anybody really surprised that Argentina, Brazil, Germany and Netherlands are the final four teams? The quartet has appeared in a combined 21 finals, per ESPN FC:
#BRA, #ARG, #NED and #GER have combined to play in 21 World Cup Finals. Legendary Final 4. pic.twitter.com/9ZdDJJqH2Z

— ESPN FC (@ESPNFC) July 5, 2014
Brazil and Germany won on Friday to earn their places. On Saturday, Netherlands and Argentina followed suit with wins over Costa Rica and Belgium, respectively.
Since football is all about covering one's weaknesses and exploiting the other team's, it's only appropriate to break down what could be each side's largest area of concern heading into the semifinals.
Brazil
Neymar's Injury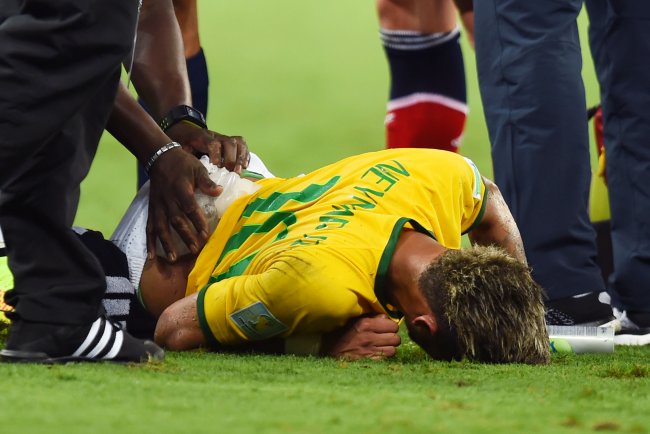 Jamie McDonald/Getty Images
Tactically and emotionally, Neymar's injury is a disaster for Brazil. By now, almost every football fan on the planet has seen that the Brazilian forward is out for the rest of the World Cup after fracturing a vertebra, per BBC Sport.
Despite the tough diagnosis, the 22-year-old remains confident that his team will get the job done, per Michelle Kaufman of the Miami Herald:
Neymar on TV today: Brazilian team will become champions, and I will be there with them, and all of Brazil will be celebrating together."

— Michelle Kaufman (@kaufsports) July 5, 2014
More Neymar: I won't be able to fulfill the dream of playing in a World Cup final, but I'm sure Brazil will win this one. @miamiherald

— Michelle Kaufman (@kaufsports) July 5, 2014
Neymar can stay positive, but that's not going to do much to plug the massive hole that his absence leaves in the Brazil lineup.
With Fred's failure to recapture his Confederations Cup form, Neymar became an even more integral part of the side, serving as both creator and finisher. His four goals are tied for second in the World Cup, and he added an assist against Colombia.
Luiz Felipe Scolari was nearly left with an even bigger headache after Willian was injured in training. However, Sky Sports' Paulo Freitas reported that the Chelsea attacker should make the semifinal against Germany:
Willian had to leave training as he felt back pains during Brazil's after he was involved in a rough challenge with Hernanes.

— Paulo Freitas (@Cynegeticus) July 5, 2014
Although Willian missed the rest of training, Brazil FA doctors say it wasn't serious and he should be able to keep preparing for BRA-GER.

— Paulo Freitas (@Cynegeticus) July 5, 2014
A ton of pressure will be heaped upon Willian, but Fred and Hulk will likely have to shoulder more of a burden in the attack as well. Neither player has had a great World Cup so far; perhaps Neymar's injury is the spark that can awaken the duo.
Germany
Benedikt Howedes at Left-Back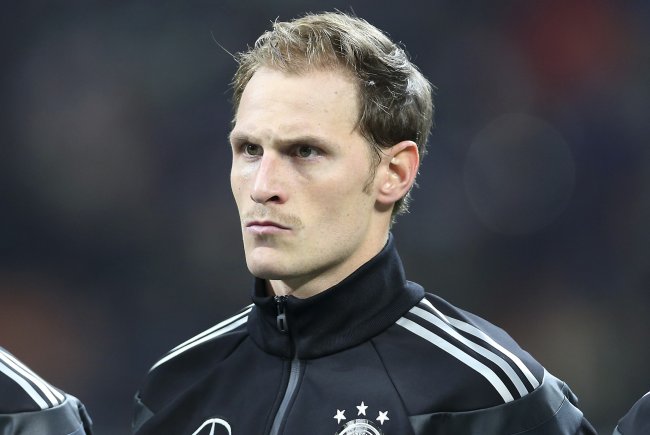 Antonio Calanni/Associated Press
It feels like throughout the entire tournament, Joachim Low's decision to field four centre-backs has been talked about as Germany's potential undoing, and yet, here the Germans are.
Low came to his senses a bit against France, moving Philipp Lahm back to right-back, thus mitigating the problem somewhat. Everybody could see that Lahm would be better used in his more natural defensive position, and finally the manager saw it too.
If he ultimately decides to play Benedikt Howedes instead of Erik Durm, though, it could cause problems for the Germans.
On more than a few occasions, opposing teams have exposed Germany's lack of pace at the back, forcing Manuel Neuer to sprint out and act as a sweeper keeper.
With Dani Alves and Maicon, Brazil have two right-backs who are more than capable of getting forward. Alves might be the better option, because Howedes isn't much of a threat to go forward.
Willian or Hulk—depending on who's used out right—will also look to take advantage of any opportunity in which Howedes is out of position. If either of those two gets in behind the left-back, then Germany will be in trouble.
Argentina
Might Pragmatism Come Undone?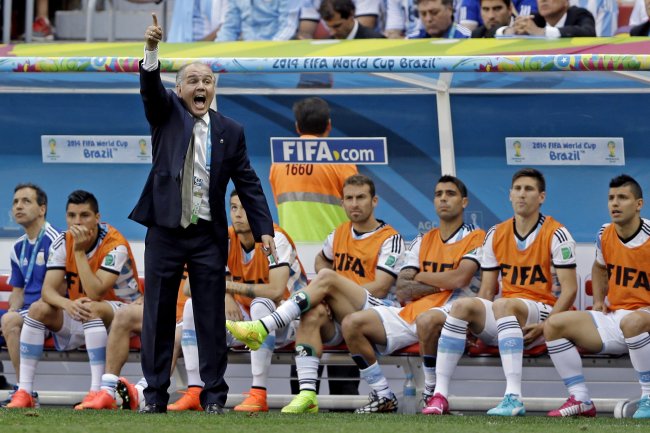 Kirsty Wigglesworth/Associated Press
Perhaps some believe that the over-reliance on Lionel Messi will be Argentina's biggest problem in the semifinal. Maybe it's the injury to Angel Di Maria, per The Associated Press:
Argentina's Angel di Maria doubtful for semifinal against NED/CRC winner bc of thigh injury. http://t.co/HufPMHcwtW

— AP Sports (@AP_Sports) July 5, 2014
While those two factors will certainly play a role in the match, what could prove to be La Albiceleste's fatal flaw may be Alejandro Sabella's pragmatic style.
In each of Argentina's five wins, they've scored first. On three occasions, they've nabbed a goal inside of eight minutes. Granted, against Nigeria, they gave up quick equalizers, but at no point in that match were they down.
Playing defensively is great when you're protecting a lead. When you're chasing a match? Not so much.
Conceding the first goal could be disastrous for Argentina. Louis van Gaal has shown that he's more than happy to shut up shop and play a decidedly anti-Dutch style. He would have his team drop deeper in the pitch and swarm Messi any time he has possession. And without Di Maria, Argentina are missing a key attacker to alleviate that pressure.
In addition, Sabella would have to ask his players to switch to a style that's somewhat foreign to them in this World Cup, and making the switch in a semifinal only adds to the difficulty.
It may sound reductive and obvious, but whoever scores the first goal in this semifinal will win the match.
Netherlands
Robin van Persie's Poor Finishing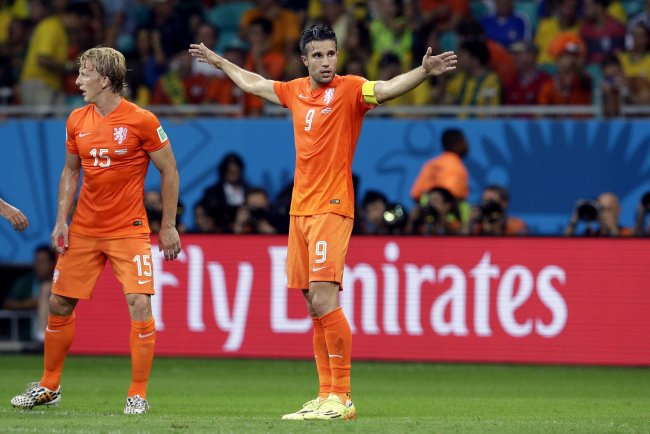 Hassan Ammar/Associated Press
Remember Robin van Persie's diving header against Spain? What happened to that guy?
Van Persie blew chance after chance against Costa Rica. The first one or two times were forgivable, but the Manchester United striker's profligacy nearly cost the Netherlands a place in the semifinals. Philadelphia Union midfielder Maurice Edu called him the best Costa Rican defender on the pitch:
Robben is Netherlands best player! RVP been CRC's best defender this extra time period lol

— Maurice Edu (@MauriceEdu) July 5, 2014
After the match, Van Persie got a visit from his daughter. Goal's Kris Voakes thought that she could have taken the opportunity to tease her dad a bit:
RVP gets a kiss from his daughter on TV. Reports she told him "Even I'd have scored against Costa Rica" are unconfirmed #NED #CRC #WorldCup

— Kris Voakes (@krisvoakes) July 5, 2014
The fact is that Arjen Robben can't keep carrying the Dutch attack all by himself. Robben is often labeled a selfish player—a reputation he somewhat deserves—but he has often dropped deeper and run out wide in order to try and spark something.
Meanwhile, Van Persie was largely absent against both Mexico and Costa Rica.
Argentina will be so tough to break down that if Robben is the only threat at goal, the Netherlands will be toast.