The 2014 World Cup semifinals are set, but it wasn't easy for any of the remaining teams to get to this point.
After Brazil and Germany clinched their spots in the next round with close victories on Friday, four more teams were looking to keep their title hopes alive in competitive quarterfinal matches on Saturday.
In the end, it was Argentina and the Netherlands advancing to create an exciting pair of semifinals that will take place in a few days. Here is a look at the upcoming schedule to follow the action, along with a recap of the past day's events.
2014 World Cup Remaining Schedule

| | | | | |
| --- | --- | --- | --- | --- |
| Date | Round | Matchup | Time (ET) | Where |
| July 8 | Semifinal | Brazil vs. Germany | 4 p.m. | Belo Horizonte |
| July 9 | Semifinal | Netherlands vs. Argentina | 4 p.m. | Sao Paulo |
| July 12 | 3rd Place Match | Semifinal Losers | 4 p.m. | Brasilia |
| July 13 | Final | World Cup Final | 3 p.m. | Rio De Janeiro |
via FIFA.com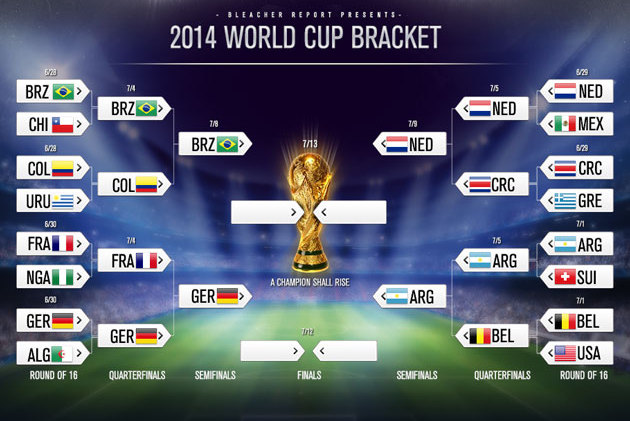 Bleacher Report
Day 24 Recap
Argentina 1, Belgium 0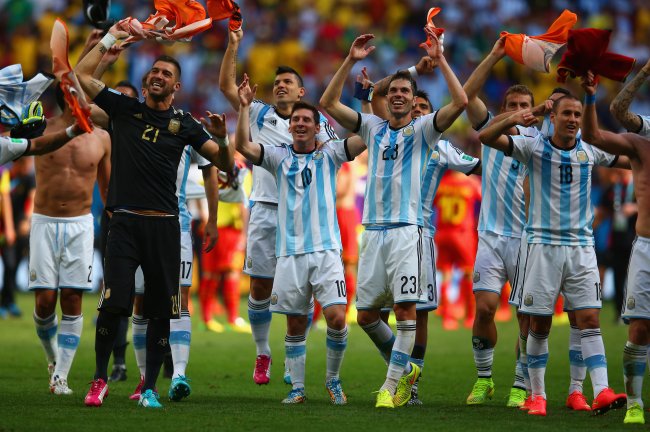 Julian Finney/Getty Images
Argentina were able to get onto the scoresheet early and hold on against a disorganized opponent in Belgium.
The South American squad was a bit lucky to score the opening goal as an Angel di Maria pass bounced off a defender directly to Gonzalo Higuain. Of course, it was all skill from there as the Napoli forward fired the volley into the corner of the net where no one could stop it:
Halftime! Gonzalo Higuaín's devastating right-footed volley spotted the Argentines out front 1-0. #SCtop10 VIDEO: http://t.co/jPiaQwNmvn

— SportsCenter (@SportsCenter) July 5, 2014
Paul Heyward of the Daily Telegraph breaks down the play, which ended up having major importance:
Brilliant midfield pirouette by Messi starts a move that ends with Higuain smashing the ball past Courtois. 1-0 Argentina.

— Paul Hayward (@_PaulHayward) July 5, 2014
For the rest of the first half, and most of the second half, there was not a lot of action from Belgium, which only finished with four shots on goal in the entire match.
Meanwhile, the squad's best attacking player was taken out before the end of the action after a relatively disappointing day, as noted by Sports Illustrated's Grant Wahl:
Thought we'd see more from Hazard here. Still surprised he'd come off with Belgium needing a goal to survive.

— Grant Wahl (@GrantWahl) July 5, 2014
Still, Argentina were able to utilize a team effort to earn a complete win over one of the more talented squads in the world. While Lionel Messi did not have his best performance, manager Alejandro Sabella discussed why this tournament is about the team, via Dominic Fifield of The Guardian:
Four years ago Messi was criticised for not contributing enough, and now people say we depend too greatly upon him. It's not easy. Any team who has a player like Messi in their ranks – he's the best player in the world – will greatly depend upon him, as a player. But there's a group of players who support Messi, who make him stronger and make him feel well. I believe that the fact he's done what he has here is down to the work the team puts in.
As Jonathan Northcroft of The Sunday Times points out, this was a strong performance even without Messi:
Argentina's best game at this WC. Not all about Messi today. Sweet Higuain goal and withstanding Belgium's hyper-Route One not easy.

— Jonathan Northcroft (@JNorthcroft) July 5, 2014
That being said, you can be certain that Argentina will need to see a better performance from one of the best players in the world if they want to keep winning.
Netherlands 0, Costa Rica 0, (Netherlands wins on penalties 4-3)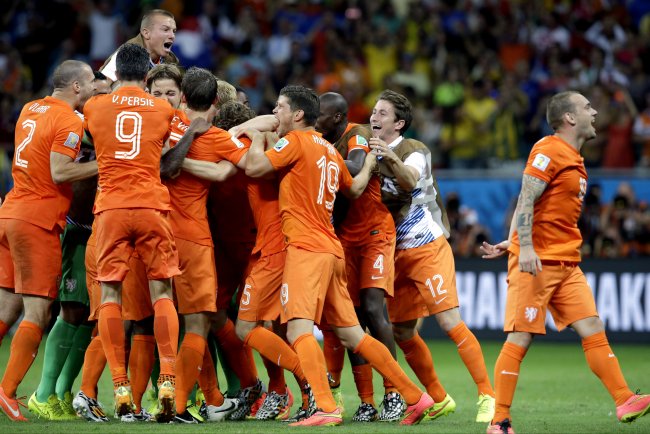 Hassan Ammar/Associated Press
While there were no goals for 120 minutes of action, there was plenty of drama from start to finish.
The Dutch held possession for 67 percent of the match and took 20 shots compared to just six by Costa Rica. In fact, the Ticos only had a single shot on goal in the entire competition.
However, the Netherlands struggled with their finishing, as goalkeeper Keylor Navas always seemed to be in position to make a stop. When he was not there, teammates like Yeltsin Tejeda would come through with big clearances, like this moment:
INCREIBLEEEE COMO SE SALVA COSTA RICAAAA!!!! https://t.co/uYxwfE3dRa

— Actual Fútbol (@ActualFutbol) July 5, 2014
As Fox Soccer notes, a few shots off the post and crossbar also helped keep the match scoreless:
Final whistle! We're going to penalties! For those counting, #NED hit the post three times this match. #NEDvsCRC

— FOX Soccer (@FOXSoccer) July 5, 2014
Although some would say it was luck for Costa Rica to reach this point, Tancredi Palmeri of beIN Sports corrects those people:
I don't think people are realizing how incredibly unbelievable is what Costa Rica are doing. Football is not made by numbers

— Tancredi Palmeri (@tancredipalmeri) July 5, 2014
With the two sides going into penalties, Dutch manager Louis van Gaal made a bold decision to replace goalkeeper with Jasper Cillessen with reserve Tim Krul. This paid off, as the Newcastle man came through with a strong performance, as noted by Sam Wallace of The Independent:
Big, bold decision from Van Gaal to bring on Krul. Will be analysed endlessly. Bottom line: he saved two & they won. Nowt else matters

— Sam Wallace (@SamWallaceIndy) July 5, 2014
Meanwhile, the Dutch hit all four of their penalties, as Robin van Persie, Arjen Robben, Wesley Sneijder and Dirk Kuyt came through in the big moments.
This ends a fantastic run for Costa Rica that saw the heavy underdogs win their group and go all the way into the quarterfinals. This will likely fuel more success in the future for a country that has not seen too many great moments in the sport.
The Netherlands will remain alive to face Argentina in the next round. Both squads have loads of talent on the attack, and this could end up being a high-scoring battle after some relatively slow matches in recent days.
Follow Rob Goldberg on Twitter for the latest breaking news and analysis.