After 120 minutes of scoreless football, the Netherlands defeated Costa Rica 4-3 on penalties to move on to the 2014 World Cup semifinals. It might not have taken such an exhausting effort had the twin engines of the Dutch attack, Arjen Robben and Robin van Persie, put together their usual sterling tandem performances.
Robben did everything short of finishing off the attacks in this match. He was a constant threat with his pace and dribbling skill throughout the game, taking on players one-on-one and beating them at the drop of a hat.
FourFourTwo's Hitesh Ratna wondered if Robben even needed his teammates steeped in the tradition of "Total Football":
Robben's ability to beat a player is so effective that at times it renders attacking team play pointless.

— Hitesh Ratna (@HiteshRatnaFFT) July 5, 2014
Then again, he wasn't getting much out of his strike partner, Robin van Persie. The Manchester United striker was excellent in the group stages, but, as ESPN's Miguel Delaney noted, hadn't looked quite the same since his suspension for the Chile game:
Van Persie's had one of those good/bad tournaments. Started really well, different player after the suspension.

— Miguel Delaney (@MiguelDelaney) July 5, 2014
This put the impetus on Robben to use his darting runs to create chances and terrorize Los Ticos' back line.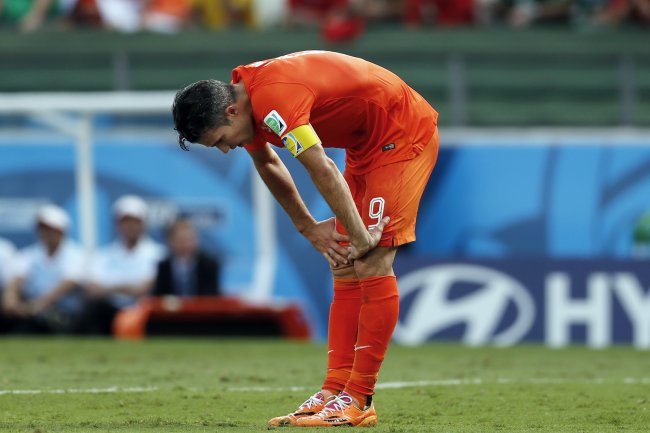 Wong Maye-E/Associated Press
Fans were aghast when Robben earned a late free kick for his side with another apparent dive. The Dutch winger faced criticism for the penalty he drew against Mexico. Defender Rafael Marquez appeared to have made very little contact with Robben on that one, which was surely on the minds of fans during this match.
New York Times editor Nick Fox suggested Robben would be better off representing his country in a different sport:
Dutch diving team RT @AnupKaphle: I'm all for Robben leading the Dutch gymnastics team in the next Olympics. #NEDvsCRC

— Nick Fox (@NickFoxNYT) July 5, 2014
However, it appears Grantland's Brian Phillips couldn't resist Robben's imperious form and unorthodox style:
Do you want to know why, despite everything, I can't help but kind of love Robben?

— Brian Phillips (@runofplay) July 5, 2014
It's partly because he's hilarious to watch. But mostly? It's because he's leveraged ever weird fiber of skill he has to reach this point.

— Brian Phillips (@runofplay) July 5, 2014
The New Zealand Herald's Paul Harper did note that Robben might not need to use theatrics if Costa Rica would stop, you know, fouling him:
Robben would dive a lot less if the Costa Rican players stopped fouling him. #crcned

— Paul Harper (@paulharper_nzh) July 5, 2014
The Cauldron's Andy Glockner felt the need to put his two cents in when Van Persie whiffed on a low cross in the 88th minute, which surely would have been the winner had he controlled the ball:
Even the world's best totally derp sometimes. That was horrible from RVP

— Andy Glockner (@AndyGlockner) July 5, 2014
Van Persie has been criticized for his inability to score in the knockout stages, and this game proved to be another chapter in that narrative. However, Opta Johan did write that it wasn't for a lack of trying:
4 - Robin van Persie has noted the most offsides (4) and conceded the most fouls (5) of any player on the pitch in #NED - #CRC. Hungry.

— OptaJohan (@OptaJohan) July 5, 2014
The scoreless affair drifted into extra time and neither team could find a breakthrough. Van Persie inadvertently blocked one of Robben's best chances, eliciting this reaction from a fan:
Van Persie blocks Robben's shot, his biggest contribution of the night.

— Anshul Rai (@AnshulRai7) July 5, 2014
This meant penalty kicks. Van Persie must not have checked Twitter because he stepped up to take the Oranje's first penalty and coolly slotted it into the lower right corner.
ESPN FC gave Van Persie props on the penalty:
GOOOAAALLL VAN PERSIE! He places an absolute perfect penalty into the bottom right corner. No chance for Navas, who guessed correctly. 1-1

— ESPN FC (@ESPNFC) July 5, 2014
Robben was next after a Tim Krul save against Los Ticos, and he blasted his shot into the top of the net with ease to give the Netherlands the 2-1 advantage. This fan loved his coolness under pressure:
Robben, man. Even takes the penalty like he was picking up the newspaper.

— Gary Whitta (@garywhitta) July 5, 2014
Krul came up with another save after two more rounds of kicks to secure the victory for the Netherlands. The Dutch can continue to bank on Robben's pacy runs and eye for the killer pass, but they will need more out of Van Persie in the semifinal against Argentina.