Spencer Hawes looks destined to join the Los Angeles Clippers as the two sides have agreed to a deal, and his impending arrival will be the crucial final piece to L.A.'s frontcourt.
Yahoo Sports' Adrian Wojnarowski reported that the Clippers will soon bring in Hawes on a four-year contract worth $23 million. The move proves that Doc Rivers and company aren't messing around in solidifying their bench, and they're paying big dollars to do so.
In most situations, Hawes is much more than a rotation player. Averaging 13.2 points and 8.3 rebounds per game last season with both the Cleveland Cavaliers and Philadelphia 76ers, he produces well enough to make his mark in many of the league's 30 starting lineups.
At the ripe age of 26, Hawes is still getting better, and his 7'1" frame proves he'll be a physical presence. Whether it's using his size to impact at the rim or finish around it, he can make opponents pay on either block.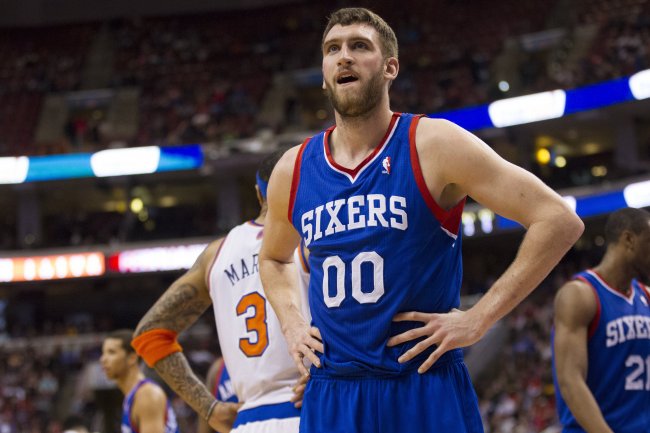 Chris Szagola/Associated Press
Plus, L.A. already boasts quite the frontcourt. Blake Griffin and DeAndre Jordan form one of the Association's most dominant young post pairings.
But a lack of true help behind them cost the Clippers many times last season. Glen Davis was brought in midseason and was the only true big man outside of Jordan or Griffin to log decent minutes in 2013-14.
They used big wings like Matt Barnes, Danny Granger and Hedo Turkoglu to minimize the impact, but it was always a weakness.
They've simply needed a player like Hawes for some time, as ESPN's Bill Simmons explained:
Big fan of Spencer Hawes on the Clips - gives them 25 solid bench mins at the 4 and 5 that they couldn't find from anyone last season.

— Bill Simmons (@BillSimmons) July 5, 2014
Kurt Helin of NBC Sports continued the sentiment that the Clippers' lack of sizable depth last season is now largely fixed:
Clippers best backup big last year was Ryan Hollins, until they landed Glen "Big Baby" Davis. Spencer Hawes is a real upgrade.

— Kurt Helin (@basketballtalk) July 4, 2014
For large chunks of games, the Clippers are able to dominate teams thanks to their muscle in the frontcourt. The two starters play so well together, with Griffin's versatility and growing offensive game meshing alongside Jordan's scary defensive presence.
But they can't play all 48 minutes together effectively. For long stretches, one or both of them have to rest, and then L.A.'s biggest strength becomes a weakness.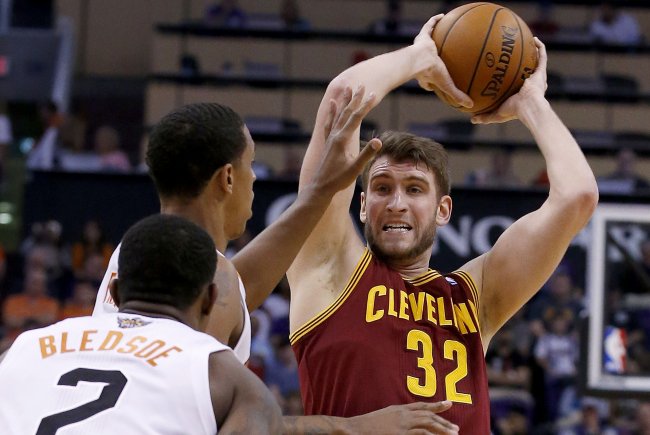 Ross D. Franklin/Associated Press
Just as well; too much reliance on any player leaves squads susceptible to injuries decimating the team. The Clippers lost Chris Paul for more than a month last season, but Darren Collison helped stop the bleeding. There's no telling what would have happened if Griffin had gone down instead.
They may have to pay $23 million to do so, but the Clippers have made many of those problems go away. Hawes has the size to play the 5, the set of skills to play the 4 and the talent to play as many minutes as the Clippers will be able to give to him. Whether it's Griffin or Jordan coming off, Hawes will likely be the guy heading to the scorer's table.
It's looking as if the Hawes move could help in more ways than one. Fox Sports Ohio's Sam Amico reported L.A. may execute a sign-and-trade with Hawes' current team of Cleveland in order to clear cap space:
Clippers considered Luol Deng for sign-and-trade w Cavs, now may do same after signing Spencer Hawes. Clips still trying to clear cap space.

— Sam Amico (@SamAmicoFSO) July 5, 2014
The only potential problem would be if the Clippers failed to utilize Hawes, but with how much they're paying him and Rivers' coaching acumen, a plan is certainly in place to maximize Hawes' impact.
Early on, it sure seems as if Hawes loves the move:
Happy Independence Day everyone. PS Go Clippers! #redwhiteandblue

— Spencer Hawes (@spencerhawes00) July 5, 2014
Hey @blakegriffin32 you know 32 is my number you wanna arm wrestle for it or something?

— Spencer Hawes (@spencerhawes00) July 5, 2014
Griffin and Hawes arm wrestling for the No. 32 would be must-see TV in the offseason, that's for sure.
Does adding Hawes move L.A. closer to a title?
Hawes' emergence into one of the league's better young big men has been captivating and the ceiling is set high for his career. Although he may deserve to run the show down low at another location, he'll try to find his way as one of the Clippers' main role players.
No Clippers bench big man played more than 13 minutes per game last season, but that is set to change in a big way next season.
After playing for bottom-dwellers for most of his early NBA career, Hawes now will take on the responsibility of being a role player on a title contender.
Follow Steven Cook on Twitter.