"The One and Only Wrestlemania" Which Was Your Favorite?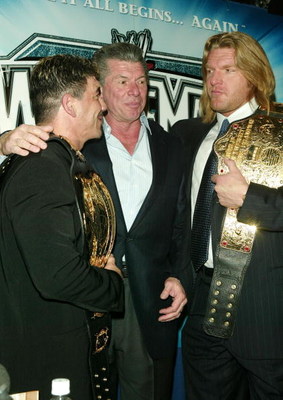 Today, I have brought to you just something to keep your mind from everything else negative about WWE currently. I would like to bring back great memories and moments from your favorite Wrestlemanias.
Personally, nowadays we don't get to see a good 'Mania, but whatever...
With that being said...
Let's get started...
Wrestlemania XXIII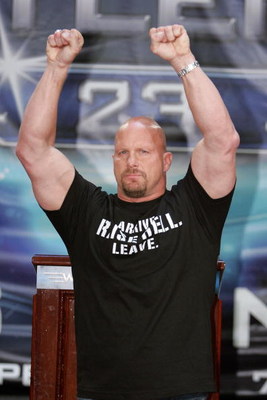 Some say this Mania was bad, personally, it's one of my favorites, it had the best Money in the Bank ladder match so far, Batista and Taker's match was good, Battle of the Billionaires wasn't bad, and the Michaels-Cena match was great and had a great ending, Michaels dissing Cena.
Favorite Matches:
John Cena vs. Shawn Michaels
Batista vs. Undertaker
Money in the Bank
Battle of the Billionaires
Wrestlemania XXI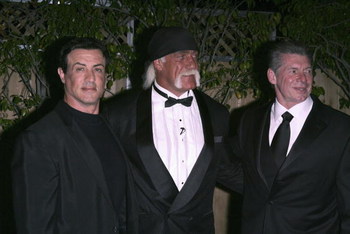 This was the Mania where Hogan was inducted, so I used this.
This was the year, where the new generation claimed the WWE, Cena and Batista, with Edge winning the Money in the Bank. This Mania had the first ever Money in the Bank...
Favorite Matches:
Eddie Guerrero vs. Rey Mysterio
Batista vs. Triple H
Money in the Bank
Kurt Angle vs. Shawn Michaels
Undertaker vs. Randy Orton
Wrestlemania XX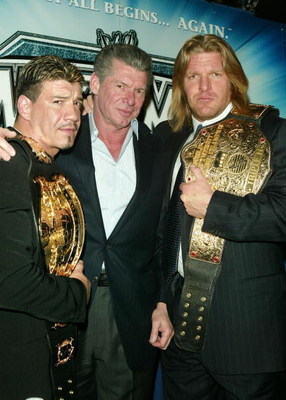 It was held in the Garden, the greatest Arena in the World!
It was truly a classic Wrestlemania, where we seen Eddie beat Angle and retain the WWE title, while we've seen Benoit defeat Michaels and Triple H in a classic, and win the World title, and at the end of that Mania, they were both celebrating their respected victories...
By the way, the Wrestlemania XX match between Evolution and Rock & Sock Connection, was The Rock's last match...
Favorite Matches:
Chris Benoit vs. Triple H vs. Shawn Michaels
Eddie Guerrero vs. Kurt Angle
Evolution vs. The Rock & Sock Connection
Chris Jericho vs. Christian
John Cena vs. Big Show
Wrestlemania X-Seven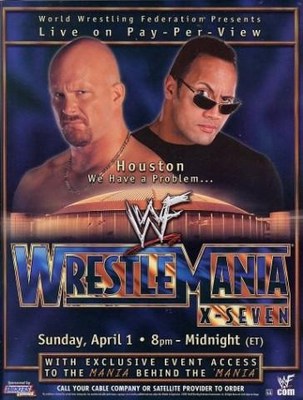 Wrestlemania X-Seven was truly a classic. The end was just one of the most shocking of all time though, Stone Cold joining Mr. McMahon, and defeating The Rock for the WWF Championship, also having the Triangle Ladder match, which is a personal favorite, it was just in your face, and the other matches complemented the whole aspect of Wrestlemania...
Favorite Matches:
Triangle Ladder match
The Rock vs. Stone Cold
Triple H vs. Undertaker
Kurt Angle vs. Chris Benoit
Kane vs. Big Show vs. Raven
Wrestlemania XIX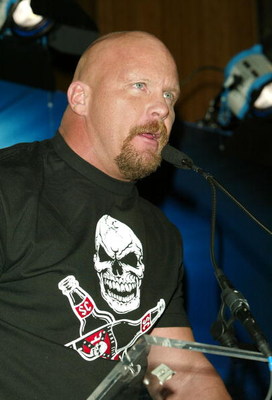 This is my all time favorite Wrestlemania, Wrestlemania XIX. It had a classic WWE title match, Stone Cold's last match, in my opinion Shawn Michael's best Wrestlemania match, and a lot more...
Favorite Matches:
Shawn Michaels vs. Chris Jericho
Brock Lesnar vs. Kurt Angle
The Rock vs. Stone Cold
Mr. McMahon vs. Hulk Hogan
Trish Stratus vs. Jazz vs. Victoria
Los Guerreros vs. Rhino and Benoit vs. Team Angle
What hurt more?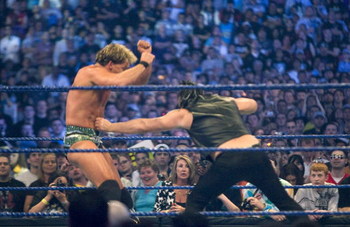 That punch or Wrestlemania XXV?
Keep Reading