The Oakland Athletics are sitting atop the American League West as the 2014 MLB season approaches the All-Star break. After reportedly acquiring Chicago Cubs pitchers Jeff Samardzija and Jason Hammel on Friday, their grip on the division may only grow stronger.
Ken Rosenthal of Fox Sports and Keith Law of ESPN updated fans on the proceedings, while the MLB itself noted that the deal was official:
DEAL IS DONE: #Cubs send Samardzija and Hammel to #Athletics for Addison Russell, per sources. May be other players and team(s) involved.

— Ken Rosenthal (@Ken_Rosenthal) July 5, 2014
Cubs/A's deal official. Samardzija and Hammel for Russell, McKinney, Straily, PTBNL. Analysis to follow on ESPN Insider.

— keithlaw (@keithlaw) July 5, 2014
.@Athletics acquire Jeff Samardzija & Jason Hammel from @Cubs for Addison Russell, Billy McKinney & Dan Straily, @JaneMLB confirms.

— MLB (@MLB) July 5, 2014
The Cubs and A's both took to Twitter to confirm the deal, as well:
The #Athletics acquired Jeff Samardzijia & Jason Hammel from the Cubs for Addison Russell, Billy McKinney, Dan Straily & a PTBNL or cash.

— Oakland Athletics (@Athletics) July 5, 2014
It's official: Cubs acquire INF Addison Russell, OF Billy McKinney, P Dan Straily & PTBNL from @Athletics for Jeff Samardzija, Jason Hammel.

— Chicago Cubs (@Cubs) July 5, 2014
Yahoo Sports' Jeff Passan reports there will be a player to be named later sent to Chicago as well:
Final housekeeping in A's-Cubs trade: There is indeed a PTBNL going along with Russell, McKinney and Straily for Samardzija and Hammel.

— Jeff Passan (@JeffPassan) July 5, 2014
Joe Stiglich of Comcast SportsNet reports Tommy Milone has been sent down as a result of the trade:
Milone optioned to Sacramento to clear roster spot for Samardzija #Athletics

— Joe Stiglich (@JoeStiglichCSN) July 5, 2014
MLB.com reports when we can expect Samardzija to make his A's debut:
According to @CarrieMuskat, Samardzija is in line to make his A's debut Sunday.

— Jane Lee (@JaneMLB) July 5, 2014
John Hickey of Bay Area News Group confirms that expectation:
It's official. Jeff Samardzija will make his first start for #Athletics Sunday vs. #BlueJays

— John Hickey (@JHickey3) July 5, 2014
Ken Rosenthal of Fox Sports notes that the Yankees were in the hunt for the Cubs' talented pitchers:
Sources: #Yankees exchanged proposals with #Cubs on both Samardzija, Hammel. #Athletics had piece that could trump all - Russell.

— Ken Rosenthal (@Ken_Rosenthal) July 5, 2014
The Cubs may be in last place, but it is of no fault of Samardzija and Hammel. Samardzija sports a sparkling 2.83 ERA despite his 2-7 record, while Hammel comes to Oakland with a 2.98 ERA and an 8-5 record.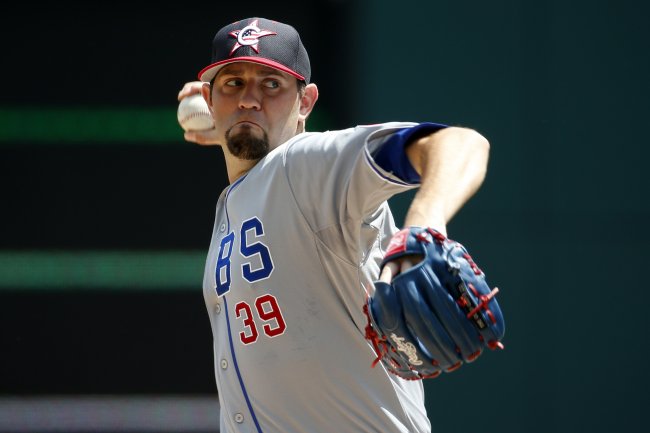 Alex Brandon/Associated Press
Both pitchers will likely be thrilled if and when they receive more run support in Oakland. The A's lead the MLB in total runs scored, which will be a nice change for the two hurlers. For perspective, Chicago ranks an abysmal 25th.
Jon Morosi of Fox Sports and Rosenthal provided some more updates:
No 3rd team involved in deal, source confirms. Straight two-way deal between Cubs and A's.

— Jon Morosi (@jonmorosi) July 5, 2014
Exact deal: Russell, McKinney and Straily to #Cubs for Samardzija, Hammel.

— Ken Rosenthal (@Ken_Rosenthal) July 5, 2014
The addition of Samardzija and Hammel makes what was already one of the league's best pitching staffs all the more dangerous. The A's already feature the likes of Scott Kazmir and Sonny Gray and rank fourth in the league in team ERA and fifth in quality starts. A starting rotation that possibly include those four names will be difficult to beat in the regular season and in any future playoff series.
Good luck to the Los Angeles Angels and Seattle Mariners trying to catch Oakland now.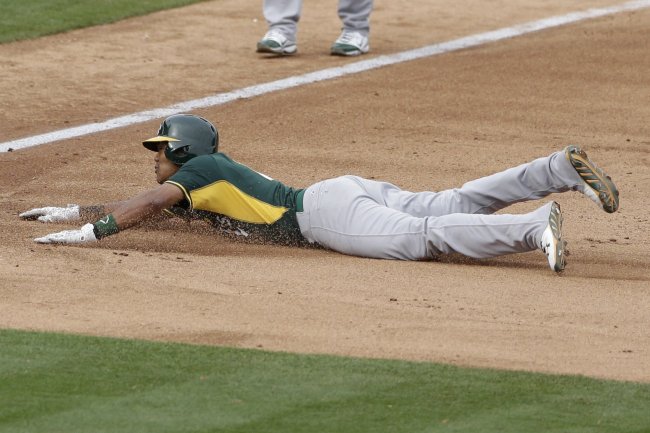 Gregory Bull/Associated Press
As for the Cubs, this move was clearly made with the future in mind. Ever since Theo Epstein took over on the North Side, there has been a clear effort directed toward building a formidable farm system and solid foundation. Jason Parks of Baseball Prospectus noted just how many talented prospects the Cubs have now, including the young and talented Addison Russell:
Addison Russell will rank #6 overall on the upcoming #BPTop50. That would give the #Cubs the #3, #5, #6, and #18 best prospects in MiLB.

— Jason Parks (@ProfessorParks) July 5, 2014
Interestingly enough, relief pitcher James Russell didn't seem too keen on the idea of the Cubs trading Samardzija recently, via Gordon Wittenmyer of the Chicago Sun-Times:
It'll definitely be different if a guy like Jeff leaves. He's been one of the staples around here. You just kind of put his face with the Cubs team. It'd be definite culture change.

It'd be like taking one step forward and 10 steps back.
Additionally, Javier Baez and Starlin Castro are assumed to be key pieces in the middle infield for years to come in Chicago, so the inclusion of shortstop Addison Russell in this trade is sure to raise some eyebrows. However, Matt Snyder of CBS Sports answered any possible questions that would arise from that logjam:
As for why the Cubs would want to trade for a shortstop when they have All-Star-caliber Starlin Castro in the majors and another top-10 prospect in Javier Baez at Triple-A, it's rather simple. First of all, sometimes prospects (Baez?) end up as busts. If they don't, position changes could be in order. And if there's a true logjam -- if no one is a bust and no one fits as a position change guy -- trades could be made to shore up other holes at that time. Essentially, if you can get a top-10 prospect, you get him without regard for where he plays.
For as loaded as the Cubs' farm system is in the offense department though, they could use some more talented pitchers if they hope to one day snap their World Series curse.
Otherwise, Chicago may have to beat everyone 10-9 if it hopes to make its way back to the playoffs sooner rather than later.