Brazil's World Cup title hopes are in jeopardy as the team's official doctor ruled Neymar out for the remainder of the tournament with a broken vertebra.
BBC Sport initially reported the news:
Brazil's team doctor says Neymar ruled out of World Cup with fractured vertebrae

— BBC Sport (@BBCSport) July 4, 2014
BBC football commentator Guy Mowbray corroborated the news:
Brazil team doctor has just announced that Neymar's World Cup is over. Fractured 3rd vertebrae, "needs to be immobilised...a few weeks"

— Guy Mowbray (@Guymowbray) July 4, 2014
Neymar went down late in the match after a collision with a Colombian player left him writhing in pain on the pitch. Medical staff attended to him for several minutes, eventually carting off Brazil's revered talisman on a stretcher in the 88th minute. Brazil held on for the 2-1 win over Colombia to set up a semifinal match with Germany.
English football legend Gary Lineker gave his quick thoughts on the Brazil's devastating news:
Neymar is out of the World Cup with a broken vertebrae. What an absolute bummer!

— Gary Lineker (@GaryLineker) July 4, 2014
This fan looked past the World Cup and feared for Neymar's career after this injury:
If Neymar's vertebrae is truly broken/fractured, it isn't just terrible for the tournament but also for the career of a bright, young star.

— Aniruddha Guha (@AniGuha) July 4, 2014
Esquire's Chris Jones gave a rather poetic description of the news spreading through Brazil:
You can almost see the news of Neymar's broken vertebrae flying through the streets like bats.

— Chris Jones (@MySecondEmpire) July 4, 2014
The Telegraph's Henry Winter noticed an eerie hush in Copacabana:
A hush has fallen across parts of Copacabana, as if the Neymar injury news has reached revellers in Rio. Huge loss to #bra & #WorldCup

— Henry Winter (@henrywinter) July 4, 2014
Even as Neymar was down on the pitch, shielding his face and apparently crying out in pain, some observers believed it was a ploy for Brazil to waste time with its slim 2-1 lead instead of a major injury.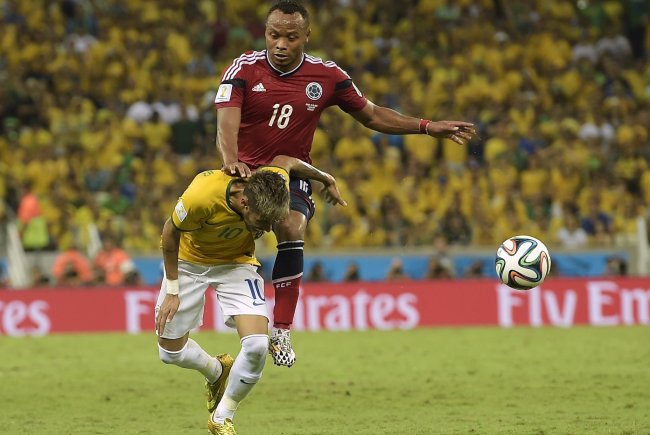 Manu Fernandez/Associated Press
Grantland's Brian Phillips gave his thoughts on Neymar's anguish on the pitch:
I'm going to give it maybe 15 more minutes before I believe Neymar will miss the semi.

— Brian Phillips (@runofplay) July 4, 2014
This fan was skeptical about the news based on the way the medical staff handled Neymar on the pitch:
Surely if Neymar's back injury was that bad they would have strapped him carefully and been even more careful carrying him off?

— Dominic Carter (@DominicJCarter) July 4, 2014
The Sun's official Twitter account posited that Germany might have the advantage with Brazil out Neymar and defender Thiago Silva, who will miss the match due to an accumulation of yellow cards:
Advantage #GER then? Looks like #BRA will be missing their captain (Thiago Silva, suspended) and talisman (Neymar, injured) for the SF...

— The Sun - Football (@TheSunFootball) July 4, 2014
Scottish journalist Patrick Barclay blamed the injury on the tournament officials:
What happened to Neymar was not a mishap. Direct result of the lenient refereeing of most matches at this tournament.

— Patrick Barclay (@paddybarclay) July 4, 2014
Neymar has been one of the top players in the World Cup and the main source of inspiration for Brazil's run toward a World Cup title on its home soil. He's accounted for four goals and one assist in the tournament, and his excellent dribbling skills and dynamic speed sparked many of the Selecao's best attacks.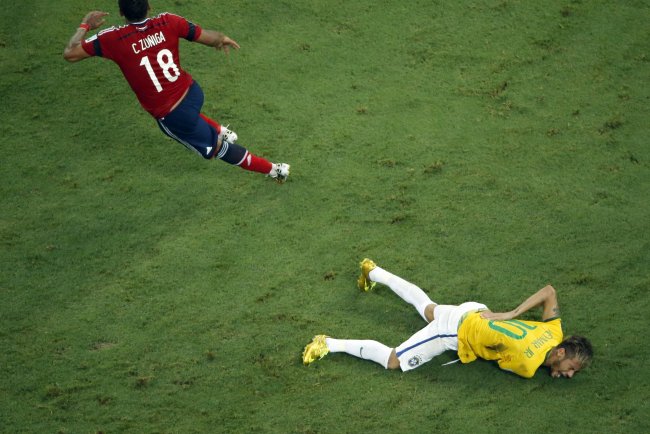 Fabrizio Bensch/Associated Press
With Neymar unable to play against Germany, it will be up to the likes of Hulk, Fred and possibly Jo to carry the load for Brazil. Germany is highly organized in defense and features some of the best defenders in the world in Philipp Lahm and Mats Hummels.
Brazil will need goals to compete with the offensive firepower of Thomas Mueller, Miroslav Klose and Mesut Ozil. With Neymar unfortunately reduced to a mere spectator, those opportunities may be at a premium.