While this has been a thrilling World Cup to this point, things are only going to become more dramatic as the tournament progresses.
Every group winner advanced through the round of 16, but now they must face each other in the quarterfinals. Obviously, this means that some very good teams will see their dreams come to an end.
The good news is that we are one step closer to finding out which squad will end the summer as the new champions of the world.
With fans getting a chance to see a thrilling young team in Colombia as well as perennial contenders like Germany, France and Brazil, there was plenty to be excited about on Friday. Here is a look at the results from the two highly anticipated battles from Day 23 in Brazil.
Germany 1, France 0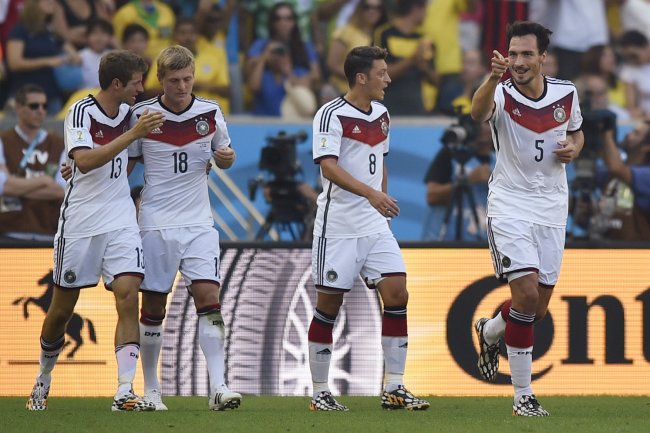 Martin Meissner/Associated Press
France had been one of the strongest teams in the World Cup through four matches, but they could not handle the world-class talent of Germany as the side came through with a 1-0 victory.
This puts Germany into the semifinals for the fourth World Cup in a row, making them the first country ever to accomplish this feat. Of course, this time they have their sights on a championship.
It did not take too long for Germany to get onto the scoresheet in the match against France. A Paul Pogba foul in the 12th minute led to a free kick, which Toni Kroos perfectly delivered into the box to Mats Hummels, who headed it right into the corner of the net.
ESPN provided a video of the impressive goal:
The lone goal from the #FRAvsGER match so far was an impressive Hummels' header -> http://t.co/mONkeZPo5v

— ESPN (@espn) July 4, 2014
Illustrator Richard Swarbrick quickly provided a look at the score:
Illustration: Mats Hummels scores to put Germany 1 - 0 up against France pic.twitter.com/KYLxPOzvtL

— Richard Swarbrick (@RikkiLeaks) July 4, 2014
Germany did a great job of controlling the action for the rest of the half, holding the 1-0 lead into the intermission. Tancredi Palmeri of beIN Sports noted that the midfield play had been the difference:
The main difference so far is made by German midfield: moving together, backing the attack, being compact. Opposite of French one

— Tancredi Palmeri (@tancredipalmeri) July 4, 2014
While fans were hoping to see more action in the second half, this never came as France looked disinterested and unable to create too many opportunities.
Jason Burt of The Telegraph changed his opinion about the match late:
Unless something dramatic happens right now I was wrong. France v Germany certainly no classic....

— Jason Burt (@JBurtTelegraph) July 4, 2014
Although it seemed like Karim Benzema would have a chance to tie it in stoppage time, he could not get the equaliser and France were knocked out of the tournament.
While Germany came into the tournament as one of the clear favourites, they had not been as dominant as many had hoped in the first few matches. Manager Joachim Low addressed these concerns before the battle against France, via Andrew Dampf of Daily Mail:
We have not yet delivered our best possible performance. But I don't think anyone has reached their absolute top performance yet.

It's not a computer game that is easily figured out - You can't easily figure out your opponent and it's not easy to program your own team. Mistakes are made. ... And then there are other elements from beyond the pitch.
Against a difficult opponent like France, Germany played an efficient match that featured few mistakes and just enough to come away with a win.
In the semifinals, the talented squad will now face Brazil after the hosts beat Colombia. While the South American squad possesses plenty of ability, Germany clearly have enough to win the entire tournament.
The key will be to provide a bit more consistency on both ends of the pitch to continue this run to a world title.
Brazil 2, Colombia 1
Natacha Pisarenko/Associated Press
Brazil put together one of the best performances we have seen from them in the tournament with a 2-1 win over Colombia.
Thiago Silva put the hosts up right away with a score in the seventh minute off a corner kick from Neymar:
Silva sent the Estádio Castelão into a frenzy with this early goal to give #BRA a 1-0 lead. WATCH » http://t.co/MLkDiRE7SH

— ESPN FC (@ESPNFC) July 4, 2014
As Dermot Corrigan of ESPN FC pointed out, Carlos Sanchez of Colombia should receive a lot of blame from the play:
Carlos Sanchez caught completely there.

— Dermot Corrigan (@dermotmcorrigan) July 4, 2014
While Brazil remained active for the rest of the first half, neither side was able to add to this total and it remained 1-0 after the first 45 minutes.
Things got interesting in the second half as Silva received a yellow card while blocking the goalie on a punt. Not only was this a poor decision to hurt the team in this match, it is something that will be an issue in the next round:
If #BRA win, Thiago Silva will miss the semi-final v #GER because of that yellow card

— beIN SPORTS (@beINSPORTSUSA) July 4, 2014
Fortunately for the hosts, fellow centre-back David Luiz showed his worth on a 32-year free kick:
Watch David Luiz's mesmerizing free kick on repeat. http://t.co/vipbWcxVYL

— ESPN (@espn) July 4, 2014
This was quite important because a few minutes later, Colombia were finally able to get onto the scoresheet when goalkeeper Julio Cesar tackled Carlos Bacca in the box, resulting in a penalty. James Rodriguez calmly scored his sixth goal of the tournament to make the score 2-1 in the 80th minute.
Unfortunately, the underdogs could not get any more and Brazil were able to move onto the semifinals to face Germany.
Although the hosts should be celebrating the win, there are a lot of question marks going forward. The biggest issue might be the injury to Neymar, who was stretchered off in the 88th minute after being kneed in the back.
According to Corrigan, he was taken to the hospital after the match:
Neymar taken straight to hospital from stadium according to @AS_AGabilondo who says Brazilian media saying "it does not look good"

— Dermot Corrigan (@dermotmcorrigan) July 4, 2014
If he is not 100 percent against Germany, Brazil could be in serious trouble. Things will already be scary without Silva, but this could make a win extremely difficult to come by.
Follow Rob Goldberg on Twitter for the latest breaking news and analysis.