For a normal human being, 61 hot dogs is perhaps on the high end of a yearly estimate—and a gluttonous year at that. For Joey Chestnut, 61 dogs is a casual meal—inhaled in 10 minutes.
A meal that nets him a cool portion of the $40,000 total prize purse and his eighth title at the event.
For the 16 men and 12 women who participated in the 2014 iteration of the Nathan's Hot Dog Eating Contest, the 98th of its kind, the Fourth of July spectacle was more than a casual event—it was a gathering composed of the greatest competitive eaters on the planet, capped off with a chance at significant financial gain.
For the Michael Jordan of his sport, it was just another routine Fourth of July weekend at his favorite contest, with an additional romantic twist, as captured by SportsCenter:
Hot dogs & romance! Joey Chestnut proposed to his girlfriend. Next, he will try to eat 60+ hot dogs on same stage. pic.twitter.com/KqjSSLQHpD

— SportsCenter (@SportsCenter) July 4, 2014
As impeccable as Chestnut has been over the years, up-and-comer Matt Stonie, the No. 2-ranked competitive eater, provided quite a challenge to the throne on Friday. With the two tied at 20-20, and 45-45, as well as at other junctures, it made for one of the most memorable contests since Chestnut began his reign.
NBC Sports' Kevin McGuire summarized Stonie's contention best:
Chestnut and Stonie are exchanging blows left and right. Stonie doesn't think this is a show, he thinks its a damn fight!

— Kevin McGuire (@KevinOnCFB) July 4, 2014
If Stonie's total of 56 sounds impressive and unhealthy at the same time, don't dare look at the nutritional side of the equation, as compiled by ESPN's Darren Rovell:
Nutritional info on Joey Chestnut's 61 hot dogs & buns: 23,790 calories, 1,189.5 g of fat, 60,390 g of sodium, 2,245 g of carbs.

— darren rovell (@darrenrovell) July 4, 2014
The women's side of things did not go as smoothly for the favorite.
Entering as the three-time defending champion, Sonya Thomas surrendered her strap on Friday. The South Korean star was only able to take in 27.75 dogs, while 28-year-old Miki Sudo of Las Vegas came in first with a total of 34.
Nathan's Famous recorded the upset:
.@OMGitsMIKI has defeated reigning champ Sonya Thomas in women's competition! #NathansFamous #July4th #July4Nathans pic.twitter.com/X9B9MYpewS

— Nathan's Famous (@originalnathans) July 4, 2014
"To be the first person to beat Sonya Thomas at hot dogs is surreal," Sudo said, via Nina Mandell of USA Today. "I think both of us are hoping to break the existing world record of 45 in 10 minutes but weather conditions got in the way but we'll definitely be back to set a higher number."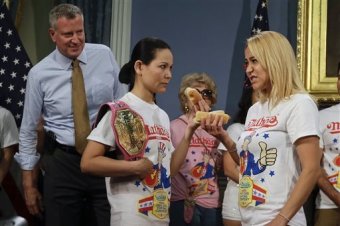 Frank Franklin II/Associated Press
For the 47-year-old "Black Widow," there is always next year to make a rebound attempt. But Sudo is helping to usher in a new era on the women's side, and it appears Stonie is not far behind in that regard, either.
Alas, Chestnut has ensured his spot on the throne is assured for at least one more year. The world-record holder for eating the most tamales, Twinkies, asparagus, chili, funnel cakes, bratwurst, ice cream, hard boiled eggs and more, he seems determined to stay at the top until he can break the 70-hot-dog barrier.
Weather cast a cloud over that pursuit this year, but hey, there's always next year's Fourth of July weekend for a record-shattering performance from Chestnut. As if we expect any different.