Novak Djokovic is heading back to the Wimbledon final after edging Grigor Dimitrov in four tough sets, 6-4, 3-6, 7-6 (2), 7-6 (7). He previously won the coveted major title in 2011.
Marin Cilic pushed Djokovic to the brink in the quarterfinals, while Dimitrov cruised past defending champion Andy Murray with a surprising amount of ease. Those two results added to the intrigue of what's always a pressure-packed part of a major tournament.
The Serbian sensation wasn't at his best in the narrow escape against Cilic. Dan Imhoff of Wimbledon's official site passed along post-match comments from Djokovic, who knew elevating his game would be necessary in the semifinals given what Dimitrov had accomplished this season:
To beat Andy on grass is a very, very difficult challenge. The fact that he hasn't lost a match in the grass-court season this year says enough about his quality. I'm sure many people look at him as a potential Grand Slam winner—maybe here, maybe in the Grand Slams to follow.
Sure enough, Djokovic came out with a clear sense of urgency with an eye on grabbing an early lead in the match. He played some of his best tennis of the tournament in the first set as he cracked winners off both wings and dominated on serve.
Who's your pick to win the men's Wimbledon title?
It's the type of performance fans have come to expect from the No. 1 seed when he's in top form. And when he plays that well, there might not be anybody on the ATP Tour capable of beating him.
Djokovic broke Dimitrov's serve to grab a 3-2 lead in the opening set, and he never looked back. He faced basically no high-stress points on serve in the set, winning 20 of 24 points with five aces and no double faults.
Dimitrov didn't have a bad set and actually remained highly competitive despite the strong play on the opposite side of the net. He just had one lousy game, and it ended up costing him, as noted by Neil Harman of The Times:
First set to Djokovic 6-4. Grigor punished for one poor game. He's doing quite a bit of (unintentional) sliding

— Neil Harman (@NeilHarmanTimes) July 4, 2014
BA Tennis World remarked on the enjoyable overall level of play from both semifinalists:
Novak Djokovic holds at love to take the 1st set 6-4 vs Grigor Dimitrov. Quick play, quite short points, great grass tennis. #Wimbledon

— BATennisWorld (@BATennisWorld) July 4, 2014
That continued into the second set, but it was once again Djokovic who scored the early break. He was very aggressive early in points on the return, and the shots were falling in, which wasn't the case nearly as often last time out against Cilic.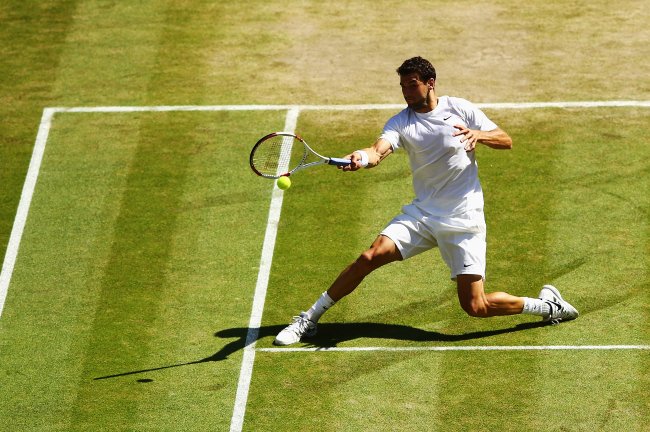 Al Bello/Getty Images
This time a single break wasn't enough to keep control of the set, though. Dimitrov finally started making some inroads on Djokovic's serve, and on his third break-point opportunity of the set he was able to get back level at 3-3.
Former NFL and current Montreal Alouettes wide receiver Chad Johnson was among those enjoying the action:
Watching Djokovic & Dimitrov go back and forth, their match has me hesitant to leave for breakfast.

— Chad Johnson (@ochocinco) July 4, 2014
That first break for the No. 11 seed started to bring some frustration out of Djokovic. He played a sloppy return game and then got in trouble on his own serve again, losing the variety he showcased in the first set and leaving too many balls short in the court for Dimitrov to punish.
The result was a second straight break and a chance for the underdog to serve for the set, and Dimitrov didn't let it slip away. What looked like a possible two-set advantage for Djokovic turned into a virtual three-set match for a spot in the championship match. Dimitrov won the last five games of the set.
Brad Gilbert of ESPN pointed out that the improved court position for Dimitrov led to some easier points and turned things around:
The slice and court position the last 5 games have changed this match around for Showtime Dimitrov

— Brad Gilbert (@bgtennisnation) July 4, 2014
Djokovic settled down and refocused for the third set, which featured the type of play expected coming into the match. Both players defended their serve extremely well, as there was only a single break opportunity and Dimitrov didn't convert it.
The strong serving led to a tiebreak to decide which player would grab the edge.
It wasn't nearly as competitive to the set itself. Djokovic rushed out to a 4-1 lead, and Dimitrov helped him by playing some poor points as the top seed eased to a 7-2 win in the breaker.
Douglas Robson of USA Today pointed out the poor decision-making from the Bulgarian rising star in the key moments:
Djokovic buckles down in breaker, Dimitrov doesn't think as clearly. He takes third set 7-2 in breaker. #wimbledon

— Douglas Robson (@dougrobson) July 4, 2014
After the outstanding serving of the third set, things got hectic early in the fourth. There were eight break chances inside the first six games. Each player converted one to keep the set even, but it could have easily become lopsided in either direction.
Order was restored after the error-riddled start. Both players held the rest of the way and arrived at a second straight tiebreak.
Dimitrov started the breaker very well and earned himself three set points to force a deciding fifth set. He failed to capitalize, however, playing far too passively to finish off Djokovic. The battle-tested veteran stormed back and then finished the match with a net-cord winner.
Wimbledon provided his reaction to reaching the championship match:
WATCH: @DjokerNole celebrates reaching the #Wimbledon final. See you Sunday, Novak! http://t.co/s99M9Krwpi

— Wimbledon (@Wimbledon) July 4, 2014
The triumph sends Djokovic into his third Wimbledon final. He will face off with the winner of the second semifinal, which features Roger Federer and Milos Raonic. Another battle with "Big Four" rival Federer is what most neutral fans are probably cheering for.
Djokovic has a losing record (16-18) against the 17-time Grand Slam champion. He's also lost two of their three meetings this year. Raonic is therefore the preferred opponent, as the top seed has never lost to the Canadian in three matches and is coming off a straight-sets win over him at Roland Garros.
The most important thing for Djokovic is his own play. If he performs at the level he did during the first set against Dimitrov, the title will be there for the taking.