Throughout the early days of NBA free agency, all anyone wants to know is where Carmelo Anthony will land. While he has plenty of options, some organizations will fit him better than others.
The New York Knicks star has the opportunity to re-sign with his own team or join the Chicago Bulls, Houston Rockets, Dallas Mavericks or Los Angeles Lakers. Each location has its pros and cons, but Anthony will apparently make a decision relatively soon, via Chris Herring of The Wall Street Journal:
Hearing Carmelo will almost certainly have his decision made before the weekend is finished, according to a person familiar with the matter

— Chris Herring (@HerringWSJ) July 3, 2014
When choosing a destination, the All-Star will have to find a place that can offer him a good fit, a chance to win and plenty of exposure. Although he might come to a different conclusion, here is a look at the best options at this stage of his career.
3. Houston Rockets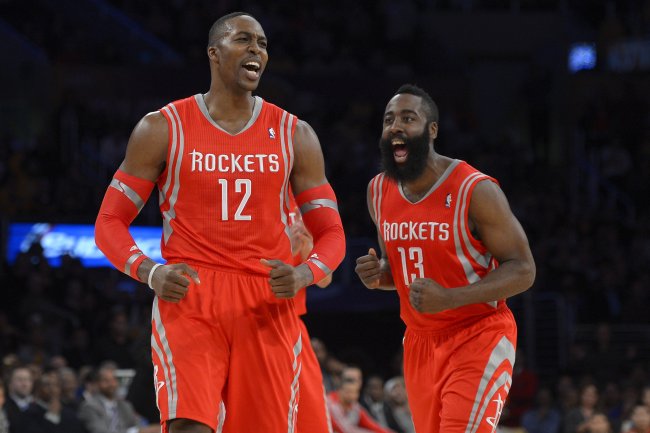 Mark J. Terrill/Associated Press
Dwight Howard showed last season that the Rockets are a good destination for a superstar. Adding Anthony to the equation along with James Harden could take a fourth-place team in the Western Conference into a legitimate contender.
Marc J. Spears of Yahoo points out that winning is a big reason he would go to the Rockets:
While Carmelo Anthony gave off the impression if would not be easy to leave NY, he also said in Rockets meeting his 1st priority is to win.

— Marc J. Spears (@SpearsNBAYahoo) July 2, 2014
This trio would certainly be a difficult squad to stop. Considering the unit ranked second in the NBA in points per game last season, adding Anthony would make the offense almost impossible to stop.
He also seemingly has a good rapport with Houston compared to other teams he visited:
Getting word now that the Mavericks' meeting with Carmelo Anthony in Dallas has ended after two-plus hours ... after six hours in Houston

— Marc Stein (@ESPNSteinLine) July 3, 2014
Unfortunately, the Rockets will not be staying as currently assembled if Anthony does come in. When discussing Jeremy Lin's hurt feelings for using his number to recruit the All-Star, general manager Daryl Morey explained, via Ian Begley of ESPN New York:
I get the sensitivity and I hate that it creates some hurt feelings. I don't like that, but that's obviously Carmelo Anthony's number, that's the number he wants. He told us that. Bottom line, if Carmelo comes Omer Asik and Jeremy Lin have to be traded. It's just math. It's not personal. My job is every day figure out how to win. Sometimes it creates challenging situations.
By taking away key players, you are already making the squad worse going forward. However, the bigger issue is that this transaction does not make the Rockets better on defense, which is really the reason this team has not advanced deep into the postseason.
Anthony is not great at stopping opponents on his own, and his struggles will pair with Harden to make some of the worst perimeter defense in the league. This is not what the forward should be signing up for this summer.
2. Los Angeles Lakers
The Knicks and Lakers represent a similar situation for Anthony. Neither team is particularly close to winning, but these are two of the best markets in the NBA. While the salary would be big in both locations, he could gain even more money going forward in endorsements.
New York can officially offer the biggest salary as the player's old organization, but ESPN's Ramona Shelburne notes that the Lakers are willing to pay plenty of money:
Lakers made it clear to Melo today they'd offer the maximum, 4-yr, $97mil contract they can, if he chose them.

— Ramona Shelburne (@ramonashelburne) July 4, 2014
Add this to the fact that Los Angeles is at least closer to winning with a healthy Kobe Bryant. The Knicks as currently assembled feature little help for Anthony, but with the Lakers, he could help create one of the best one-two punches in the league.
Some might question how well these two superstars would fare on the court together, but Bleacher Report's Kevin Ding also points out how close they are:
The Lakers also believe that Anthony's unwavering respect for Bryant makes this a very logical match, especially now that former coach Mike D'Antoni is out of the way for both. Bryant has been known to overstate his closeness with some players, but his bond with Anthony is legit. Bryant even called Anthony one night in the locker room after watching on TV as Anthony was ejected from a game.
No matter what other players fill out the lineup, the Lakers would at least be able to be playoff contenders with these two elite scorers.
Once Bryant retires, Anthony would become the new face of the franchise just as the younger players start realizing their potential. The Lakers are ahead of New York in every category, making it a better location for the star.
1. Chicago Bulls
No other team on the list would complement Anthony's game as well as the Bulls.
The squad finished the year with the No. 1 defense in the NBA but the No. 30 offense. Even adding a healthy Derrick Rose would not be enough to fix the lack of scoring. Anthony can come in and play his usual brand of basketball, getting points on his own in a number of different ways.
The best part is that he will not be stepping on anyone's toes. While Rose is a big-time scorer in his own right, he still knows how to set up teammates as an elite point guard. Joakim Noah is also a great passer who could help out Anthony.
Meanwhile, the strong defense from the rest of the roster will help overcome Anthony's biggest weakness. Even the forward can improve on this side of the ball with the coaching of Tom Thibodeau.
According to Alex Kennedy of Basketball Insiders, the chemistry between the players and coaching staff is already on display:
Source who's at dinner with Carmelo Anthony, Joakim Noah, Derrick Rose, Tom Thibodeau and others said that Bulls' pitch is "going great."

— Alex Kennedy (@AlexKennedyNBA) July 2, 2014
If things go well, this is absolutely a team that could challenge for an NBA title next season.
The only thing holding the deal back is a lack of cap room. However, Anthony did not seem too concerned with this factor, according to K.C. Johnson of the Chicago Tribune:
Reported Bulls, Melo didn't talk $ much if at all Tuesday. Just general air of "we'll make financials work" if verbal commitment.

— K.C. Johnson (@KCJHoop) July 3, 2014
Marc Berman of the New York Post reports Chicago will likely offer around $16 million per year. This should be enough to give the player his worth while also setting up the squad to win, making it a perfect destination.
Follow Rob Goldberg on Twitter for the latest breaking news and analysis.