Believe it or not, there are still some NHL players on the market after the initial rush on available talent in the first few days of free agency.
The Stanley Cup may not be won or lost based on the next few contracts signed, but there is plenty of talent out there for teams looking to bolster their chances. Some of that talent is even legendary in status.
With that in mind, here is a look at some rumors and predictions for some of the best remaining players on the market.
Martin Brodeur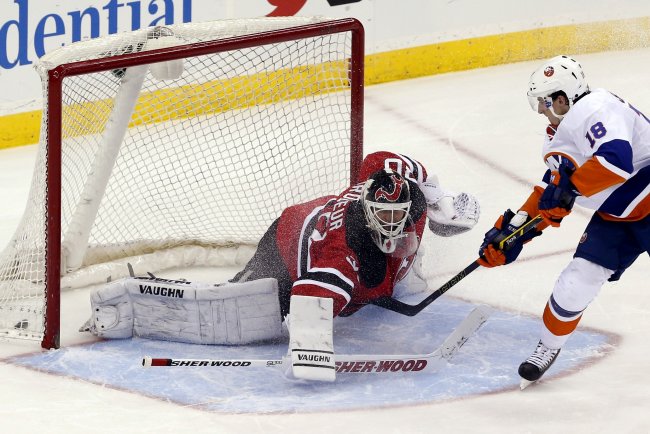 Julio Cortez/Associated Press
It's not every day that the winningest goalie in the history of the league is readily available as a free agent, but the reality is Martin Brodeur is 42 years old. His best days are clearly behind him.
Pierre LeBrun of ESPN filled fans in on some of the latest rumblings regarding the legendary goalkeeper:
Brodeur camp did talk to likes of TB and Pitt but obviously no deals there... Will be very patient... even if it takes all summer....

— Pierre LeBrun (@Real_ESPNLeBrun) July 2, 2014
Hear the Penguins did speak with Brodeur's camp but couldn't make the money work. Signed Greiss instead.

— Pierre LeBrun (@Real_ESPNLeBrun) July 1, 2014
Brodeur won't make a team instant Stanley Cup contenders with his presence alone like he did in his prime, but teams could do much worse from a backup perspective. He seems comfortable accepting a role like that if his comments, via Luke Fox of Sportsnet.ca, are any indication:
If I get a job as a No. 1, I think I'm able to handle the workload of 50 to 60 games. If I don't, and I get a backup job on a team I feel has a chance to win the Stanley Cup, anything between 20 to 30 games I'd be comfortable with in the right situation. I want to play the game. I understand my age, for people, is a big deal, but I stayed healthy all year. I played 39 games. Didn't miss a practice. Didn't miss a game. I was pretty happy about that.
Imagine a contending team that loses a goalie to injury late in the year. In terms of backups, putting in a surefire Hall of Famer isn't a bad option.
The thought here is that Brodeur waits it out this summer and signs with someone as the season approaches in the fall. Some squad will be desperate for more goalie depth, and Brodeur will happily oblige if the situation is correct.
Lee Stempniak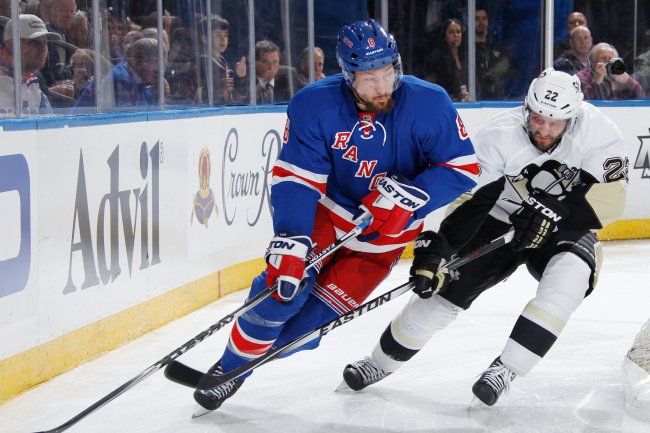 Scott Levy/Getty Images
Lee Stempniak is a solid right winger who still has plenty left in the tank at age 31. Craig Custance of ESPN The Magazine and Andy Strickland of the Big 550 KTRS and Fox Sports Midwest passed along some of the latest rumors:
Pace has definitely slowed from yesterday, but five teams showing interest in Lee Stempniak. Great guy, staff in Calgary loved him.

— Craig Custance (@CraigCustance) July 2, 2014
Lee Stempniak appears in no rush to sign....still talking to 5-6 teams #NHL

— Andy Strickland (@andystrickland) July 3, 2014
Stempniak is a solid role player who will fill in as a second- or third-liner and rack up a few points as the season progresses. Every Stanley Cup winner has glue guys like him to provide some depth alongside the best players.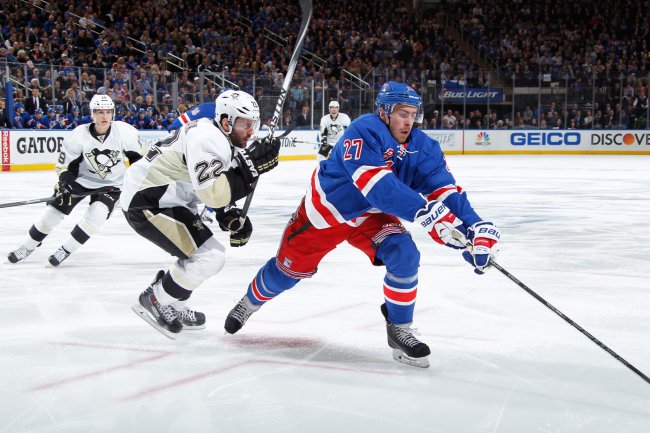 Scott Levy/Getty Images
He didn't play particularly well for the Penguins in the playoffs, which is likely part of the reason they let him go, so there will also be some motivation to produce next season. The thought here is that Stempniak signs with the Boston Bruins, who have an opening after losing Jarome Iginla.
Jamal Mayers of the NHL Network agrees:
Lee Stempniak would be a great fit for @NHLBruins after losing Iggy to Avs! True professional that can finish given the right situation!!

— Jamal Mayers (@jamalmayers) July 2, 2014
Michael Del Zotto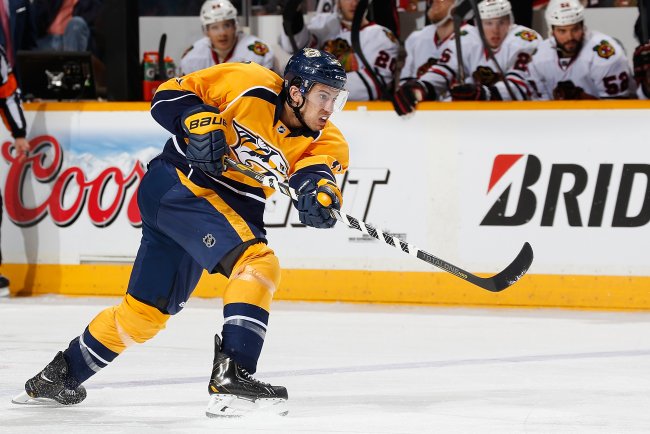 John Russell/Getty Images
David Pagnotta of The Fourth Period provided an update regarding Michael Del Zotto:
Michael Del Zotto has attracted interest from multiple teams. Continuing to dissect options and offers.

— David Pagnotta (@TheFourthPeriod) July 3, 2014
The fact that Del Zotto is receiving plenty of interest should come as no surprise, even if he struggled to find his footing with the New York Rangers and the Nashville Predators. In fact, the realization that he failed to get a qualifying offer from Nashville could motivate him going forward.
What do you make of Michael Del Zotto's struggles last year?
Del Zotto is only 24 years old and could have a bright future in front of him in the right situation. What's more, he should come a bit cheaper than in the past after struggling last season, which is encouraging for any club trying to sign the man who once posted 41 points in a season.
The thought here is the Carolina Hurricanes, who have been particularly active in free agency already, continue their makeover and sign Del Zotto. He could be a younger and potentially more productive version of John-Michael Liles.
That could certainly work for the Hurricanes.
Follow me on Twitter: