Tom Thibodeau has proven that the Chicago Bulls will never fully be out of the playoff picture in the East, but a big splash in free agency could quickly entrench his team back atop the conference.
With solid cap space and a talented roster to potentially lure any certain small forwards who went to Oak Hill Academy and currently play in New York, that opportunity is present.
Let's take a look at all the recent rumblings from around Chicago's offseason, which could shape the landscape of the NBA.
Carmelo Anthony Recruiting Pau Gasol to New York?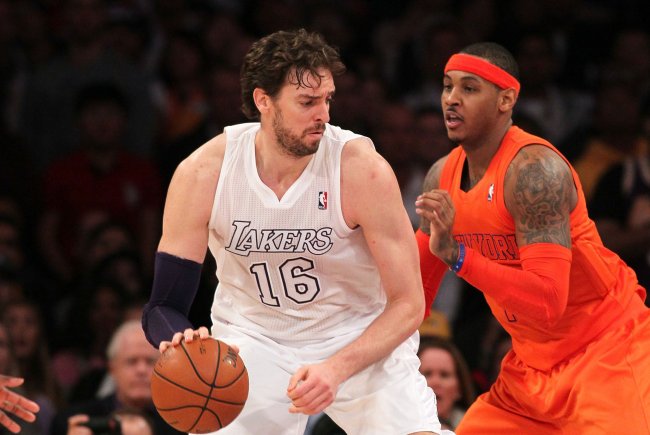 Victor Decolongon/Getty Images
Carmelo Anthony and Pau Gasol are the Bulls' two biggest free-agent targets right now. As such, rumors such as this one from Yahoo! Sports' Adrian Wojnarowski—yes, it's the real Woj—aren't exactly encouraging:
Hours before his final meeting with New York Knicks officials, free agent Carmelo Anthony reached out to obtain free agent Pau Gasol's phone number and discuss with him the possibility of playing together at Madison Square Garden, league sources told Yahoo Sports.

The Knicks had exuded an increasing confidence they can hold off the free-agent courtships of Chicago and Houston and were further encouraged with Anthony's desire to talk to Gasol about New York, sources said.
Where will Carmelo Anthony end up?
It's an intriguing development. The Knicks, according to Wojnarowski, can only pay Gasol the taxpayer's exception starting at $3.28 million annually. However, with former Lakers Phil Jackson and Derek Fisher on staff, as well as Spaniard Jose Calderon at point guard, the Knicks have the guns to sway Gasol in other ways.
Still, Wojnarowski cited sources saying Chicago and Oklahoma City remain "the most intriguing destinations to Gasol."
Moreover, what does this say about Anthony's desires? His free agency has always come down to one major question: What's more important, money or an immediate chance to win? New York can offer him the fattest contract, but does the recruitment of Gasol suggest he is more concerned about winning at this point in his marvelous career?
Anthony's college head coach, Jim Boeheim, via the New York Post's Marc Berman, certainly thinks so:
Boeheim has spoken to Anthony about his free agency, but not recently. He believes Anthony's priority is having the best chance to win a title and hopes that place is New York.
If that's true, Chicago should still be feeling confident, even with the Lakers joining the race, per ESPN's Ramona Shelburne:
Lakers made it clear to Melo today they'd offer the maximum, 4-yr, $97mil contract they can, if he chose them.

— Ramona Shelburne (@ramonashelburne) July 4, 2014
A core of Anthony, Derrick Rose, Joakim Noah, Taj Gibson and Jimmy Butler coached by Tom Thibodeau would easily be one of the best teams in the East.
'Melo would have to take less money for it to happen—Berman reported Chicago proposed a contract of "only" $16 million per year, while New York has offered $129 million over five years—but if he wants to win, there aren't many better suitors than the Bulls.
Latest on Carlos Boozer's Bleak Future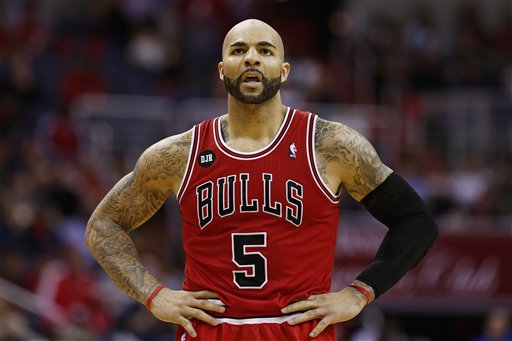 Alex Brandon/Associated Press
There have been slightly contrasting reports, but the ultimate end game is likely the same: Carlos Boozer's time in Chicago is over.
Basketball Insiders' Alex Kennedy and ESPN's Brian Windhorst have the most recent gossip:
Report: The Chicago Bulls have informed Carlos Boozer that he will be amnestied, making him a free agent: http://t.co/5Ueux2K6Jl

— Alex Kennedy (@AlexKennedyNBA) July 3, 2014
Bulls told Carlos Boozer it's a possibility he will be amnestied or used in a sign-&-trade but have made no final decisions, sources said

— Brian Windhorst (@WindhorstESPN) July 3, 2014
In case you were wondering, a sign-and-trade for Anthony isn't on the table, according to ESPN's Chris Broussard:
Sources: the Knicks will not entertain any sign-&-trade deal with Chicago that includes them taking back Carlos Boozer

— Chris Broussard (@Chris_Broussard) July 2, 2014
After a mediocre season, Boozer simply isn't needed with the emergence of Gibson. The cap space he would free to help the Bulls make a major splash in free agency is simply more valuable than his career-low 14.4 player efficiency rating.
This one is pretty cut-and-dry. It's no longer a question of if but how the Bulls let him go.