Updates from Thursday, July 10
James Walker of ESPN reported on Dion Jordan's suspension:
I'm told there are no plans for Dion Jordan to appeal his recent four-game suspension. Jordan/#Dolphins are moving forward w/the punishment.

— James Walker (@JamesWalkerNFL) July 10, 2014
Original Text
Miami Dolphins defensive end Dion Jordan has been suspended for the first four games of the 2014 NFL season after violating the league's substance abuse policy.
The team announced the news Thursday:
DE Dion Jordan has been suspended without pay for the first four games for violating the NFL's policy on performance enhancing substances.

— Miami Dolphins (@MiamiDolphins) July 3, 2014
Jordan, 24, was the team's first-round pick in 2013. He made 26 tackles and two sacks as a rookie, only occasionally getting onto the field, as he struggled to make the leap from Oregon to the NFL.
The Dolphins expected a rise in production from the former All-American in 2014, especially after he came into camp looking like a completely different player. Jordan showed up to organized team activities at more than 265 pounds and looked like he "took an air pump and plugged it into his arms and shoulders," per Armando Salguero of the Miami Herald.
The 2013 offseason was not kind to former #Dolphins GM Jeff Ireland.

— Ian Rapoport (@RapSheet) July 3, 2014
The NFL's collective bargaining agreement forbids the league from disclosing what type of drug Jordan used. It is allowed to classify between recreational drugs such as marijuana and performance-enhancing drugs like steroids, but the differentiation stops there. Jordan said the violation was due to taking a stimulant listed on the banned substances list.
"I recently learned from the NFL that I tested positive for stimulants that are banned under the NFL policy," Jordan said in a team statement. "I worked carefully with my advisors and the union to investigate the test results, and I take full responsibility for the test results. I'm very sorry for the impact of this situation on my teammates, coaches, Stephen Ross, the entire Dolphins organization, fans and my family as well.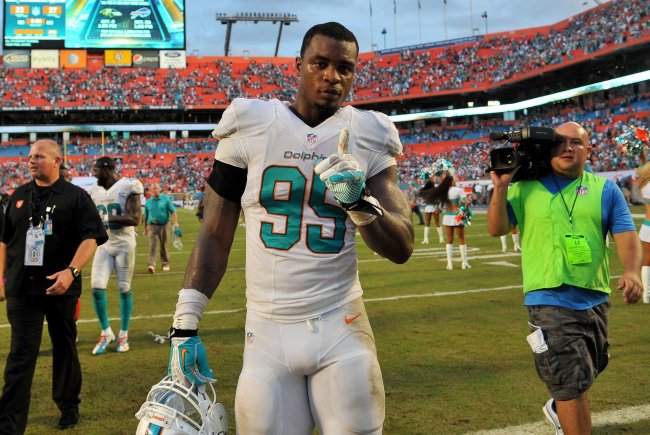 USA TODAY Sports
Jordan will be allowed to participate in all team activities prior to the regular season. He's expected to be at training camp when the Dolphins report on July 20 and will likely see increased action in preseason games as the organization tries to get him as much action as possible. In addition to his ineligibility to appear in games, he will not be allowed to practice with the team during the first four weeks of the regular season.
"We were disappointed to learn about Dion's suspension," coach Joe Philbin said in the statement. "Dion has accepted responsibility for his actions and is committed to improving, both on and off the field, in preparation for the upcoming year."
Miami and Jordan get something of a break in the form of a conveniently timed bye. The Dolphins' Week 5 bye will allow Jordan time to rejoin the team on Sept. 29—a day after the Week 4 contest with the Oakland Raiders—and then get back into the swing of practice before an Oct. 12 clash with the Green Bay Packers. Although practices during bye weeks are typically lighter, Jordan will at the very least get himself back into a rhythm.
His role upon return will be something to watch. The Dolphins have two elite talents in Cameron Wake and Olivier Vernon ahead of him on the defensive end depth chart, and Jordan's decision to bulk up for 2014 may make him an awkward fit at outside linebacker. Fit was always something of a concern from the moment Miami drafted Jordan, and that's only going to be exacerbated now by his absence.
Not trying to downplay loss of Dion Jordan, but it only impacts depth at DE, Miami's ability to cover elite TEs, & handcuffs speed package

— Omar Kelly (@OmarKelly) July 3, 2014
Last season, Jordan was on the field for only 28.8 percent of defensive snaps, per Football Outsiders. Considering the Dolphins traded up to grab Jordan—sending a second-round pick that became promising young tackle Menelik Watson to Oakland—they were undoubtedly expecting a higher level of production. Further compounding the disappointment of his rookie season with a suspension is about the worst possible thing for Jordan's career right now.

Always a bit of a project, Jordan will have to make an impact fast upon his return to avoid the ever-encroaching bust buzz. For now, though, he'll merely look to wade through the latest setback of his young career.