The Los Angeles Lakers will do everything they can to sign Carmelo Anthony, but they must also have some contingency plans if the superstar decides to go to another team.
According to ESPN's Ramona Shelburne, the organization made a full pitch to Anthony on Thursday. The meeting featured a number of front-office personnel, including general manager Mitch Kupchak, Lakers President Jeanie Buss, executive vice president of player personnel Jim Buss and others. Kobe Bryant was originally scheduled to attend, but according to Sam Amick of USA Today, Bryant's flight was delayed and he was unable to make it on time.
The forward will now have to decide between going to the Lakers, Houston Rockets, Dallas Mavericks, Chicago Bulls or returning to the New York Knicks. According to Chris Herring of The Wall Street Journal, this process will not last much longer:
Hearing Carmelo will almost certainly have his decision made before the weekend is finished, according to a person familiar with the matter

— Chris Herring (@HerringWSJ) July 3, 2014
If Anthony does not decide to join the Lakers, chances are likely that the organization will try to add another high-profile free agent to help generate some excitement heading into next season.
While there are a number of possibilities, here is the latest buzz on potential secondary options for Los Angeles.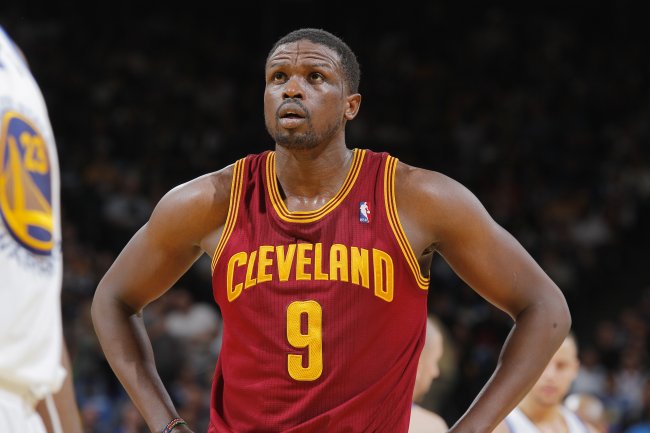 Rocky Widner/Getty Images
Aside from Anthony, the Lakers have a relatively long wish list for free agents, according to Mark Medina of the Los Angeles Daily News:
Lakers like Kyle Lowry, Luol Deng, Trevor Ariza, Chandler Parsons. Lakers won't offer them more than 1-2 year deals, though

— Mark Medina (@MarkG_Medina) July 1, 2014
This list is about to get much shorter, though, as Kyle Lowry has already agreed to a deal with the Toronto Raptors, which was first reported by Adrian Wojnarowski of Yahoo Sports (h/t James Herbert of CBS Sports). Meanwhile, J. Michael of CSN Washington points out that Trevor Ariza is likely set on returning to the Washington Wizards.
Luol Deng remains a possibility, but the line of interested teams is a long one, as noted by Tim MacMahon of ESPN:
Teams interested in Luol Deng: Lakers, Heat, Bulls, Clippers, Hawks, Mavs. Dallas had brief chat with agent last night, will talk more today

— Tim MacMahon (@espn_macmahon) July 1, 2014
The good news is that the Lakers can offer him the freedom to be an offensive force right away. Deng has averaged at least 14 points per game every season except his rookie year and could end up being an excellent complement to Bryant on the wing.
Additionally, the forward's defensive ability could help Los Angeles compete in the talent-heavy Western Conference.
Most importantly, the organization has the cap freedom to handle a player who seems unwilling to sign for lower than his value, according to ESPN's Chris Broussard:
Hearing that Luol Deng will not take significantly less than his market value to join Heat

— Chris Broussard (@Chris_Broussard) July 1, 2014
If Los Angeles is willing to spend the money, the two-time All-Star could represent a nice draw for a team that needs some big names on the roster.
Chandler Parsons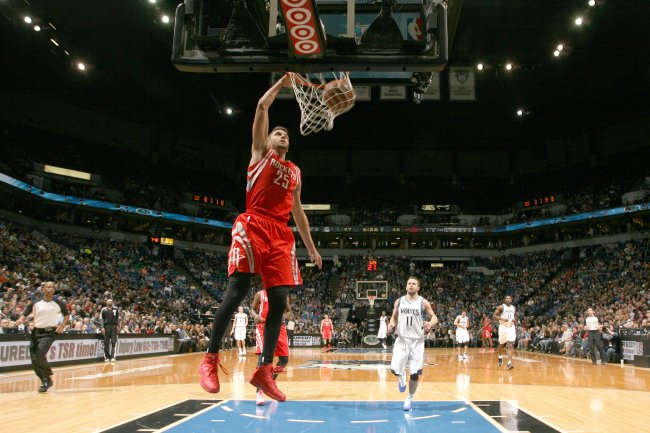 David Sherman/Getty Images
Although Chandler Parsons is a restricted free agent, there are a lot of teams hoping to pry him away from the Houston Rockets.
The former second-round pick has improved in each of his three years in the NBA, averaging 16.6 points per game this past season as a great outside shooter in a fast-paced offense. According to Jeff Goodman of ESPN, this has led to the Lakers being interested:
Lakers have expressed interest in Chandler Parsons, source told ESPN. Others include Dallas and Chicago. Phoenix also interested.

— Jeff Goodman (@GoodmanESPN) July 1, 2014
Bleacher Report's Howard Beck also believes that Los Angeles would be a great fit for the small forward:
Of course, Beck also points out that Parsons is likely to remain with the Rockets due to the organization's ability to match any offer. Dwight Howard is also confident that his teammate will return, via Jonathan Feigen of the Houston Chronicle:
Interesting listening to Dwight after the Melo lunch talk about Parsons as certain to be back. "I don't think it's a question mark."

— Jonathan Feigen (@Jonathan_Feigen) July 2, 2014
The problem is that Houston might not be able to afford him, especially if Anthony signs with the team. The Lakers can also force the Rockets' hand by offering max-level money for the talented young player.
While it is important not to overpay for players during a rebuilding process, it is important to remember that Parsons is still just 25 years old and is still getting better. He has time to live up to the contract and help bring success to the Lakers in the future.
Lance Stephenson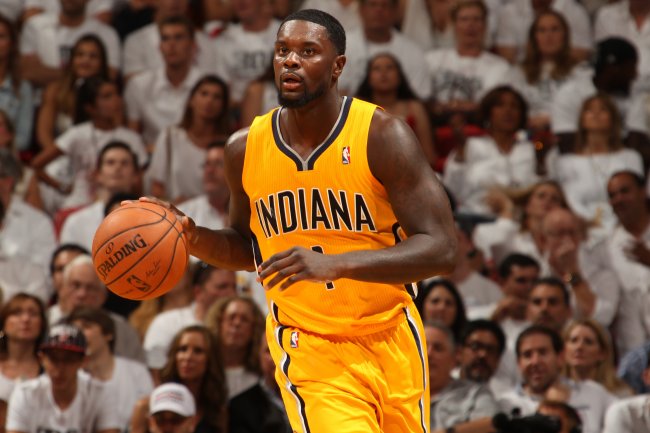 Issac Baldizon/Getty Images
This might end up being the most expensive option for the Lakers outside of Anthony and LeBron James. Lance Stephenson is not an All-Star yet, but he showed he can be a secondary option on an elite team this past season.
The 23-year-old guard helped lead the Indiana Pacers to the No. 1 seed in the Eastern Conference with an average of 7.2 rebounds and 4.6 assists per game, first on the team in each category. He also ranked third on the squad with 13.8 points per game while remaining versatile with five triple-doubles on the season.
While the Pacers would love to keep him around for at least a few more years, it seems like he has priced himself out of town. Broussard notes that this leaves things open for the Lakers and a few more teams:
Sources: L Stephenson & Pacers at impasse. Indy offers 5 yrs/$44 mill. Lance wants more, will talk to others. Chi, LAL, Hornets interested.

— Chris Broussard (@Chris_Broussard) July 2, 2014
Moke Hamilton of SNY.tv breaks down what it will likely cost to sign the guard:
Darren Collison ($5.3M) and Jodie Meeks ($6.3M) pretty much put Lance Stephenson's market value, head case and all, at $9.5M/yr. If not more

— Moke Hamilton (@MokeHamilton) July 3, 2014
The only thing preventing teams from throwing plenty of money at Stephenson is his attitude, which came off as childish during the postseason. His most notable moment was when he tried to blow in LeBron James' ear during a game:
VIDEO: Lance Stephenson blows into @KingJames ear during Game 5. http://t.co/BNU8Ff1oES pic.twitter.com/3jUIwDrbMl

— Bleacher Report NBA (@BR_NBA) May 29, 2014
Still, the young player's talent is undeniable. He can clearly be the second-best player on a very good team, which is what he could be behind Bryant with the Lakers. If Los Angeles is ready to spend, this could be a quality match.
Follow Rob Goldberg on Twitter for the latest breaking news and analysis.