Most NBA fans are focusing on where the biggest free agents will end up this offseason, but the rumor mill remains extremely active this summer for players who may be swapping uniforms via trade.
The prizes aren't as great, but plenty of teams can find some valuable pieces by perusing the trade market.
While the three players below aren't LeBron James or Carmelo Anthony, they would be nice additions for any team.
Goran Dragic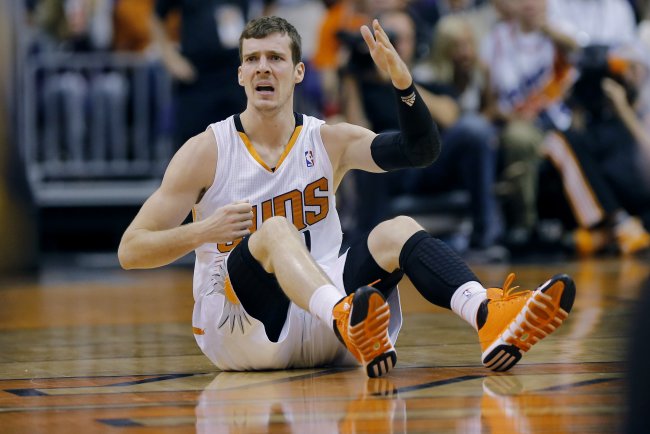 Matt York/Associated Press
The financial realities of the NBA are such that the Phoenix Suns almost certainly won't be able to keep both Eric Bledsoe and Dragic.
This is the last season before Dragic can opt out and become an unrestricted free agent, which he almost certainly would.
On the assumption that they'll re-sign Bledsoe, the Suns will have to move the Slovenian guard at some point between now and the trade deadline, or risk losing him for nothing in free agency.
ESPN.com's Marc Stein reported that the Indiana Pacers are considering making a deal for Dragic:
Indiana Pacers, I'm told, have tried to engage Phoenix in trade talks for Goran Dragic, but teams have found no common deal ground. Yet

— Marc Stein (@ESPNSteinLine) July 3, 2014
Sporting News' Sean Deveney suggested that Phoenix doesn't feel obligated to trade the player just yet:
Suns trading away Goran Dragic, possibly to the Pacers? Not so fast, says a source with knowledge of the talks.

"No, no, no," the source said. "Nothing to that. The team and Goran, they're still committed to each other."

According to an ESPN report, the Pacers — looking to upgrade at point guard—have engaged the Suns in talks about a possible deal that would send Dragic to Indiana. Consider those talks to be decidedly one-sided.
The Suns can play hardball now, but they lose a little bit of leverage with each day. Dragic's value remains very high, so Phoenix could get a nice return in a deal.
Don't be surprised if he's moved by the end of the offseason.
Rajon Rondo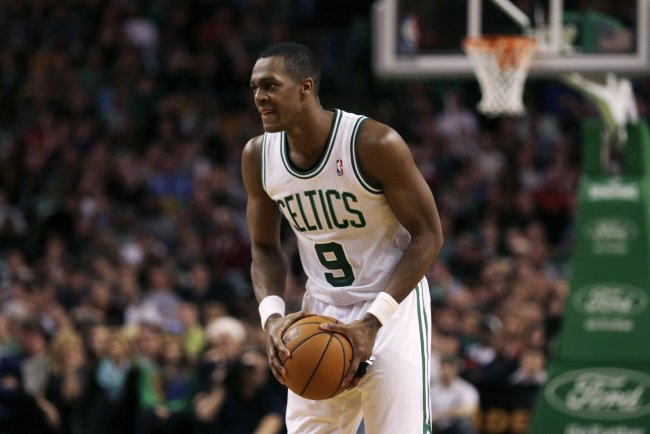 Charles Krupa/Associated Press
Another guard possibly on the move is Rajon Rondo. The Boston Celtics' selection of Marcus Smart in the 2014 draft might have signaled their intentions with Rondo.
If those plans were in doubt, this tweet by Yahoo Sports' Marc J. Spears regarding Boston's pursuit of Isaiah Thomas would surely serve as the biggest indicator:
Mavericks owner Mark Cuban called Kings free agent guard Isaiah Thomas today, a source said. The Pistons & Celtics also interested in Thomas

— Marc J. Spears (@SpearsNBAYahoo) July 2, 2014
The Celtics don't seem desperate to deal Rondo, but they're certainly working to ensure that his departure won't have a massively adverse effect on the team in the event that he's offloaded.
Boston has a lot of leverage, and it can use that leverage to get the best deal possible.
Grantland's Zach Lowe and Stein got into a discussion on Twitter about how the Pacers might not be able to get Dragic in a straight-up trade with the Suns. That's where the Celtics could come in:
Pacers have little on the fringes to entice Phoenix on Dragic.Their interest, per @ESPNSteinLine, might hint at bigger discussions.

— Zach Lowe (@ZachLowe_NBA) July 3, 2014
Whispers are already out there, @ZachLowe_NBA, about Indy trying to pull in Boston to construct some sort of multi-team deal involving Rondo

— Marc Stein (@ESPNSteinLine) July 3, 2014
Attention cut-and-paste feeds w/reading comprehension issues: Indy's target is Goran Dragic. That's what @ZachLowe_NBA and I were discussing

— Marc Stein (@ESPNSteinLine) July 3, 2014
Either way, Rondo's time in Boston may be drawing to a close. The only matter left is how his potential exit is handled.
Eric Gordon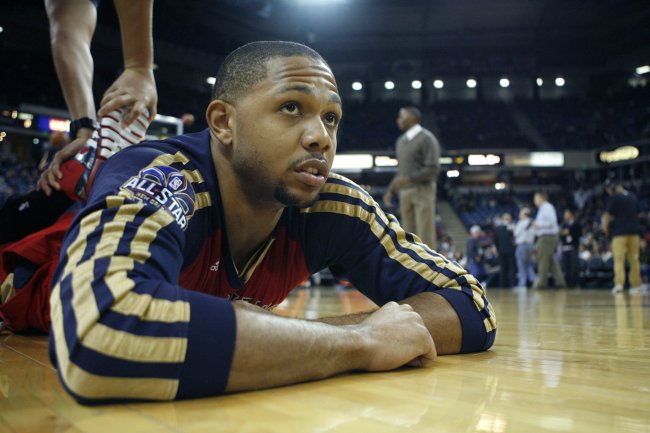 STEVE YEATER/Associated Press
The marriage between Eric Gordon and the New Orleans Pelicans always looked doomed to fail. Back in 2012, his first choice was to play in Phoenix and he only begrudgingly came back to New Orleans because he had no other choice.
Two years after he signed a max deal to stay with the Pelicans, the team is regretting the decision to match the Suns' offer.
Gordon has averaged 17.0 and 15.4 points a game over the last two seasons, and his PER has dropped to below the league average (14.9).
According to Steve Kyler of Basketball Insiders, the Pelicans are hoping to get out from under Gordon's massive contract:
There is a sense around the league that the Pelicans would be open to moving Eric Gordon and possibly Austin Rivers; however, deals involving Ryan Anderson, Tyreke Evans or Jrue Holiday are not of much interest to the Pelicans and without question former top pick Anthony Davis is off the board.
At this point, it would benefit all parties to trade Gordon. However, few teams are going to bite when he's due over $30 million in the next two seasons.
New Orleans should probably plan on having Gordon on the roster to start the 2014-15 season and hope for the best.
Contract information courtesy of Spotrac.com.