The Chicago Bulls are well aware that they can't afford to stand pat or they risk falling behind their Eastern Conference rivals and getting even further away from the best in the Western Conference.
Chicago has both the cap space and requisite talent to lure in at least one marquee free agent this offseason.
Carmelo Anthony is the white whale. Everything is geared toward that pursuit. If the Bulls land him, then they arguably become the best team in the East.
The organization is still casting a wide net, though. Below is a brief update on its offseason activities.
Carlos Boozer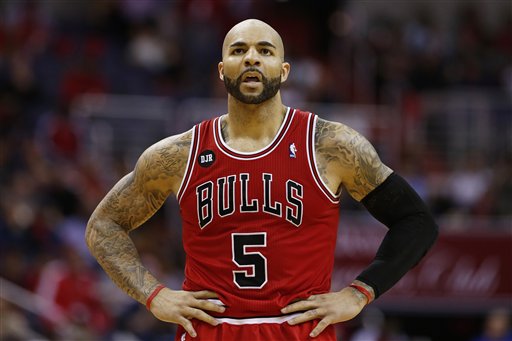 Alex Brandon/Associated Press
Bulls fans are finally getting their wish. ESPN.com's Brian Windhorst reported that Chicago has informed Carlos Boozer that he's likely to be amnestied or moved in a sign-and-trade:
Bulls told Carlos Boozer it's a possibility he will be amnestied or used in a sign-&-trade but have made no final decisions, sources said

— Brian Windhorst (@WindhorstESPN) July 3, 2014
That falls in line with what the Chicago Sun-Times' Joe Cowley reported earlier on Wednesday:
Officially, the Bulls still have several weeks to decide if they want to invoke the amnesty provision for Carlos Boozer.

But they don't need it.

A source said Wednesday that Boozer's departure is a "done deal," adding that Boozer's camp already has been informed.

There haven't been any takers on a sign-and-trade for Boozer, and the Bulls also want the money to go in a different direction, whether Carmelo Anthony is in the mix or not.
Complex's Russ Bengtson joked that little will change for the 32-year-old:
Carlos Boozer will likely get $17 million from the Bulls to do nothing for them next season, so nothing really changes.

— Russ Bengtson (@russbengtson) July 3, 2014
Ever since signing that massive five-year deal back in 2010, Boozer has become one of the most loathed players on the Bulls roster. It's not that he's been that bad. The problem was that he wasn't exactly earning every penny of his $15-plus million a year.
Things hit a low point this past season, when Boozer averaged 13.7 points and 8.3 rebounds a game, both of which were his lowest per-game averages since his rookie season. You can't be making eight figures and have a player efficiency rating of 14.4.
No matter how it's done, offloading Boozer is the best move for the Bulls.
Pau Gasol and Carmelo Anthony
The Bulls are in hot pursuit of Anthony, but they're already working on a contingency plan in the event Melo goes elsewhere: Pau Gasol. ESPN.com's Marc Stein reported that Chicago is already giving more attention to Gasol on the assumption that Anthony will remain a New York Knick:
Pau Gasol Addendum No. 1: Sources say Bulls' rising interest in Pau IS indeed reflection of concern they can't convince Melo to leave NYK

— Marc Stein (@ESPNSteinLine) July 3, 2014
If Bulls worried about THEIR Melo chances tells you what Rockets/Mavs/Lakers up against. Maybe Knicks' well-chronicled confidence justified

— Marc Stein (@ESPNSteinLine) July 3, 2014
Melo's busy doing the free-agent rounds. NBA.com's David Aldridge reported that he visited the Bulls on Tuesday and planned to see the Houston Rockets on Wednesday and Dallas Mavericks on Thursday:
Done with Bulls in Chicago, Carmelo Anthony on his way tonight to Houston. Will meet w/Rockets in morning, then go to Dallas in afternoon.

— David Aldridge (@daldridgetnt) July 1, 2014
You'd venture to guess that the Bulls would be among Anthony's top choices. They've already got a good team in place, and he'd have a chance to be Chicago's most important player, or at the very least 1B to Derrick Rose's 1A. That's something Carmelo wouldn't have in Houston, with Dwight Howard and James Harden higher up in the pecking order.
The fact that the Bulls are worried about the Knicks is a major surprise. Even after the arrival of Phil Jackson, New York still has a ton of work to do in order to become even a playoff contender.
Where will Carmelo Anthony sign this offseason?
Calling Gasol a consolation prize would be a bit of an overstatement. This would be like asking for a PlayStation 4 for Christmas and getting an abacus.
Gasol is still a good player. He averaged 17.4 points and 9.7 rebounds per 36 minutes last season and remains one of the most offensively skilled big men in the league.
What he isn't is a dynamic scorer or an above-average long-range shooter, two things the Bulls need. Gasol's also 33 years old and firmly in the twilight of his career. He's not going to help take this team from a top seed in the Eastern Conference to a title contender.
Anthony can do that. He could take a ton of pressure off Rose and give Chicago somebody else to look to at the end of games.
You can understand why the Bulls might want to hedge their bets, but this summer feels a lot like 2010, when they tried to get Dwyane Wade and LeBron James and ended up with Boozer.
Note: All stats are courtesy of Basketball-Reference.com unless otherwise noted.