When U.S. Soccer hired Jurgen Klinsmann to revamp the United States men's national team after the 2011 Gold Cup, I was a fan of the move.
However, to call me a sycophant of the German native would be well wide of the mark. I brought up a number of criticisms of Klinsmann before the World Cup began, pointed them out again after the group stage and noted them again after the loss to Belgium on Tuesday.
But much of the criticism of the American coach the day after the round-of-16 loss has been unfair. Paul Gardner of Soccer America trotted out, once again, the distasteful argument that Klinsmann selected too many players who weren't "American" enough. And this piece from Aaron Stollar, which called Klinsmann a "narcissist, hypocrite and tactical dunce," certainly didn't pull any punches.
There were mistakes, to be sure—many of which I have written about. But to focus solely on those errors would be to ignore the many, many things Klinsmann got right.
He chose an inexperienced DeAndre Yedlin over Michael Parkhurst and Brad Evans, a move many thought was pure madness.
I find it hard to believe that EDU, PARKHURST, GOODSON, and EVANS were passed over in favor of YEDLIN. #SMH #USMNT @ussoccer @J_Klinsmann

— Son of Hank (@Hisco5) May 22, 2014
Yet Yedlin repaid Klinsmann's faith and was arguably the best player on the field for the U.S. against Belgium.
He kept John Anthony Brooks on the roster over the more experienced Clarence Goodson, even after Brooks' shaky game against Ukraine in March and Goodson's relatively consistent performances.
Was discussing this offline today, but the biggest travesty in our 23 is Brooks over Goodson. That's just ridiculous.

— Andy Glockner (@AndyGlockner) June 2, 2014
All Brooks did was go on to score the game-winning goal against Ghana.
Klinsmann not only put Kyle Beckerman on the roster, but he also started him in all three group-stage games. When he benched him against Belgium, Twitter went into an uproar—over the benching of a player most fans didn't think should have been on the roster in the first place.
The #usmnt has committed 2 World Cups to a man who thinks Landon Donovan is less deserving of a slot than Kyle Beckerman. We are so screwed.

— James Downie (@jamescdownie) May 22, 2014
He stuck with Jozy Altidore through a terrible season at Sunderland and helped the striker regain his form just before the World Cup began. When Altidore went down injured, it revealed how right Klinsmann had been, even when so many fans had called for Altidore to be benched in favor of Aron Johannsson in recent months.
Hi @J_Klinsmann Would be so funny if you would put Jozy Altidore in your world cup startingXI.Would love that comedy as a fan of #freecomedy

— Hjörvar Hafliðason (@hjorvarhaflida) May 1, 2014
He found a formation that actually took advantage of Jermaine Jones, a player widely criticized by the American fanbase (and me) since, well, forever.
Jermaine Jones sucks. I feel better now. #usmnt

— Ken LaVicka (@KLV1063) September 7, 2013
He brought Matt Besler into the squad when few fans in U.S. Soccer circles even knew who Besler was and helped him grow into the squad's most dependable defender over the past year.
He resurrected the career of DaMarcus Beasley and somehow made the "Beasley as a left-back" experiment work. Yeah, remember how many of you (myself included) thought Beasley would be able to handle the attackers of Ghana, Portugal and Germany?
I could see Beasley with an own goal v Ghana.....or giving up a penalty. Fabian is miles better in every... http://t.co/nWB392aQOW

— james p duncker (@vonDuncker) May 17, 2014
He stuck with Omar Gonzalez after a particularly shaky start in 2014 and through a knee injury just prior to the tournament. Fans thought inserting Gonzo into the lineup against Germany was madness (yep, me too)—until he delivered an outstanding performance.
Why in Gods name is Omar Gonzalez starting at center back vs Germany #prayforus

— Scott Knuth (@scottynooth) June 26, 2014
He put Julian Green on the roster and then, with the U.S. down two goals at the most critical moment, Green brought the Americans back to life with a goal on his first touch.
By putting Julian Green in, that's just Klinsmann way of saying we surrender

— Angel Cortez (@angelislike) July 1, 2014
And, oh yeah, he led the U.S. out of a group that killed off Ghana and Portugal's World Cup dreams. Remember how many people thought the U.S. wouldn't get a single point?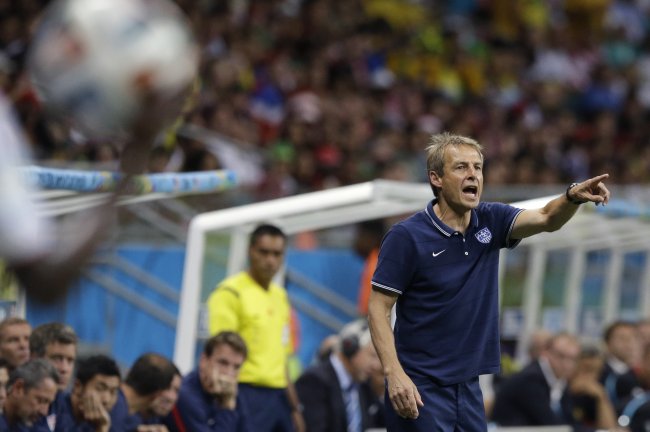 Matt Dunham/Associated Press
Did Klinsmann make mistakes? Sure. Did I agree with everything he did? No way. But a lot of us (myself included) need to look through our own Twitter timelines before we start writing a revisionist history and lighting the torches—because most of us were wrong about Yedlin, Brooks, Beckerman, Jones, Beasley and Gonzalez. And Klinsmann wasn't.
Follow me on Twitter @JohnDHalloran
Follow me on Facebook