What, think the only thing that matters in the NHL offseason is the first 24 hours of free agency?
Try again. Sure, the period that saw in the neighborhood of $500 million thrown around was entertaining (and sure to be mostly heartbreaking in hindsight), but the trade block remains alive and well, like it or not.
There, franchises continue to wheel and deal in the hopes of rounding out what should by now be mostly complete rosters with the draft and opening salvos of free agency extinguished.
Let's go ahead and examine the juiciest bits of info surrounding the NHL trade market.
The James Reimer Situation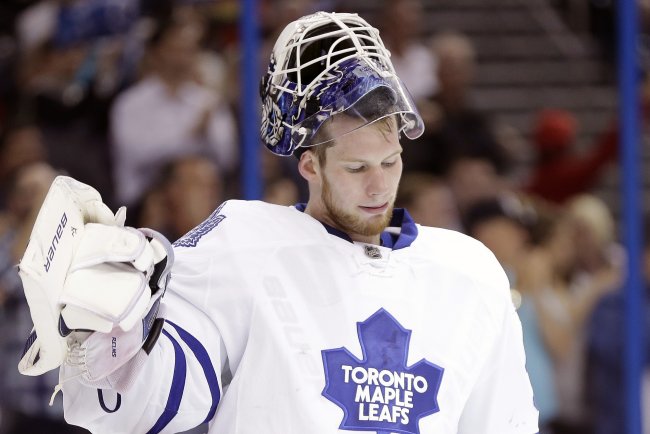 Chris O'Meara/Associated Press
James Reimer is not a happy man.
The starting goalie for the Toronto Maple Leafs at the beginning of last season, Reimer saw his job in front of the net stolen by Jonathan Bernier rather quickly.
Since then, Reimer has made his frustration known, most recently requesting a trade, per Sportsnet's Nick Kypreos:
With #Leafs Reimer request 2b traded, strong speculation off #NHL draft floor were talks btw #Leafs / #Jets. Could b revisited at later date

— Nick Kypreos (@RealKyper) June 29, 2014
Obviously the deal with the Winnipeg Jets during the 2014 NHL draft fell through, so Reimer has taken to filing for salary arbitration, as noted by Elliotte Friedman:
James Reimer among the first players to file for salary arbitration. Numbers do not need to be exchanged yet, but deadline is Saturday.

— Elliotte Friedman (@FriedgeHNIC) July 2, 2014
Here's the problem for Mr. Reimer. For one, his numbers are not all that staggering:
| | | | | | | | |
| --- | --- | --- | --- | --- | --- | --- | --- |
| SEASON | GP | GA | GAA | SA | SV | SV% | SO |
| '10-'11 | 37 | 90 | 2.60 | 1134 | 1044 | .921 | 3 |
| '11-'12 | 34 | 97 | 3.10 | 974 | 877 | .900 | 3 |
| '12-'13 | 33 | 76 | 2.46 | 995 | 919 | .924 | 4 |
| '13-'14 | 36 | 98 | 3.29 | 1095 | 997 | .911 | 1 |
ESPN
Two, Leafs general manager Dave Nonis does not seem so sure about moving Reimer at all, as captured by Sportsnet's Mike Johnston: "If there is a deal that makes sense for us, then we would look to do it. If not, James is a good goalie. He's not far removed from having some spectacular numbers."
It increasingly sounds like Reimer may not get his wish, which makes for one interesting situation. Except for the Leafs faithful, of course.
Vincent Lecavalier on the Move?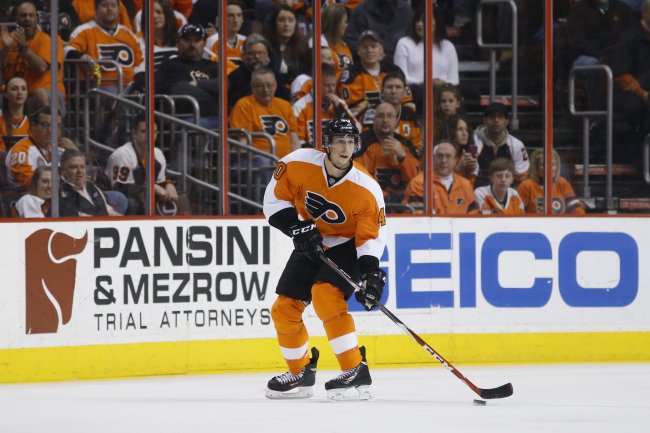 Matt Slocum/Associated Press
It seems but a matter of time before the Philadelphia Flyers ship away center Vincent Lecavalier.
The Flyers are over the cap, and Lecavalier represents a $4.5 million hit this year and each year through the 2017-18 season, per Spotrac. So it makes sense that Philadelphia would want to move on, especially with his 37 points being his lowest total since 2001-02, sans the lockout year.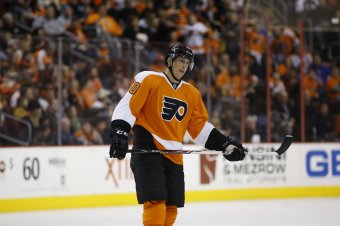 Matt Slocum/Associated Press
According to Tim Panaccio of CSN Philly, the Flyers had deals fall through with both the Florida Panthers and Nashville Predators. He detailed just how dire things are in Philadelphia:
While they could still sign players and worry about the cap later (10 percent overage allowed), the fact they haven't been able to shed Lecavalier's contract -- even allowing his agent, Kent Hughes, to negotiate on his own -- shows you just how bad things are.
To further the problematic situation, TSN's Darren Dreger confirms that Lecavalier just picked up his costly bonus:
Vincent Lecavalier received his $2 mil bonus today. Perhaps, a trade easier to facilitate now with that detail out of the way.

— Darren Dreger (@DarrenDreger) July 2, 2014
Lecavalier is sure to get dealt now that the bonus is out of the way. Really, he has to—the Flyers can't keep him around with the understanding that he is a defensive liability and clearly cannot play the wing at a high level.
Honestly, Lecavalier's time in Philadelphia was cut short the minute coach Peter Laviolette was fired after the 0-3 start last year. He was brought in specifically for that system and has floundered since. Expect him to land in Nashville soon with the bonus out of the picture.
Red Wings on the Hunt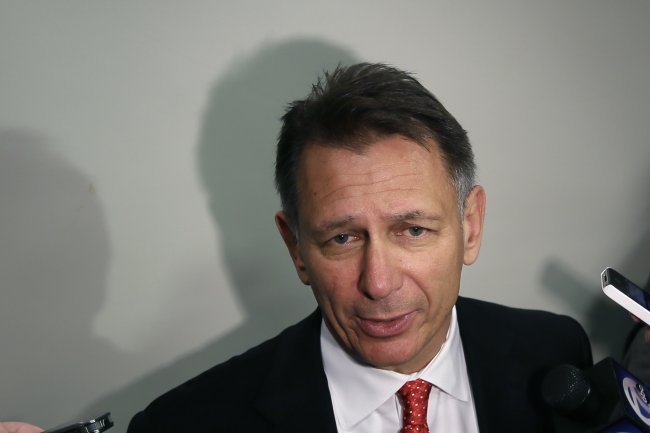 Carlos Osorio/Associated Press
The Detroit Red Wings are clearly not happy campers after whiffing in a big way during the critical first few hours of free agency.
After finishing fourth in the Atlantic Division at 39-28-15, it was important for general manager Ken Holland and his staff to retool the roster in a proper manner.
To be fair, Holland did what he could. Matt Niskanen decided Detroit was not a noteworthy destination, and the offer the Red Wings sent out for Dan Boyle was simply not enough, as illustrated by Ansar Khan of MLive.com:
Wings offered Dan Boyle three years at $12.5 million ($5M, $5M and $2.5M) but he took two years, $9 million from Rangers.

— Ansar Khan (@AnsarKhanMLive) July 1, 2014
The times have changed, clearly. Gone are the days when Detroit is one of a few locales players choose in order to compete for the Stanley Cup.
"Free agency used to be about eight or 10 teams," Holland told Nick Cotsonika of Yahoo Sports. "Everybody's in the free agent market now because of the ceiling and the floor."
So a particular note from The Fourth Period's David Pagnotta should come as no surprise:
Red Wings appear to be working the trade phones now to bolster their blueline. Lost out on Boyle, and apparently out on Niskanen.

— David Pagnotta (@TheFourthPeriod) July 1, 2014
Giving up assets to acquire talent is no fun for Red Wings faithful accustomed to seeing their favorite team be an ideal destination for the sport's biggest stars.
To help mitigate what is a leaking roster, the team did bring back Kyle Quincey, but at some point Holland and Co. are going to have to find a partner on the trade phones and upgrade the defense. If not, the downward spiral will only continue.