Jodie Meeks got a life-changing contract from the Detroit Pistons, and it could prove to be a game-changer for the 2014 NBA free-agent market.
Through five seasons in the league, Meeks has carved his niche as a three-point specialist. Nearly 49 percent of his 1,155 career field goals have come from beyond the arc, where he's converted a solid—but not spectacular—37.6 percent of his attempts.
To date, he's been paid a specialist's rate for his services. According to Basketball-Reference.com, he earned a career-high $1.55 million in 2013-14.
Thanks to the shooting-deprived Detroit Pistons—who had a 32.1 team three-point percentage this past season, 29th in the league—Meeks' bank account is about to burst like never before. The 26-year-old agreed to a three-year, $19.5 million deal with Detroit Tuesday, as first reported by Adrian Wojnarowski of Yahoo Sports:
Jodie Meeks has agreed to a three-year, $19 million-plus contract with the Detroit Pistons, league sources tell Yahoo Sports.

— Adrian Wojnarowski (@WojYahooNBA) July 1, 2014
If the salary figure ($6.5 million per year) seems steep, it should. That was the same rate collected by Minnesota Timberwolves gunner Kevin Martin last season, according to Basketball-Reference, who has a better career three-point percentage (38.5) and a career scoring average that nearly doubles Meeks' (17.9 to 9.7).
Meeks did pour in a personal-best 15.7 points a night this past season, but he put up those numbers on a bad team—the 27-win Los Angeles Lakers—for a coach, Mike D'Antoni, whose system emphasizes perimeter scoring.
Meeks figured to receive a pay raise this offseason, but few, if any, foresaw him securing this kind of contract:
Meeks had nice season in L.A., but that's a lot of dough for Jodie Meeks. Wow. Maybe DET anticipated some team over cap giving him mid-level

— Zach Lowe (@ZachLowe_NBA) July 1, 2014
Meeks, who was more excited to graduate from Kentucky than free agency, jumps from $1.55M with Lakers to $6M+ per from shooting-poor Pistons

— KEVIN DING (@KevinDing) July 1, 2014
He's good at what he does. He just doesn't bring a lot to the table outside of shooting. The Pistons, under new coach and president of basketball operations Stan Van Gundy, clearly placed a premium on finding shooters.
Still, the signing drew a certain amount of sticker shock from the basketball world. Forking over nearly $20 million for a spot-up shooter doesn't seem to follow Van Gundy's stated intention of adding "value guys" to his roster.
Meeks can be a piece of the Pistons' puzzle, but a $6.5 million piece? That seems like quite a stretch.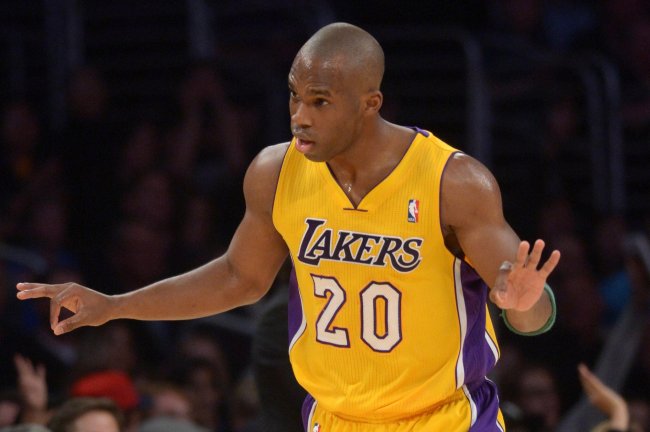 USA TODAY Sports
"I see a solid role player who won't try to do much," NBC Sports' Dan Feldman wrote of Meeks. "He'll make more than his share of outside shots and defend well enough to warrant consistent playing time. I don't see much upside remaining."
It remains to be seen what this acquisition will mean for Detroit, but the impact of this deal is already being felt outside of the Motor City.
As one of this class' first dominoes to drop, Meeks helped set the market for this crop of free agents. That's good news for players who are looking for work, ominous for clubs that were hoping to find budget production.
The trickle-down effect of Meeks' signing could be felt by players like sharpshooter Mike Miller and scoring point guard Isaiah Thomas:
So, um, that Jodie Meeks deal is not a good precedent for the Grizzlies and Mike Miller. What the ...

— Chris Herrington (@HerringtonNBA) July 1, 2014
If Jodie Meeks is worth roughly $6.5 mil annually, Isaiah Thomas should ask for nothing less than that.

— Jonathan Santiago (@itsjonsantiago) July 1, 2014
Meeks isn't the only one who has already gotten paid.
Combo guard Shaun Livingston agreed to a three-year, $16 million deal with the Golden State Warriors, per Wojnarowski. Center Marcin Gortat got five years and $60 million to stay with the Washington Wizards, according to Wojnarowski.
Off-guard Avery Bradley returned to the Boston Celtics on a four-year, $32 million contract, per Baxter Holmes of The Boston Globe, a rate that Comcast SportsNet's A. Sherrod Blakely felt could have been dictated by Meeks' deal:
You have to wonder if Jodie Meeks' deal w/the #Pistons (3 yr, $19M) was a factor that influenced Avery Bradley's deal w/the #Celtics.

— A. Sherrod Blakely (@SherrodbCSN) July 2, 2014
Even Ben Gordon, who played a total of 279 minutes for the then-Charlotte Bobcats last season, got a two-year, $9 million deal from the Orlando Magic, per Wojnarowski.
That Ben Gordon number -- even with 2nd season unguaranteed -- is stunning.

— Rick Bonnell (@rick_bonnell) July 2, 2014
Money might not grow on trees, but it's falling like autumn leaves at the start of free agency.
The market is paying for everything at the moment, and that isn't likely to change in the near future:
Thought the Jodie Meeks contract signaled big premium for shooting. Then I saw Shaun Livingston + Avery Bradley. A lot of $$$ thrown around.

— Tom Haberstroh (@tomhaberstroh) July 2, 2014
Remember, all this money that is moving around has yet to touch the summer's biggest fish.
The Miami Heat are still waiting on the Big Three to put pen to paper. Carmelo Anthony is still making the rounds on his cross-country recruiting trip.
The second-tier targets have yet to make their moves.
Massive offer sheets could soon be earmarked for restricted free agents Eric Bledsoe, Greg Monroe, Gordon Hayward and Chandler Parsons. Unrestricted free agents like Luol Deng, Pau Gasol, Kyle Lowry and Trevor Ariza could all be closing in on jackpot paydays:
I continue to hear that many teams are pursuing Trevor Ariza. It seems he'll get a big payday - there will likely be a bidding war for him.

— Alex Kennedy (@AlexKennedyNBA) July 2, 2014
Lance Stephenson reportedly turned down a five-year, $44 million offer from the Indiana Pacers, sources told ESPN's Chris Broussard. Stephenson played for $1 million last season, per ShamSports.com. In this market, though, he's probably right to wait for more money.
Teams have gobs of cap space and not a lot of great options to spend their money on.
"There at least 14 teams that could easily work their way to at least $10 million in cap space, and if the Heat stars have agreed to stay in Miami, that would leave Carmelo Anthony as the only max-level superstar navigating that hungry spending environment," Grantland's Zach Lowe wrote.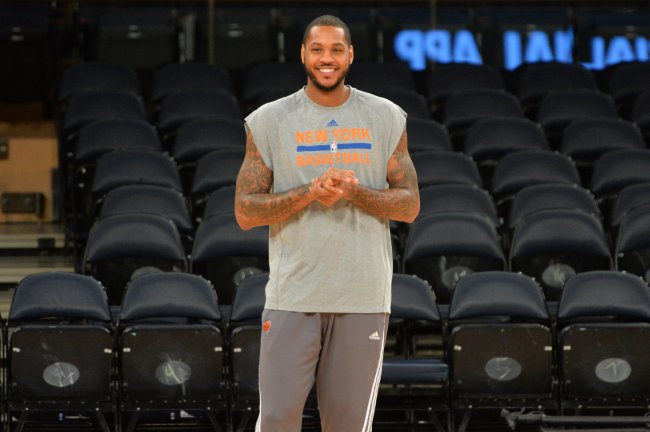 Jesse D. Garrabrant/Getty Images
That money will have to go somewhere.
Teams that strike out in their home run pursuits could wind up swinging for the fences to secure their second or third options. Clubs could also make like the Pistons and Warriors by paying a premium to address a specific need.
All of that leads to this potentially being remembered as the summer of (wild) spending. Meeks might have agreed to put his name on the dotted line, but he wasn't the only one celebrating the news.
When specialists are collecting major coin, just imagine the going rate for those with more well-rounded skills. On second thought, don't bother wasting the time. The way this market is headed, those first-, second- and third-tier players will be collecting their own astronomical salaries sooner than later.
Unless otherwise noted, statistics used courtesy of Basketball-Reference.com and NBA.com.