The NBA offseason is in a state of flux right now. Trade rumors are still floating around, but free agency has taken center stage due to the incredible volume of high-end talent on the market.
Even if you accept that none of Miami's Big Three are going to leave South Beach, teams are still loading up to go after Carmelo Anthony, Pau Gasol, Lance Stephenson and Kyle Lowry. That's put a halt on substantial trade talks for the time being, but there are still little trickles coming out.
As we move deeper into the summer, expect the trade winds to start swirling, with teams trying to put the missing pieces of a championship puzzle together. These are the latest rumors from the Association to satisfy your craving.
Wolves-Warriors At Kevin Love Impasse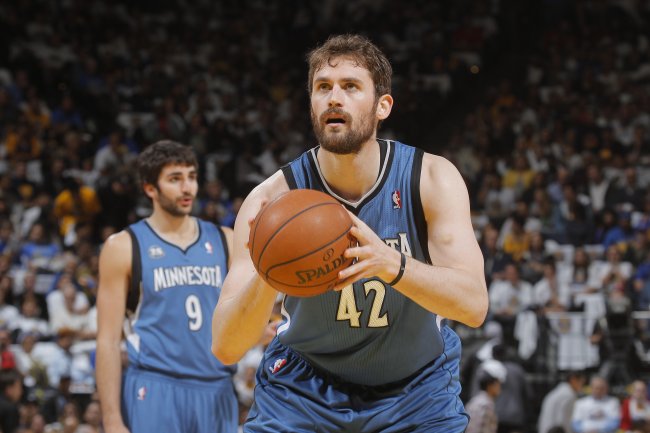 Rocky Widner/Getty Images
The one trade that everyone wants to talk about but doesn't seem to have traction anymore is the blockbuster deal that would send Kevin Love to Golden State for a package that includes Klay Thompson.
According to Marc J. Spears of Yahoo! Sports, the Warriors aren't giving in on their desire to keep Thompson if a deal for Love materializes:
Wolves still focused on trying to land Klay Thompson from Warriors in Kevin Love deal, sources said, but Golden St still won't budge on Klay

— Marc J. Spears (@SpearsNBAYahoo) July 1, 2014
Even though Love is one of the most exciting players in the NBA, Golden State's firm stance makes sense on two different levels.
First, even though there's not a player on the free-agent market who can match Love's combination of ability and age, the Warriors have options to choose from if they want to upgrade the power forward position.
Adrian Wojnarowski of Yahoo! Sports tweeted that free-agent power forward Channing Frye has Golden State on his radar:
Suns pushing to re-sign Channing Frye, sources tell Yahoo. After opting-out of deal, Frye's surveying market, including Cavs, Warriors.

— Adrian Wojnarowski (@WojYahooNBA) July 1, 2014
Second, in a league where teams are trying to save all the cap space they can to build a roster, Thompson is one of the most valuable assets Golden State has. He's 24 years old with one guaranteed year and $3 million left on his contract, but the Warriors have the right to make him a qualifying offer for the 2015 season as a restricted free agent.
Love is entering the final year of a deal that will pay him nearly $16 million with a player option for 2015 that he will almost certainly turn down in order to sign a max extension. He's earned that right as a do-it-all player for Minnesota, but who knows if he's the centerpiece of a championship team.
The Warriors are smart to stand firm on their current desire. We know they are a playoff team with Thompson and have a good young nucleus they are building around, so how much better does Love really make them?
Pelicans Trying To Make Changes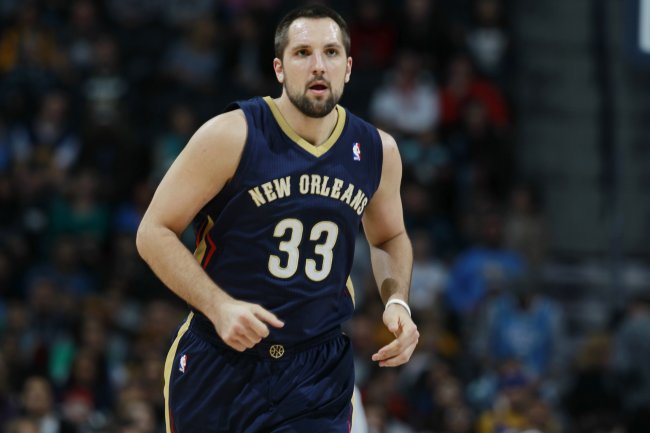 David Zalubowski/Associated Press
Days after making a deal with Houston to acquire center Omer Asik, the New Orleans Pelicans are looking to create financial flexibility, according to Wojnarowski:

Houston is finalizing a deal to send Omer Asik to New Orleans, league source tells Yahoo Sports.

— Adrian Wojnarowski (@WojYahooNBA) June 26, 2014
However, Bleacher Report's Howard Beck noted that the deal can't become official until July 10 for financial reasons:
Should have noted: Asik-to-Pelicans can't become official until July 10, because of cap considerations.

— Howard Beck (@HowardBeck) June 26, 2014
Also according to Wojnarowski, the Pelicans are talking about trading Ryan Anderson and/or Austin Rivers:
New Orleans is shopping forward Ryan Anderson and guard Austin Rivers, league sources tell Yahoo Sports.

— Adrian Wojnarowski (@WojYahooNBA) June 26, 2014
Which player has the best chance to be dealt this summer?
Rivers seems more likely to be dealt simply because he's the lesser of the two players, but Anderson will net a better return because he's a great shooter who can play an integral role on a championship team.
Anderson is guaranteed nearly $17 million over the next two seasons, which is a hefty price tag, but he's coming off a season in which he averaged a career-high 19.8 points per game and shot nearly 41 percent from three-point range.
The Pelicans are building an intriguing roster with Asik and Anthony Davis. They're still a long way from competing in the Western Conference, but it should be fun to watch that frontcourt.
Knicks Not In Sign-And-Trade Mode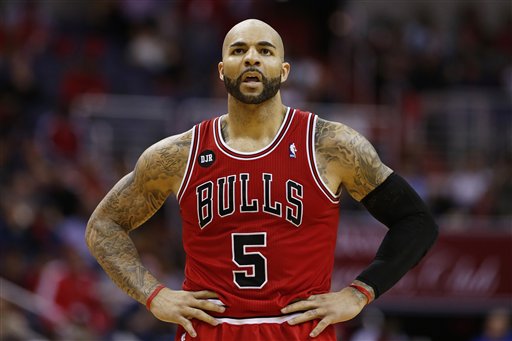 Alex Brandon/Associated Press
The focus of this free-agent season will be on New York. Phil Jackson is leading his first offseason with the Knicks and wants to convince Carmelo Anthony that the Big Apple is where he belongs.
Whatever Jackson's plan for the summer is, it doesn't include any sign-and-trade with Chicago for Carlos Boozer, according to ESPN.com's Chris Broussard:
Sources: the Knicks will not entertain any sign-&-trade deal with Chicago that includes them taking back Carlos Boozer

— Chris Broussard (@Chris_Broussard) July 2, 2014
Broussard wrote in a separate piece for ESPN.com that the Bulls want to make Boozer available in a deal to avoid having to amnesty him and eating the $16.8 million because "many executives question whether Bulls owner Jerry Reinsdorf would be willing to do that."
As for the Knicks, Jackson has already set his sights on trying to bring in Gasol, according to Ramona Shelburne of ESPN Los Angeles (via ESPN.com's Marc Stein):

Furthermore, one source close to the process told ESPN.com's Ramona Shelburne that Jackson is planning to make a determined attempt to try to recruit his former Los Angeles Lakers center Pau Gasol to replace the freshly traded Tyson Chandler alongside Anthony on the Knicks' front line, despite the fact New York is limited to offering Gasol less than $4 million for next season.
That would be a huge pay cut for Gasol, who made $19.2 million in the last year of his contract in 2013-14, but the opportunity to play in the triangle system again could maximize his talents and give the 33-year-old another four or five years playing at a high level.
Boozer isn't the same type of player as Gasol. He's more of an inside presence who wants to play with his back to the basket, so even if he were a star player, his skills wouldn't line up with the system Jackson and new head coach Derek Fisher will implement.
If you want to talk sports, hit me up on Twitter.