With the NHL's free-agency period officially open, most fans are focusing on where the biggest stars are signing.
Bubbling below the surface, though, remains a busy trade market. Plenty of teams are either looking to shed salary in order to pursue a certain free agent, or they pursued a certain free agent, failed and now figure trading for somebody else is better than nothing.
Read on to see some of the most recent rumors swirling throughout the NHL.
Vincent Lecavalier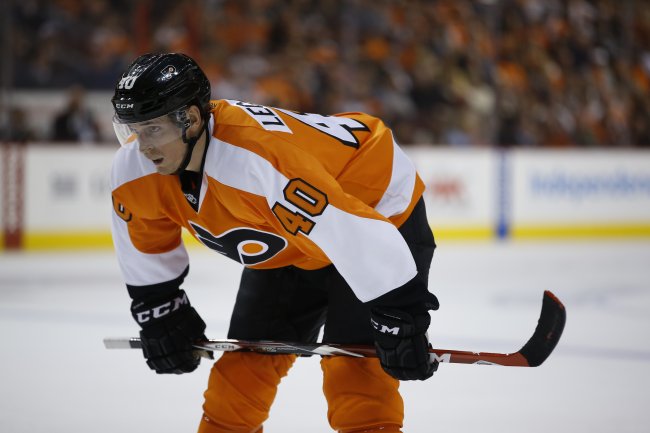 Matt Slocum/Associated Press
Needing to trim some money from the budget, the Philadelphia Flyers are reportedly putting Vincent Lecavalier on the trade block, per The Canadian Press (via TSN).
Philly general manager Ron Hextall has denied, though, that the Flyers are looking to offload the veteran, per Nick Cotsonika of Yahoo! Sports:
Hextall said nothing imminent on Lecavalier. "As far as I'm concerned right now, Vinny Lecavalier could be in a Flyer uniform in September."

— Nick Cotsonika (@cotsonika) July 2, 2014
That's likely a ploy to drum up interest rather than a commitment to keeping Lecavalier. You don't want everybody to know how desperate you are, or it kills your leverage.
According to CapGeek, the 34-year-old has four years left on his deal, which carries a cap hit of $4.5 million a year. Getting rid of that contract would help ease the financial burden on the team.
TSN's Darren Dreger reported that Lecavalier also received a $2 million bonus Tuesday. With that out of the way, teams may be more open to trading for him:
Vincent Lecavalier received his $2 mil bonus today. Perhaps, a trade easier to facilitate now with that detail out of the way.

— Darren Dreger (@DarrenDreger) July 2, 2014
His first season in Philadelphia was a disappointment. His 37 points were his lowest total since 2001-02—excluding last year's lockout-shortened season.
Lecavalier still has something left in the tank, though, so he should get some looks from teams hoping to add a veteran center.
Joffrey Lupul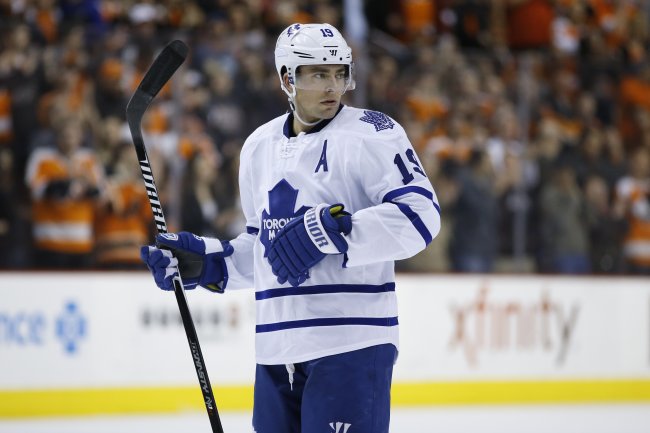 Matt Slocum/Associated Press
The Toronto Maple Leafs have been considering trading Joffrey Lupul for at least the last few days. Dreger reported, via hockey writer Chris Nichols, that the team would've put him on the trade market in the event it signed Milan Michalek:
Dreger: #Leafs have made contact w/ UFA Milan Michalek's camp. Joffrey Lupul would be trade target moved out to make room in top six. #Sens

— Chris Nichols (@NicholsOnHockey) June 26, 2014
That plan will have changed after Michalek re-signed with the Ottawa Senators, per The Associated Press (ESPN.com).
Lupul may remain just as expendable, though. Sportsnet.ca's Josh Rimer reported that the 30-year-old could've been traded as early as July 1:
Some people believe Joffrey Lupul could be on the move today. Gonna be an interesting day. #christmascomesearly #nhlfreeagentday

— Josh Rimer (@JoshRimerHockey) July 1, 2014
Tuesday has passed, and Lupul remains a Maple Leaf. What appears clear, though, is that Toronto is looking to go in a different direction, and its view of the future doesn't include the veteran left winger.
Detroit Red Wings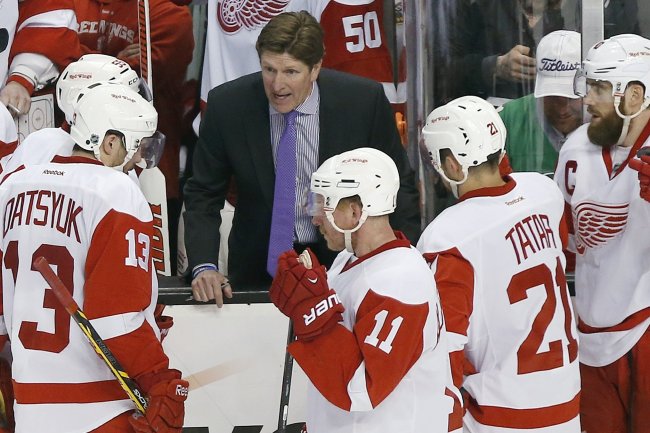 Michael Dwyer/Associated Press
The Detroit Red Wings aren't having any luck when it comes to signing free-agent defensemen.
First came the news that Matt Niskanen signed with the Washington Capitals, per ESPN The Magazine's Craig Custance.
The Red Wings did their best to sign the former Penguins star, but Helene St. James of the Detroit Free Press reported that they never had a chance:
#RedWings offered D Matt Niskanen 7 years, $38.5 M but were told before free agency began Detroit not a destination for him.

— Helene St. James (@HeleneStJames) July 1, 2014
As if that wasn't bad enough, Detroit lost out on Dan Boyle, too, despite offering more money than the New York Rangers did, as per Ansar Khan of MLive.com:
Wings offered Dan Boyle three years at $12.5 million ($5M, $5M and $2.5M) but he took two years, $9 million from Rangers.

— Ansar Khan (@AnsarKhanMLive) July 1, 2014
With their best options exhausted, the Red Wings may have no other choice but to look at the trade market. At least that's what David Pagnotta of The Fourth Period reported:
Red Wings appear to be working the trade phones now to bolster their blueline. Lost out on Boyle, and apparently out on Niskanen.

— David Pagnotta (@TheFourthPeriod) July 1, 2014
Detroit needs to improve its defense, and with the top free-agent names gone, working out a trade is the team's best hope of making that happen.